The type of helmet that you should wear largely depends upon the kind of riding that you engage in.
The most important factors to consider while buying a helmet are safety, visibility, fit, aerodynamics, weight, material and brand.
In this article we will cover all the different helmet types and the pros and cons of each.
This will help you discover which different types suits you and help you choose the one that best fits the bill.
What are the Different Types of Helmets?
This is a massive guide. So, if you're in a hurry we have added these quick links (below) to take you directly to the part of the article that you may be interested in.
There are seven different types of motorcycle helmets;
We do believe there are more, so we rounded the article off with a few different categories that may fit into some of the above. So we left them off the list, but we do feel they are important and should be taken into consideration. So keep an eye out for those.
---
Full Face Touring Helmet
Full Face Helmets, as the name suggests, has the most coverage of all the helmet types. The top and the back of the head, the jaw and other parts of the face are completely covered, with only a space for the eyes and nose.
This can also be covered with a plastic visor, that can be flipped up and down.
We highly recommend a full-face helmet for touring as it provides protection not just to the head, but also to the jaw, temples and face.
A full face touring helmet should be extremely versatile. Tours typically include riding over different kinds of terrain in a range of weather conditions.
The helmet should be suitable for all types of seasons – be it winter or summer. The helmet must be able to withstand rain, dust, snow etc.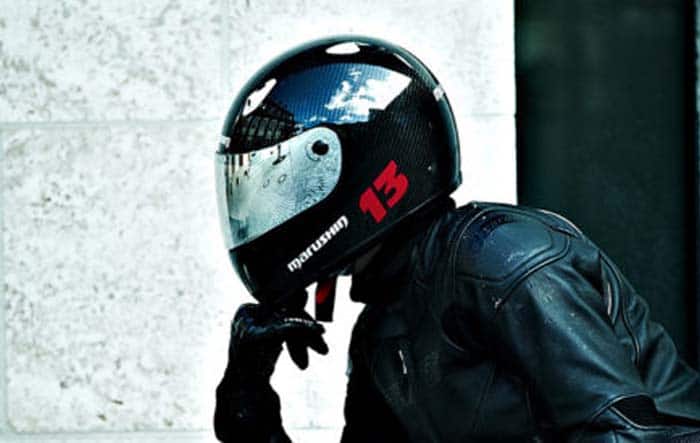 A full face helmets are versatile and typically good for different terrain and weather conditions
Typically, a long distance touring helmet requires a bit more of an investment but they are well worth the extra few bucks – especially if you are a serious rider.
A good touring motorcycle helmet has the perfect combination of low noise levels, balance and ergonomics. This is extremely critical as the rides are long and speeds are higher than in cities.
Even thought they are a little heavier a little bit of discomfort makes itself felt very strongly during several hours of riding. Most touring bikes have an upright riding position as this puts the least amount of strain on the back and knees.
Thus, the vents in a touring helmet should ideally be situated at the top of the helmet – this provides effective ventilation during hot weather.
Full face helmets are usually a tad heavier than other helmets – still, they should be as light as possible without compromising on safety certifications. They should not exert excessive strain on the neck muscles.
Also, they must have excellent aerodynamics and insulation to ensure a quiet ride with minimal wind resistance. The visor should be clear and must offer at-least some sideways visibility as this is critical at intersections and while overtaking.
Pros and Cons of a Full Face Helmet
Pros – Full Face Helmets
Offers the best all-round protection
Particularly full face protection
Protection against road noise
Can have Filtered Ventilation
Cons – Full Face Helmet
Some can be Heavy and Bulky
Difficult to ride with spectacles
Hard to have a conversation
Some have little ventilation
Best Full Face Helmets For the Money
If you are looking for the best full face helmets, take a look at the our most recent product reviews. Below, you will find honest advise for loads of full face helmets that we rated and reviewed.
Full Face Helmet Safety Comparison
For further reading check out our safety features where we compare different helmet types, clearly stating the pros and cons with a clear comparison.
---
Open Face Helmet
This type of helmets has a couple of different names, but commonly called an Open Face. Also call a 3/4 Helmet, because of the amount of the head it protects.
Although this style is DOT approved, it typically protects only the head. (It protects the jaw and face only partially at best)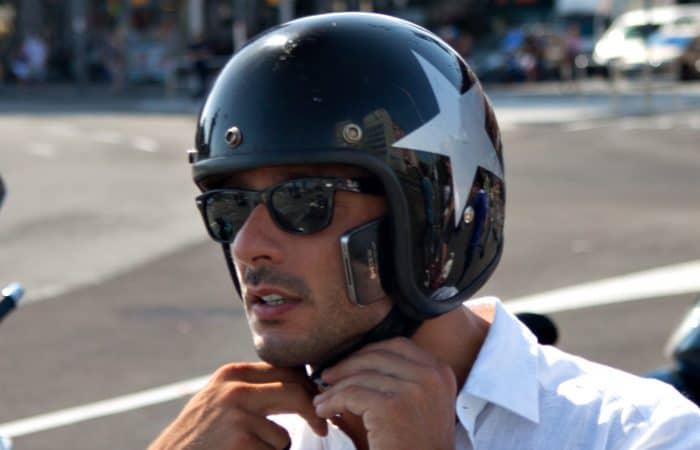 Open face helmets offers good visibility and that wind in your face feeling, but these glasses won't protect you from a flying stone.
If you enjoy feeling the wind on your face while riding, you will enjoy an open face helmet.
Also, since the face is left open, the eyes are left exposed to harsh weather, dust and debris, you might need to think about eye protection. Like adding a snap-on face shield or getting a pair of goggles. Spectacles or Sunglasses may not be enough protection.
While it is true that many three quarter helmet models are equipped with a sun visor which can be flipped up or down, it still does not completely block out rain and snow. So bad weather will be an issue with this type.
The biggest USP of an open face helmet is that they offer very good visibility. Many riders do not like that claustrophobic feeling and comparatively limited visibility of full face helmets.
Hot Tip: It is recommended that you try riding around in a full-face touring helmet for a couple of days. If you just can't get over the cramped feeling – only then opt for an open face.
These types of helmets are not a bad option for casual low speed cruising within cities.
Pros and Cons of an Open Face Helmet
Pros – Open Face Helmets
Feeling the wind on your face
Good Visibility and field of vision
Reasonable Protection
Cons – Open Face Helmet
Exposure to wind and rain
Exposure to dust and debris
Not fully protected around the face
---
Half Helmet
Half Helmets, as the name indicates, cover only half the head (just the skull). The back of the head, the jaw and other parts of the face are left totally exposed and as such typically only protect the top of head.
Although the half helmet is awesomely cool, it does offer the least protection of all the helmet styles.
It is sometimes refereed to as a "skull cap" or a "shorty" and it's very lightweight and are secured in place with the help of straps.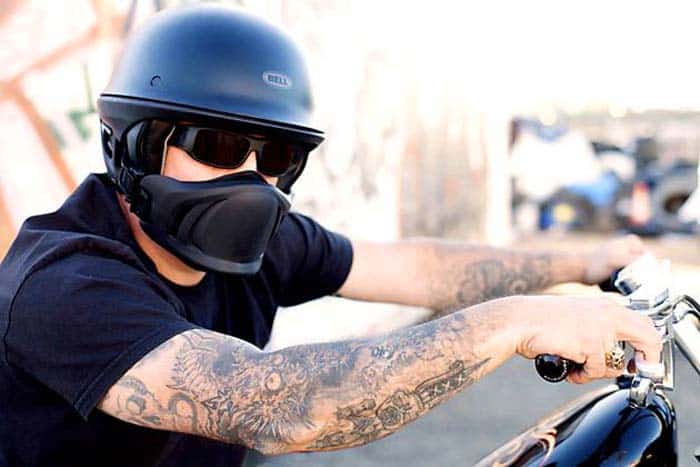 Half helmets look bad-ass but offer limited protection
These helmets ooze style, daredevilry and ruggedness – no wonder they are hugely popular among cruisers.
They are trendy and extremely lightweight. They provide an unencumbered view of the road ahead. They also account for very good sideways visibility and this is a plus while cornering.
Half helmets enable the rider to enjoy that elusive wind in the hair (well….face) feeling without compromising too much on safety. (IE: Not wearing a helmet)
Half helmets do not provide adequate protection against wind, rain, snow etc. Also, since they leave a lot of the face exposed, these helmets are nowhere near as safe as a full face helmet.
They are not suitable for beginner riders. We recommend them only for experienced riders, and even then only for low to medium cruising speed .
If you are taking your bike out to the track or on a long distance ride – you are much better off wearing a purpose-built helmet.
Even though half face helmets leave the face exposed to the wind, many models have no air inlets and hence the scalp can heat up quickly.
Pros and Cons of Half Helmets
Pros – Full Face Helmets
The oooze style and coolness
Lightweight
Very good sideways visibility
Enjoy the wind in the hair feeling
Cons – Full Face Helmet
Do not provide adequate protection –
Likely to come off in an accident
Exposure to dust and debris, rain, snow etc
Not suitable for beginners
Recommended for low to medium speed
Best Half Helmets For the Money
Best Motorcycle Half Helmets That Take Cruising to Another Level
The Best Badass Motorcycle Helmets That Money Can Buy
Best German Style Motorcycle Helmets – Highest Rated And Most Popular
Hip and Cool Motorcycle Helmets: Highly Rated Picks for Style
Full Face Helmets Safety Comparison
Safety Feature: Half Helmets Verses Full Face Helmets
Motorcycle Safety Feature – Are Half-Helmets Safe?
---
Modular Helmet
A Modular helmet can covert between a full face and a open face helmet, thus named "modular" for this aspect. With the chin bar pulled down, they can offer similar protection as the full face, thought some may argue that.
A modular helmet is sometimes called a "flip-up", flip-top, flip-face, or a "convertible" helmet.
If you want the protection and versatility of a full face helmet but would still like to experience the joy and thrill of an open face, you should seriously consider getting a modular motorcycle helmet.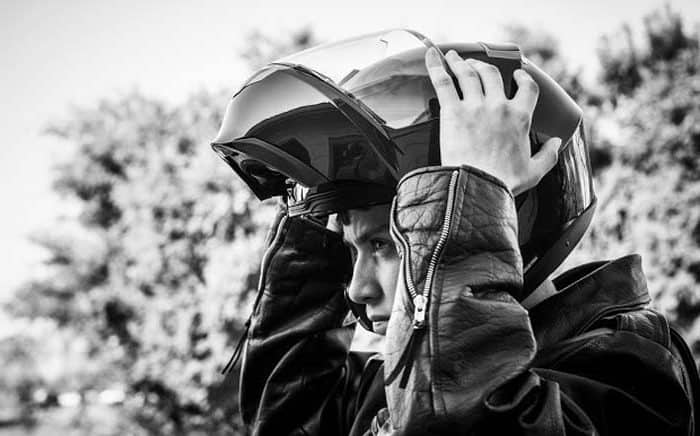 Modular styles offers the protection and versatility of a full face and the freedom of an open face helmet
These types of helmets are quite popular now-a-days. Adventure seekers and sport tourers are especially fond of them. You can have a modular helmet in various configurations. In most cases, the chin bar simply lifts up.
However, in some models – it goes all the way back and hence offers more aerodynamic ability. You can also find models wherein the chin bar totally detaches from the main structure. Thus, you can easily convert it from a full face to open face (and vice versa) within just a few seconds.
Modular helmets make themselves very useful when you are riding over diverse terrain.
Say you are riding through the desert – you can simply select the full face configuration as this will keep out the dust but you will still remain cool thanks to the air vents. After a few hundred kilometers, you encounter a more pleasant landscape – you can simply switch to open face and enjoy your ride.
If you enter the city and are riding in traffic, you can use open face since it offers better visibility and facilitates easier navigation and communication.
Pros and Cons of the Modular Helmet
Pros – Modular Helmets
Offers the best of both open and full face
Particularly full face protection
Protection against road noise
Can have Full Ventilation
Cons – Modular Helmet
Some models require you to stop to change configuration
No may con's for this model – if purposed used
Modular Helmet Safety Comparison
Safety Feature: Modular Verses Full Face Helmets
---
Motocross Helmet
Motocross helmet are still full face helmets but they are a different shape to the full face touring helmets.
Also known as "Off-Road" or "Dirt Bike" helmets, they are specifically design for extreme action sports.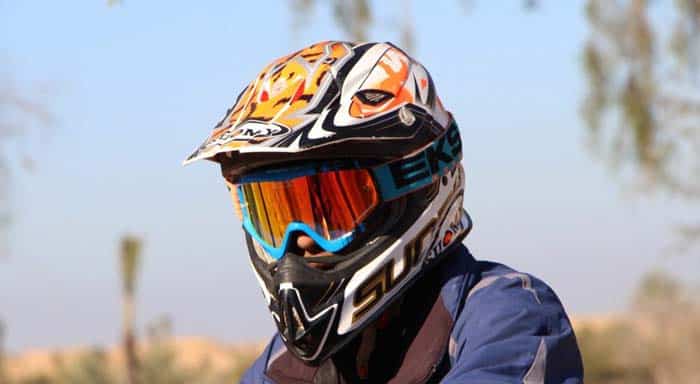 The main differences to the regular full face are the following;
Typically you'll find they have an extended chin bar
The full face doesn't have a sun peak
The eye port is larger to allow for goggles
Minimal soundproofing to make the helmet lighter
Riding on the dirt, especially if your racing, is extremely physically demanding. So these helmets are designed to maximize ventilation. They are designed to allow heat to escape and to regulate humidity.
Similar to other racing helmets, they are manufactured with carbon-fiber or advanced composites that make them very strong and lightweight.
Another point to remember, is to make sure to match the goggles you purchase with the helmet. You will find sometimes that the eye ports don't match with the googles.
Pros and Cons of a MotoX Helmet
Pros – Motocross Helmets
Offers the best all-round protection
Strong and Lightweight
Fully Filtered Ventilation
Cons – Motocross Helmet
Need separate goggles
Load and noisy
Hard to have a conversation
Best Dirt Bike Helmet Reviews
Best Dirt Bike Helmets Rated and Reviewed
Best MX Motox Goggles Rated and Reviewed
---
Dual Sport Helmet
As the name suggests, these helmets serve two purposes. They are built for off-roading as well as high speed riding. In short, they have been designed by combining the features of a dirt motocross helmet and a full face street helmet.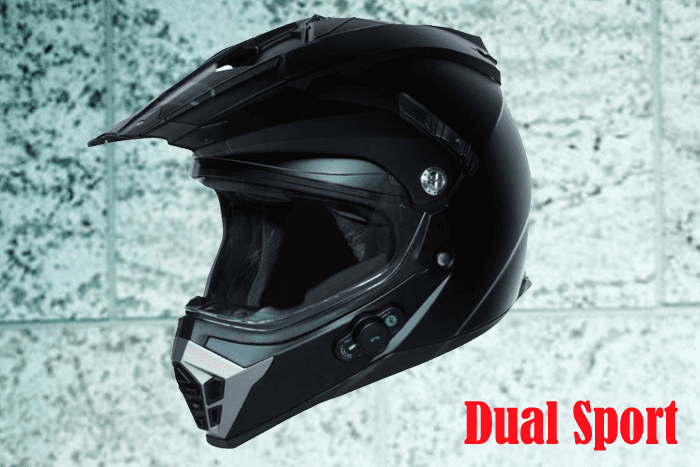 Also known as a "hybrid" or a "Crossover", they are extremely capable off-road but they are also aerodynamic with good peripheral vision.
Just like modular helmets, dual sport helmets are available with a number of adjustable trims.
For example;
Like a motocross helmet they offer a sun visor front lip for shade
Like a full face they have a large eye port that seals with a visor, where as the motocross-style is designed for goggles.
The visor can be flipped and goggles can be used if required
Like a motocross they have an elongated chin bar for better ventilation
Compared to motocross-style the have more sound proofing like the touring helmet
I really like these helmets and wear one regularly, so if you're like me and ride both on-road and off-road, a dual-sport helmet is a no-brainer.
Pros and Cons of Dual Sport
Pros – Dual Sports Helmets
Offers the best of both worlds
No need to purchase extra goggles
Better protection against road noise
Offer better ventilation than a tourer
Cons – Dual Sports Helmet
Not ideal for just highway riding
Not perfect if you just do off-road all time
less ventilation than a dedicated dirt bike helmet
very limited cons
Best Dual Sport Helmet Reviews
Best Dual Sport Helmets Rated and Reviewed
Dual Sports Helmet Accessories – Helmet Cameras
---
Racing Helmet
These are among the most well-built and safest helmets on the planet, and typically used for track racing since they are extra-resilient to impact.
Racing helmets are also lightweight, aerodynamic, well ventilated and come with a wider peripheral field of vision than the regular full face.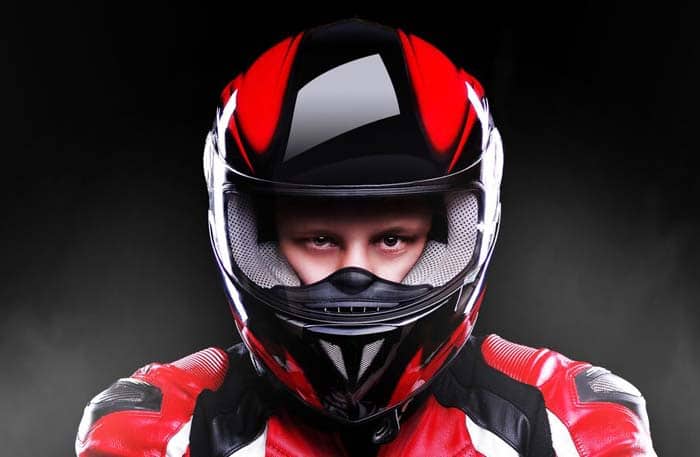 You can opt for a helmet that has an oversized visor – they provide a wider frame of vision.
The visor generally come with a locking mechanism to secure the visor at high speed.
Racing helmets are usually a tad expensive but this is understandable since extensive research and testing is conducted to make them as safe as possible.
They are usually manufactured using exotic materials such as carbon fiber and Kevlar composites.
Pros and Cons of Racing Helmets
Pros – Racing Helmets
Offers the best Protection
Lightweight
---
High Visibility Motorcycle Helmets
As of 2016, there are two times as many vehicles on the road as there were in the late 90s. Staying safe on two wheels has become twice as challenging.
High visibility helmets are becoming quite popular among riders since they are conspicuous and help motorists to notice motorcyclists from a far distance and even during bad weather (rain, storm etc.) and poor light.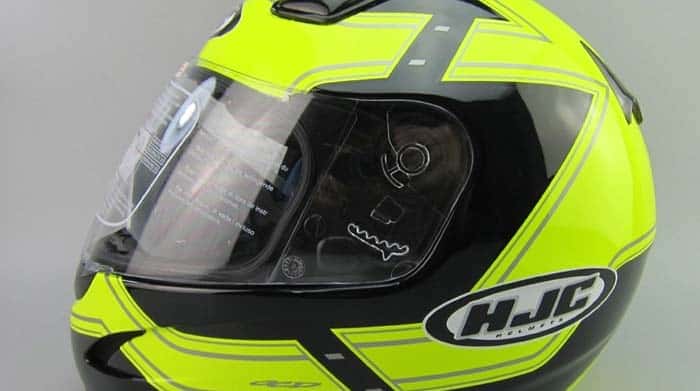 Not-surprisingly, yellow and orange are the two most popular colors for high visibility helmets.
Here are some fact about the relationship with the color of the helmet and safety on the road.
Use of reflective or fluorescent clothing

"Drivers wearing reflective or fluorescent clothing had a 37% lower risk of crash related injury than those who were not wearing such materials…" Source: British Medical Journal
A Bright Helmet Color

"Compared with wearing a black helmet, use of a white helmet was associated with a 24% lower risk. We found similar associations for red and a combined group of yellow and orange helmets…" Source: British Medical Journal
Pros and Cons of a Hi-Vis Helmet
Pros – Hi Vis Helmets
24% lower risk of road accident
Other road users can see you more clearly
Cons – Hi Vis Helmet
May not look as cool as a black helmet
---
Custom Designed Helmet
Helmets that are upgraded or modified according to your own specs are known as bespoke or custom motorcycle helmets.
Although there is a wide variety of motorcycle helmets (as you can see in this article), sometimes we're looking for a solution to suit our own needs.
This is were customizing may be an option.
There is so many creative ways to customize a helmet.
Youtube is so full of videos, that you could make just about anything you wanted.
More Helmet Customizing Options
---
Conclusion For The Different Helmet Types
Where to from here…
Congratulations, you have made it to the end. We hope that you have read our in-depth reviews and have created a shortlist of the type of helmet that will suite your riding style and the kind of riding that you engage in.
The key takeaways of this article is;
Understand your riding style
Always consider the safety aspect.
Then make sure to check these aspects;
visibility
aerodynamics
weight
Helmets are very important but they are not an excuse or a protection against reckless, callous riding!
If you feel we have missed something here, please let us know in the comments field below or you can get in contact with us on our contact form.
See you in the next article.
We hope you find this information helpful. If you would like to support this site, you can by purchasing through recommended links on the page. Should you decide to purchase, we may earn a small percentage of the sale at no cost to you.
Thank you for your support.