The word "best" is very subjective, don't you think. What's best for one person is not always best for another.
So how can we possibly answer the question, which is the best motorcycle helmet brand.
The only way to help you, is by providing a list of options. Each option is special – in it's own unique way. What we came up with is; the best of the best – so to speak.
We all know that motorcycle helmets are NOT just for safety. But, for some of us, it more about, the design, or the fit, the style or the best brand persona.
In this article we've compiled a list of the best brands to help you make the perfect choice.
Best Motorcycle Helmets by Brand
See our best helmet brand comparison chart (ordered randomly) listed below.
There are many motorcycle helmets on the market, but only a few brands have passed the test of time.
You can go for premium or cheap helmet but the thing that set them apart for the rest is the brand name.
So if you're in the market for a new helmet, we recommended you to stick to renowned brands.
You can even get recommendations from friends. And if that's not enough, check out what we think are the best helmet brands.
---

---
Icon Motorcycle Helmets
(We gave Icon an overall Rating: 7.5/10 | Great entry level with a Price Range: low to mid)
About the Icon Brand
The company has been founded by street racers back in 2002 out of Portland, Oregon, USA. Apart from helmets, than manufacture footwear, jackets, vests and other related accessories. [Learn More]
Icon is known for its mildly abrasive attitude and unapologetic street style.
The best Icon helmet we looked at was the Airframe pro. This is what we thought.
Icon Airframe Pro Helmet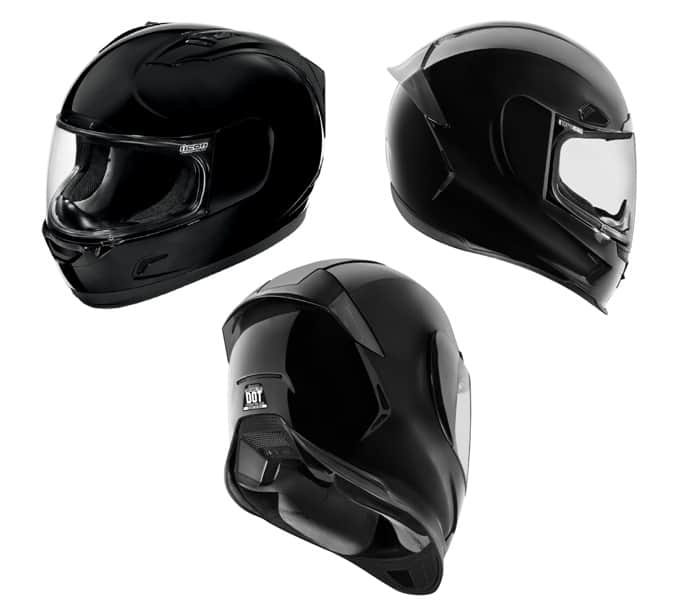 image credit: rideicon.com
Pretty damn decent helmet for the price range. It remains balanced on your head while you're on the go, thanks to its handmade shell.  
The helmet comes with a compact design that enhances the rider's angle of view depending on how he adjusts himself.
The neckline has been sculptured to prevent it from applying any pressure on back of the neck. The helmet can withstand all kinds of punishment because constructed from aerospace-grade carbon fiber material.
Because it's so light, you can wear the headgear forever. Besides that, the helmet comes with five piece lining to enhance your comfort.
The helmet has linear ported vents at the front to allow air to circulate inside the shell. There are extra vents around the helmet to avoid the build up of heat.
The face shield is designed to be fog resistant. Moreover, it's fitted with a Rapid Release system. The face shield can't come off when you're riding because it's fastened using Prolock positive shield locking system.
The breath deflector and chin curtain can be removed and reinstalled.
If you are new to motorcycling and want the features of a high end helmet without paying through your nose, take a look at the Icon Airmada.
Best Icon Helmets to Buy
Icon Airmada
Icon Alliance Rubatone
Icon Alliance Freaky Tiki
---

---
HJC Motorcycle Helmets
(We gave HJC an overall Rating: 8.5/10 | Great entry level with a Price Range: low to mid)
About the HJC Helmet Brand
According to Motorcycle Industry Magazine, HJC has been the number one helmet manufacturer in North America since 1992.
The company has 3 factories in Korea, Japan and China. It also boasts of a state-of-the-art wind tunnel testing lab.
Since its inception in 1971, HJC has consistently been delivering premium quality products. The company is solely focussed on helmet manufacturing.
As a result, it offers a comprehensive range of products to suit different riding styles and tastes. [Learn More]
The best HJC helmet we checked out was the CL-17 Mission. Here are our thoughts.
HJC CL-17 Mission Full-Face Motorcycle Helmet

image credit: hjchelmets.com
HJC CL -17 Mission Full Face Motorcycle Helmet is manufactured by HJC Company. The shell of the helmet is made from advanced poly-carbonate composite material.
It's therefore very light on your head which makes it ideal for regular riders. The helmet is fitted with a pinlock ready face shield that's scratch resistant. The helmet can therefore survive from extreme conditions.
The face shield has a 3D design that gives you a wide field of view and protects you from 95% of ultraviolet rays to guarantee a smooth ride.
The helmet comes with a side shield lock mechanism to ensure the face shield is held firmly. You can even add an extra face shield, especially if you want to ride in harsh weather condition such as fog.
By default, the face shield is clear but you can install another that's tinted. In case you're involved in an accident and the face shield gets damaged beyond repair, you can get a replacement and reinstall it.
This is because the headgear has Rapidfire shield replacement system that lets you remove the damaged face shield and fix a new one without using any tools. This saves you from the trouble of budgeting for a new helmet.
The helmet has Advanced Channeling Ventilation System that allows air to enter at the front and exit through the back which helps in keeping the humidity and heat on the low.
The ventilation system prevents the accumulation of bacteria in the helmet that cause itching and dandruff. As a matter of fact, the helmet has a moisture wicking interior.
It's actually very easy to clean the interior lining because it's designed to be removable. There are also check pads of various sizes that can be alternated to match with the preference of the rider.
---

---
Shoei Motorcycle Helmets
(We gave Shoei an overall Rating: 9.5/10 | High entry level with a Price Range: mid to high)
About the Shoei Helmet Brand
Shoei is a pioneer in the Helmet manufacturing industry. Their products enjoy a high aspirational value among motorcyclists. It is to helmets what Rolls Royce is to cars.
They made the world's first carbon fibre helmet. It was also the first company to use Kevlar in the construction of helmets.
Over the years, the brand Shoei has become synonymous with excellence and innovation.
The best Shoei helmet we look at was the RF-1200. This is what we thought.
Shoei RF-1200 Helmet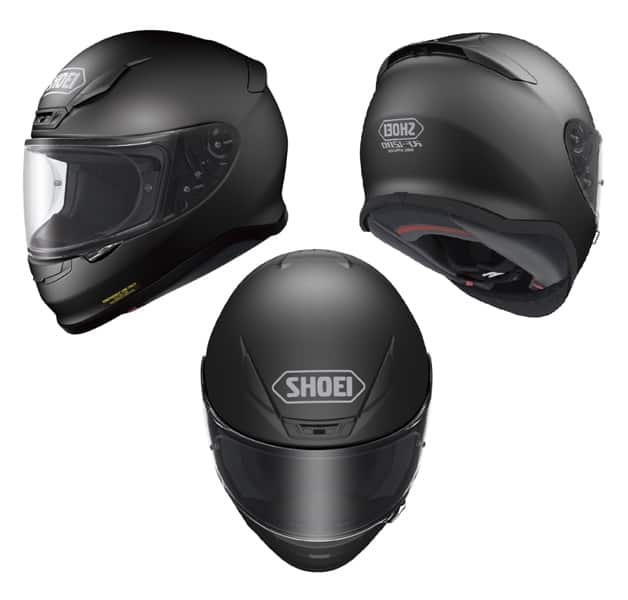 image credit: Shoei

Shoei RF-1200 Helmet is a masterpiece. The head gear is light in weight to enable you to wear it during long journeys.
The helmet has a classic outlook and is designed to cut back on noise levels that are distractive to the rider while on the road. With this helmet, the rider can only hear the noise made by other road users.
Shoei has a helmet for everyone. The helmet comes in various sizes that include small, medium, large and extra large.
The helmet has 3D padding to avoid straining the head of the rider. The padding can be removed and reinstalled.
The helmet comes with a breath guard to filter the air and block any debris. A chin curtain is fitted to add comfort.
The headgear has air intake vents at the front and four rear vents that serve as air outlets. This helps in preventing heat and humidity to build up in the helmet.
The good thing about these air vents is that they can be closed and opened by the rider. Breathe guard and chin curtain are strategically placed to block dust and hold the helmet firmly during the ride.
The check pads come with an Emergency Quick Removal System that makes it easy to uninstall them in the event of an accident.
The windshield can be paired with another one from the inside, especially when the weather is foggy.
In our opinion, the Shoei RF-1200 is a superb choice.
It meets the requirements of most riders. Yes, it is expensive at just under 450 US dollars but it is DOT and Snell M2010 certified.
You can choose a neutral color if you want an understated look or a funky pattern if you want to portray a bad-ass image.
Why do we think Shoei is a 9.5?
The only other brand we gave a 9.5 to was Arai. As they are both great brands with a good range of quality helmets..
It's difficult to say which one is better between Shoei and ARAI. The battle is similar to the one between Ford Mustang and Chevy Camaro! There is no clear winner.
We think they are totally cool, for example, during the Research and Development phase, Shoei helmets undergo aircraft-like wind tunnel tests to fine tune their aerodynamics.
They are also tested across a variety of terrain and weather conditions to make them reliable in all parts of the world – be it the Sahara Desert or Siberia!
Best Helmets Manufactured by Shoei
You just cannot go wrong with Shoei; their helmets are brilliantly styled and the build quality is second to none. The Shoei RF 1200 Matt Black packs is a highly capable helmet with a price tag that won't give you a heart attack.
Check out 5 More top Shoei helmet models.
Shoei X-Twelve Streamline
Shoei RF 1200 Solid (Full Face✔) (<500) (Snell✔)

Shoei Solid Quest (Qwest) (Full face✔) (<400)
Shoei Metalic Neotec (Modular)
Shoei GT-Air (Full face✔) (>500 <600)
Price range: Most helmets fall within the 500 to 700 USD range. Expensive but very worth it.
Overall Verdict: 9.5 out of 10
---

---
Arai Motorcycle Helmets
(We gave Arai an overall Rating: 9.5/10 | High entry level with a Price Range: mid to high)
About the Arai Helmet Brand
Arai is also a Japanese company. It was founded in 1926 by Hirotake Arai. The defining feature of Arai Helmets is that each one of them is hand-built.
Every Arai helmet is a tribute to craftsmanship – it is minimally styled yet bespoke and feels special. Arai wants its helmets to be able to bounce off the road upon impact.
Hence, the helmets don't usually feature too many grooves and jagged edges.
Arai helmets undergo rigorous testing at each phase of production. As a result, they are as safe as a Swiss bank vault and are trusted by the likes of Dani Perdrosa and Nicky Hayden.
Not surprisingly, all models of Arai helmets that are on sale in the USA either meet or exceed safety standards set by the Snell Memorial Foundation.
In fact, some models even meet the FIA regulations and are worn by Formula One racing drivers such as Jenson Button, Sebastian Vettel, Daniel Ricciardo etc.
Owing to their racing heritage, Arai helmets are the perfect combination of performance, fit, comfort, safety and ventilation. However, be prepared to shell out a small fortune!
Price range: Expensive to ridiculously expensive. The Arai Vector 2 packs quite a punch and is somewhat easy on the pocket.
Other Top Arai Helmet Models
Arai Profile Matte Black
Arai Vector 2 solid
Arai Corsair X (Full Face✔) (<750)
---

---
Bell Motorcycle Helmets
(We gave Bell an overall Rating: 8/10 | Big range of products with a Price Range: low to high)
About the Bell Helmet Brand
Bell is one of the most renowned names in motorcycling, and credited for building the very first full-faced helmet.
The company is also known for its revolutionary design and high functionality, with a wide range from basic's to state-of-the-art.
One of the popular models is the Bell Rogue. It features an adjustable muzzle and a composite shell. It have made the best of the best list here and here.
The safest and affordable Bell helmet was the Bell Qualifier. This is what we thought.
Bell Qualifier Motorcycle Helmet

image credit: BellHelmets.com

For a start, Bell Qualifier Motorcycle Helmet is certified by DOT so for the price it's a very safe helmet. So you can rest assured the shell will remain intact after exposing it to a nasty situation.
The helmet embraces sleek aerodynamics to keep it balanced on the head. Added to that, you get a thick padded wind collar. Light on the neck while on that long ride. Comes with adjustable ventilation, which is great for all weather conditions.
The vents are actually at the front and the back. The vents allow fresh air to circulate in the helmet which keeps you safe from dandruff. The cheek pads fit nicely into the sides of the helmet because they are cut into just the right shape.
The windshield comes with a ClickReleaseTM system, which is really great. Basically allows you to open and close it instantly at the touch of a button.
You can listen to your favorite music with the in-built speaker pockets for holding speakers.
Other Bell Beauties
The Bell Pro Star is the company's flagship product. It features a carbon fiber shell and several other track oriented features.
Bell Drifter Black
---

---
Shark Motorcycle Helmets
(We gave Shark an overall Rating: 8.5/10 | Great overall with a Price Range: mid to high)
About the Shark Helmet Brand
Shark is a French company that was founded by professional racers. They make high-performance helmets that feature radical styling and astounding build quality! Shark has a 5000 dealer network and sells more than 350,000 helmets every year.
Shark is so confident regarding the quality of its products that it provides a flat 5 year warranty on every helmet sold.
Shark engineers work along with the company's team racers to craft helmets that are not just safe, but also very comfortable. The feedback from the racers is what gives Shark the extra edge in terms of fit.
The helmet feels very light and yet it can withstand a high impact. Shark was the first company to manufacture helmets with crumple zones. These helped to protect the rider's head by softening the impact and lowering the rate of deceleration.
Shark helmets are worn by several pro racers such as Carl Fogarty, Olivier Jacque, Vincent Phillippe and many others. The company has won over 60 World Championships in various categories of motorcycle racing.
The Shark Raw helmet is a favorite among riders owing to its street-fighter inspired styling.
Price tag: Since this is a European company, Shark helmets tend to be slightly expensive. However, the 5 year warranty more than justifies the extra dollars you pay.
Best Shark Helmets to Buy
Shark RAW Blank Helmet (<300)
---

---
Scorpion Helmets
We gave Scopion an overall Rating: 6.5/10 | Pretty good overall with a Price Range: Low to Mid)
About the Scopion Helmet Brand
The Scorpion brand is pretty well established in the USA. You might even mistake it to be an American company. However, Scorpion is actually Chinese maker of motorcycle helmets, apparel and other accessories.
Despite being a relatively new player in the industry, Scorpion has made a name for itself by providing stylish and decent quality products at an affordable rate.
Most of the Street and Off road helmets manufactured by Scorpion have an above average safety rating. The company is just a decade old and does not have the pedigree of top manufacturers like Shoei, Bell, Arai etc.
It relies on cool designs and a sensible price tag to appeal to customers.
If you want an above average helmet that doesn't break the bank, you can give Scorpion a shot – although Icon and Bell have good products in the low to mid price range too.
Best Scorpion Helmets
We've reviewed 3 top Scopion Helmets here. If want more styles here are a few suggestions.
Scorpion Sport VX-24
Scorpion EXO-500
Scorpion EXO-1100 Jag
Scorpion EXO-900X Transformer 3-in-1 street
Scorpion EXO-100 Solid White
Price range: Low to Mid
Overall rating: 6.5 out of 10
---
So which one to pick?
In our opinion, the Shoei RF-1200 is a superb choice. It meets the requirements of most riders.
Yes, it is expensive at just under 450 US dollars but it is DOT and Snell M2010 certified. You can choose a neutral color if you want an understated look or a funky pattern if you want to portray a bad-ass image.
Bell, HJC and Shark all have great products in the low to midrange price segment. All three brands have a proven track record of being reliable.
Go for an Arai helmet if you want something exclusive.
Scorpion and Icon are relatively new. We reckon that ICON is the better one.
---
We hope you find this information helpful. If you would like to support this site, you can by purchasing through recommended links on the page. Should you decide to purchase, we may earn a small percentage of the sale at no cost to you.
Thank you for your support.
Save