Don't know what to do with an old motorcycle helmet?
Should you throw it away, donate it, or just leave it on display on a shelf at home?
Motorcycle enthusiasts have to answer these difficult questions every few years.
If you do not know your options, you have come to the right place.
We will discuss eight different ways for you to retire your trusty headgear. These methods vary widely from decorative to practical.
Before we get to them, let's talk about when to replace your helmet first.
When Should You Replace Your Helmet?
Your helmet is built to absorb impact so that it does not reach your head and cause severe injuries.
As you can expect, it is very durable. That said, like most things, there will come a time when you have to replace them.
Here are a couple of instances that signal when you need to shop for a replacement:
If Your Helmet Is Five Years Old
You should not use your helmet for more than five years. This is true even if you take good care of it and it still looks new after prolonged use.
The outside shell is made of thermoplastic, fiberglass, or even carbon fiber.
If you keep it away from fuels, cleaners, and other petroleum-based products, you can preserve it quite well.
However, it is the inside of the helmet that you should worry about, not the shiny exterior.
The interior regularly comes into contact with your sweat and hair products if you are using any.
Because of this, the foam will gradually compact and degrade. Over time, your helmet won't fit your head in the same way.
Remember that it is important to maintain the right tightness for your helmet.
Otherwise, it won't be able to absorb enough of the impact in case you get into an accident. It could even fall off at the worst moment.
That said, if you have been using your helmet for five years, you should look for a replacement.
More importantly, do not attempt to re-sell it. Even if it looks good on the outside and you still have the box, it will be unsafe for others to use.
If New Helmet Technology Emerges
Helmet manufacturers are constantly looking for ways to make their products safer and more comfortable.
Every three to five years, they develop new features that will protect you better or improve your riding experience.
This is another reason why you should not go longer than five years using the same motorcycle helmet.
If you do, you could be missing out on the latest innovations in the industry.
If It Was Involved in an Accident
Your motorcycle helmet is built with an expanded polystyrene shell or EPS, which absorbs most of the impact.
If you get in an accident, there is a good chance that its safety parameters will be compromised.
The best thing you can do in this situation is to replace it.
In fact, you should get a new helmet if you have dropped your old one inadvertently one too many times.
What To Do With Old Motorcycle Helmet
Now that we have discussed when to get a replacement, it's time to consider what to do with the old motorcycle helmet.
You have several options to choose from, and here are the best ones.
Donate It To Local Medical Emergency Training Centers
Emergency services and even police and fire departments conduct various training sessions for their staff on how to handle dangerous situations.
It includes scenarios where they need to safely remove a helmet from an injured rider, which is important in preventing further injury to the neck, shoulders, or head.
One of the best ways to dispose of your old helmet is to donate it for this purpose.
You would be able to get rid of it safely and help other people at the same time.
They would only be using the helmet in simulated environments, so it should be fine even if your helmet is old.
Just make sure that the local center near you accepts donations because some do not.
Also, remember that people will be wearing your helmet, so clean it up before giving it away.
Donate It To a School Near You
If you know a teacher or staff from a local school, ask them if they will accept your helmet as a donation.
They can use it as props for Halloween and school plays.
Kids can wear it and pretend to be race car drivers, astronauts, or policemen during playtime.
Teachers can also use it to teach older children about how to wear motorcycle helmets properly.
There are many ways that your old helmet can help a school educate students or keep them engaged.
Again, just make sure that you sanitize it before giving it away.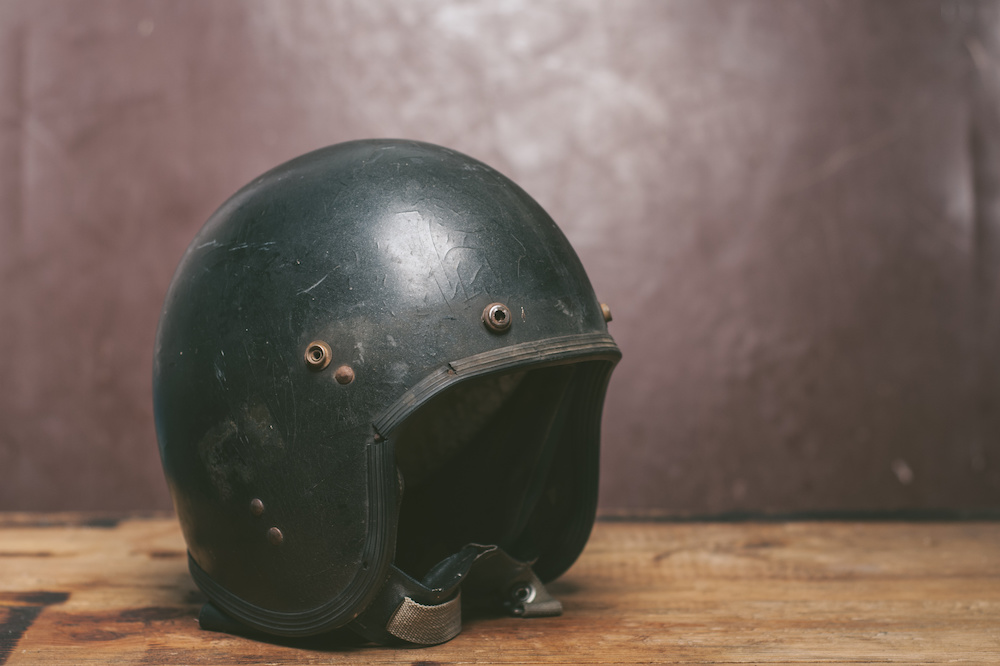 Trade It in for a New One
Are you in the market for a new motorcycle helmet but worried about the cost? Try looking for vendors that accept trade-ins.
There are stores and even manufacturers willing to invest in different ways to keep motorists safe.
One example is giving discounts to those who would bring in their old helmets to buy a new one.
Try asking around if there is such an establishment near you.
If there is, simply pay it a visit with your old helmet in tow and tell them that you want to trade it in.
If it meets their criteria, they will accept it, cut the straps off, and give you a discount on your purchase.
You can typically save 10 to 25 percent if you manage to find a store that offers such.
Use It as Decoration
If you have a cool-looking helmet and don't have the heart to let it go just yet, then keep it.
Use it as a decoration instead of throwing it away. You can find a prominent spot for it in your man cave.
With all the memories it holds, it will make a good conversation piece when you have your friends over.
The garage is also a good place to display it, and you can line it up along with other old motorcycle helmets.
If you decide to start a collection, you can paint each one with accents and different colors, depending on your taste.
Another great option is to turn it into a lamp.
To do this, simply drill a hole through the shell for the electric cable, and you are good to go.
Repurpose It
Building on the previous section, you can repurpose an old helmet in many other different ways.
With some creativity and slight modifications, you can turn it into a planter, a letterbox, or even a snack container.
You can also use it to make a bird feeder, hanging basket, or perhaps a nesting case.
The only limit is your imagination and maybe your DIY skills. Note that you might have to remove the straps and the EPS foam.
Have It Recycled
Some parts of the motorcycle helmet are recyclable.
In fact, if you examine the shell, there's a good chance that you'll see a recycle symbol with a number in it.
The problem is that it takes a lot of effort to dismantle the helmet before you can get to the good stuff.
As a result, not all recycling centers are capable of processing it.
To be sure, contact a local or regional recycling center first and ask if they handle motorcycle helmets.
If they give you the go signal, then you can go ahead and bring it in for recycling.
Donate It to a Motorist Who Has No Helmet
Wearing an old helmet is not as reliable as using a new one, but it beats not having any helmet on while riding.
If you know people who do not own a helmet, check to see if they will accept an old one for free.
Since they do not have to pay for it, they might be more willing to wear it.
Once they experience first-hand the benefits of wearing a helmet, they might even change their mind about investing in one.
Throw It in the Trash
If you don't like any of the options we have outlined so far, there's one more thing that you can do.
Throw your old helmet out along with your other trash.
That said, before you do this, there are a few things that you should take care of.
Firstly, you need to cut or remove the chin strap to make sure that no one can use it.
If you have the time and tools, you can also try chopping it in half.
Just make sure that you know how to handle the tools safely if you decide to do this.
Out With the Old, In With the New
Today's top motorcycle helmet brands focus on developing helmets that are built to last.
Yet, no matter how well you take care of it, there will come a time that you will have to replace it.
When that time comes, you must first figure out what to do with your old helmet before getting a new one.
We have outlined several options for you. All you have to do now is choose which one fits your unique situation or preference.
Once you have, you can get a new helmet and continue having a safe and enjoyable riding experience.
We hope you find this information helpful. If you would like to support this site, you can by purchasing through recommended links on the page. Should you decide to purchase, we may earn a small percentage of the sale at no cost to you.
Thank you for your support.