Helmet Hawk is supported by readers. Should you buy through links on our website, we may earn an affiliate commission at no additional cost to you.
Motorcycle helmet speakers can add a great deal of utility to a good piece of headgear, including in-helmet calling and communications, GPS navigation's, in-ride music, and more.
The following is a list of some of the better products we have come across.
If you're in a hurry, we found the Sena SMH10-10 Motorcycle Headset to provide the best all round value for what they are offering.
Helmet speakers are easy to install, not in least because most helmets are now designed with pockets ready for their inclusion. You should also be aware that not all speaker sets will give you the same range of benefits.
Some come without microphones, so you won't be able to use them for helmet-on calling. Others won't have integrated volume control. Still, others will have limited wireless ranges.
Getting the right ones is a matter of identifying your own needs and matching the available products to meet those requirements.
Please read our reviews, and make up your own mind.
---
Overview:
Thin-profiled and big on bass, the Tork X-Pro speakers also come with integrated volume control and are equipped with hook and loop (Velcro) fasteners. They can connect to most digital radios and music players and is priced under the hundred mark.
Pros:
Very good sound quality, especially in the bass line
Relatively cheap
Good build quality
Cons:
May require you to drill out a little foam from some helmets to deliver the best fit and sound quality
Conclusion:
These are great speakers if you want good sound from in-helmet gear. The bass is very good—it won't be Beats-level thumping, naturally, but considering it will be coming from small and very thin (some of the thinnest of their type) speakers, that's hardly a worthwhile argument against the X-Pro.
---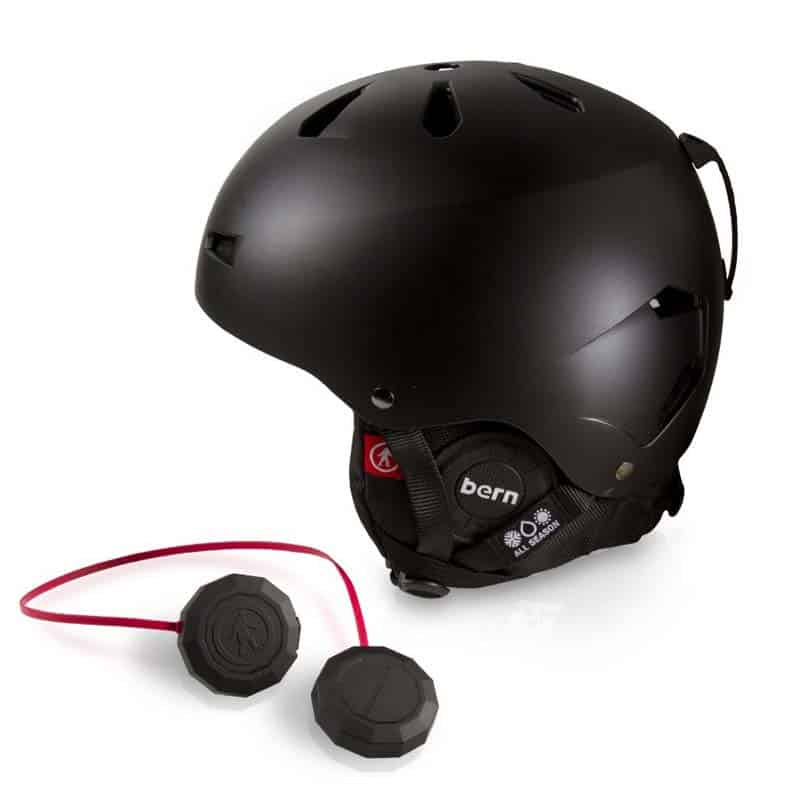 Best Motorcycle Helmet Speaker Without Intercom
The OT0032 Chips system is meant for helmets that allow audio drop-ins. It has an inbuilt microphone, 40mm drivers, a dual-button control system, and a rechargeable lithium-ion battery. The battery can last as long as 10 hours on continuous play and a full charge and around 280 hours on a full charge if kept on standby.
This set costs a bit over the hundred buck mark.
Pros:
Very hardy and rugged (and sweat-resistant)
Excellent wireless capabilities
Rechargeable battery
Cons:
Helmets with a lot of wind noise will make it hard to hear these
Conclusion:
As the first product on this list to come with a microphone, the Chips system is definitely worth a gander. If you want to take calls without removing your helmet. it's hard to put down. With a rechargeable battery (you get the charger with your purchase) included you get decent sound. It hascool connectivity features like auto connect to the last wireless device you linked it to, and more. It does cost more than the preceding two items on this list, but it also delivers more in terms of function.
---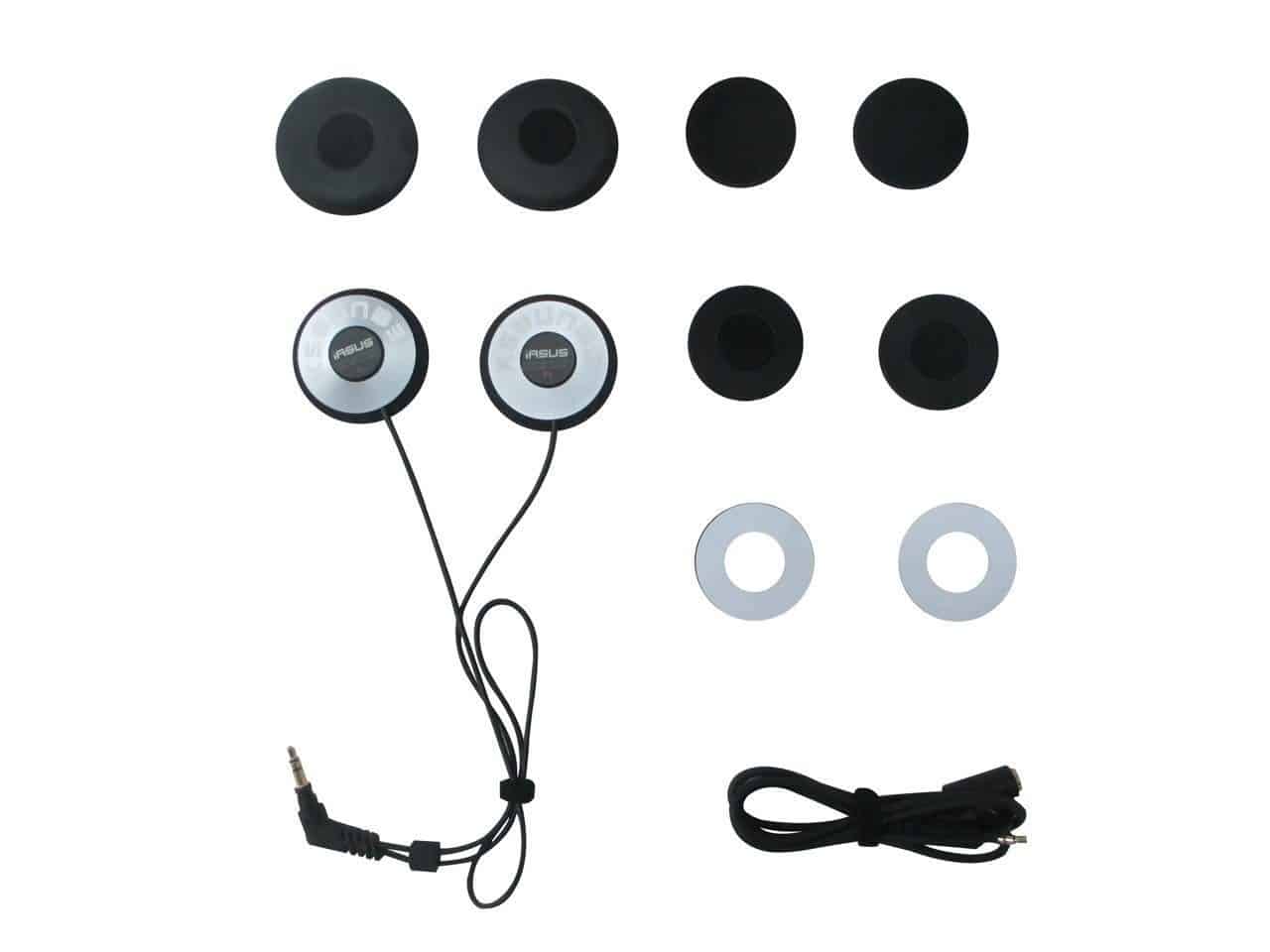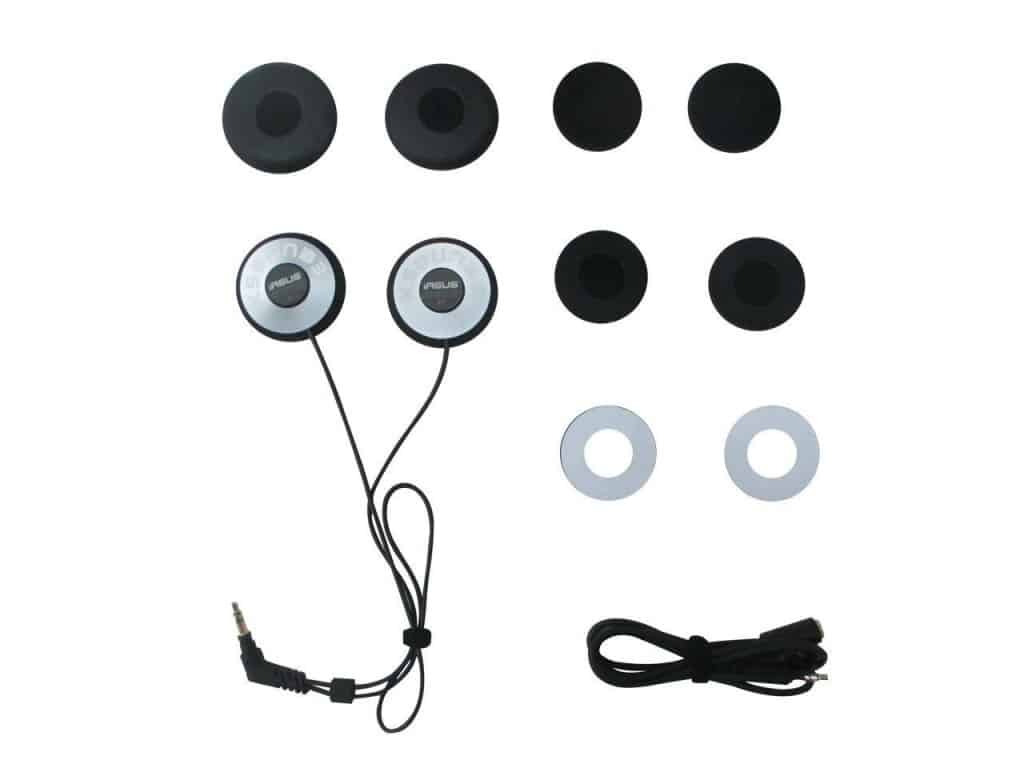 Best Motorcycle Hemet Speakers For The Sound
The IASUS XSound 3 is crafted out of high-quality aluminum and Kevlar-strengthened wires to resist wear and tear. The wires can take up to 10lbs of stress with little to no damage, and the aluminum speakers are wrapped in foam inserts.
Pros:
Durable, high-quality materials
Thin design
Clean, crisp sound
Cons:
No integrated volume control
Conclusion:
This IASUS product has some of the best sound on the market when it comes to motorcycle helmet speakers. Producing clean notes that you will very likely find comparable to the sort of quality you get from decent (if not top-notch) earphones. These are a great buy for the audiophile desperate to get some background tracks for his ride.
The construction is especially good. Machined aluminum is as tough and good-looking as it comes. While you may not necessarily find yourself needing the Kevlar reinforcement on the wires. You probably won't be able to resist bragging about it anyway.
---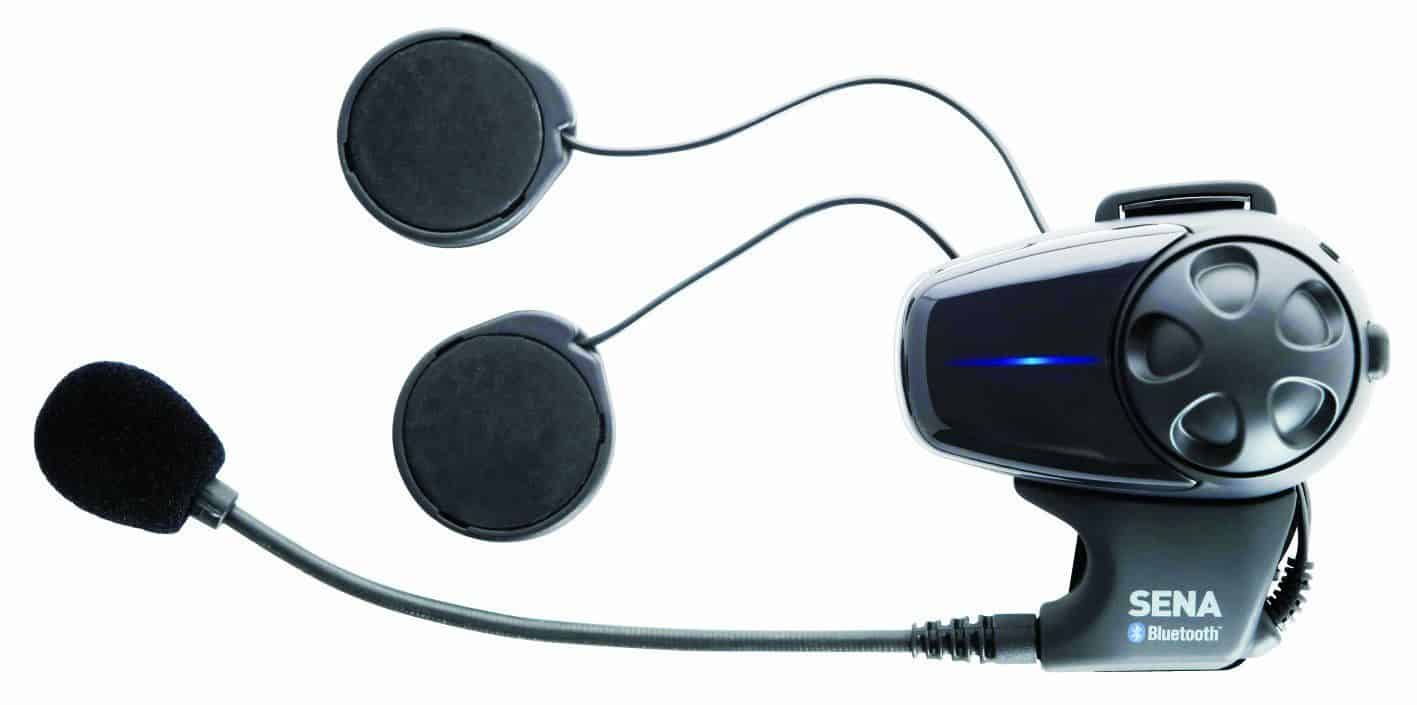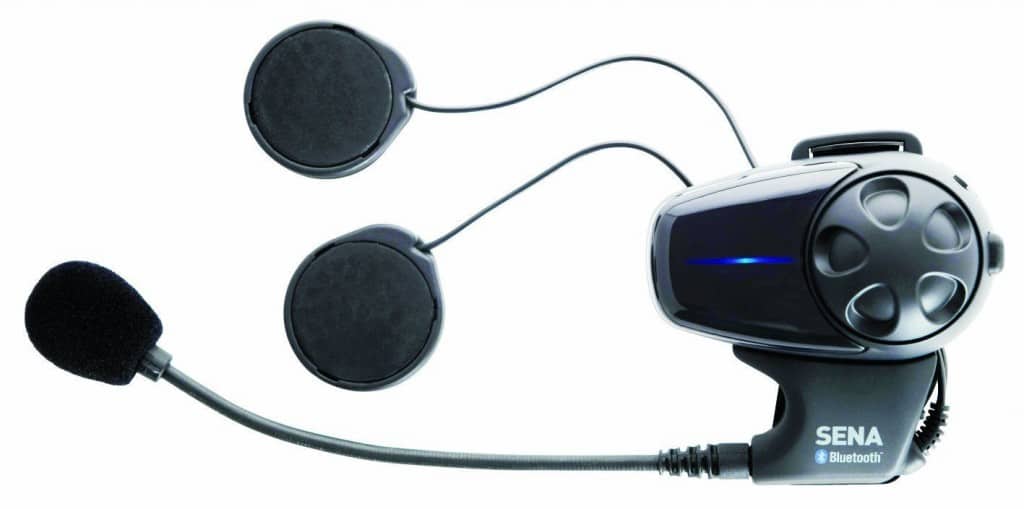 Best Motorcycle Helmet Speakers Overall
The Sena MH10-10 uses Bluetooth 3.0 and can pair with as many as four other headsets. It can be used for helmet-on calling, music playback, GPS-device pairing, and intercom conferencing.
There are multiple adjustable volume profiles, two charging units (one for vehicle charging and another for USB charging), and a two-year warranty from the manufacturer.
Pros:
Good battery life (at a maximum talk time of 12 hours on a full charge)
Good wireless intercom range (up to 900m)
Clean, strong sound both from speakers and microphone
Cons:
Conclusion:
This is a great speaker and microphone set for anyone who's often on the road. It may be the priciest product here (by just a little bit, anyway), but it's also arguably the one with the most to give.
Not only does it use Bluetooth 3.0, but it also offers durability (via the actual build and warranty) along with a measure of future proofing (the software can be upgraded). The set may also have the loudest speakers of all the products here, as they can handle most situations without requiring an amp.
---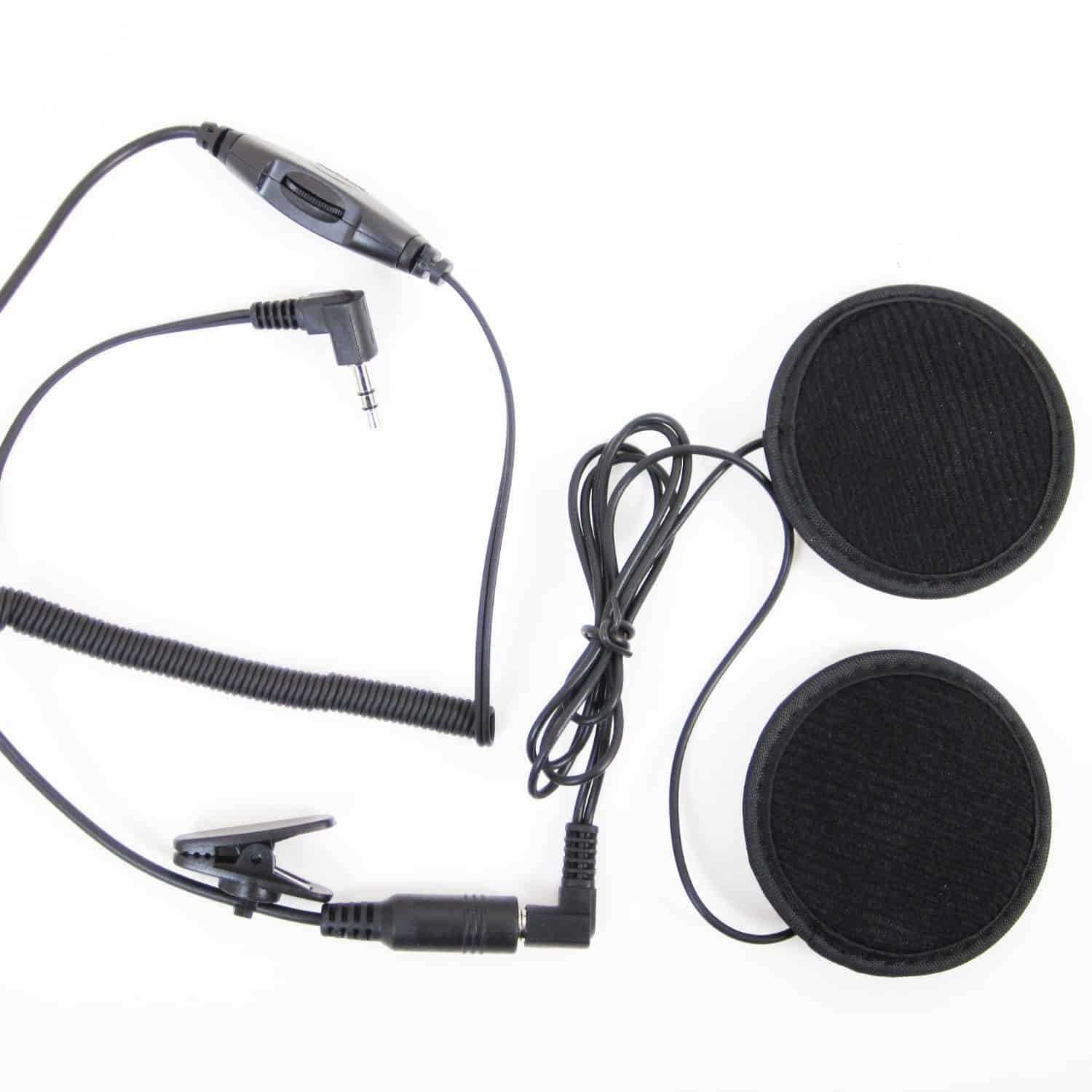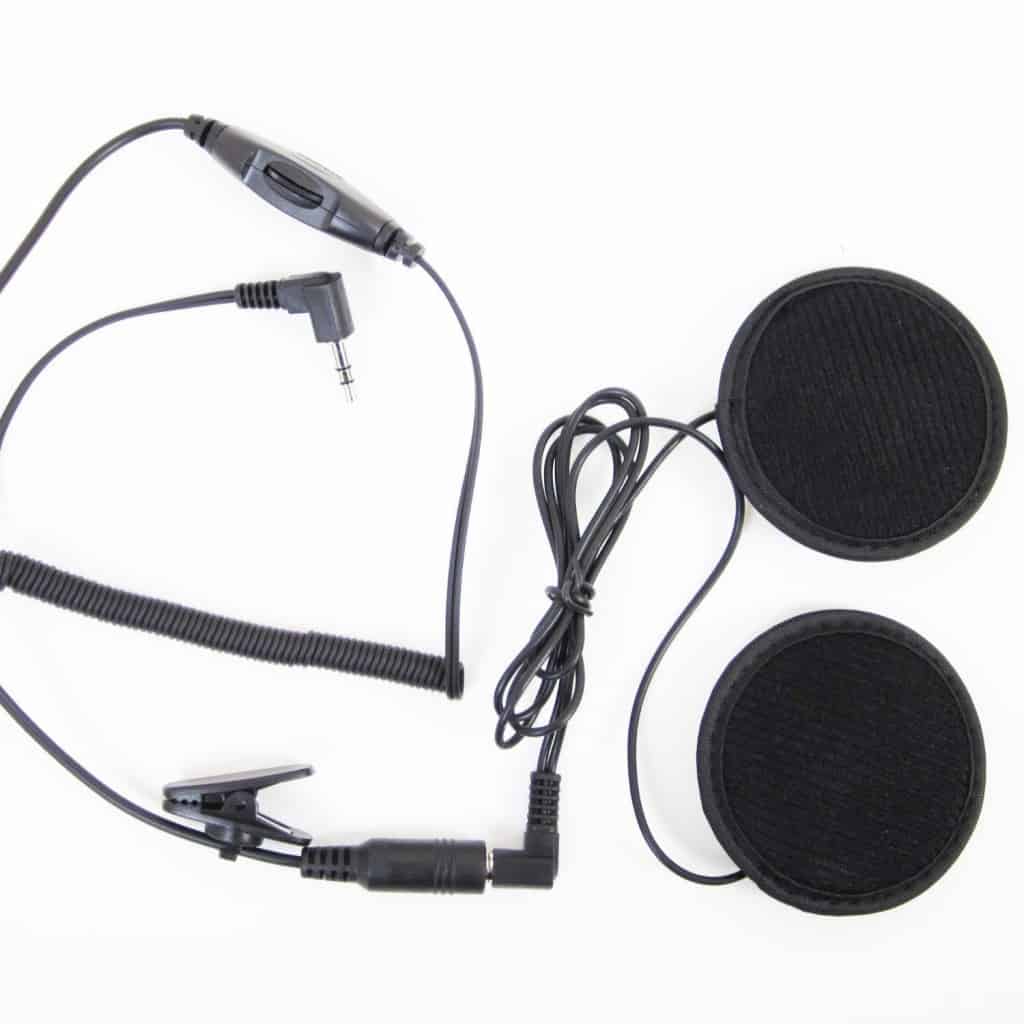 Best Motorcycle Helmet Speakers For The Price
Designed specifically for MP3 and personal radio access while riding, the Shark shklxh1 has a coiled cord and easy-to-operate volume controls. It has a dual-release feature and is dual-sided as well, making installation and removal very simple tasks.
These speakers block out wind noise moderately and are reasonably in-expensive.
Pros:
Very cheap
Easy-to-operate volume control
Cons:
Can be drowned out by a very loud bike
Conclusion:
This may not be the first option if your bike is regularly drowning out most other sounds, but this is a good set for most other situations. Where it really shines is in the cost department. At just a third of what the nearest-priced competitor on this list costs, it's easily among the cheapest motorcycle helmet speakers around.
These won't be likely to give you big enough sound to always come in loudly and clearly at highway speeds, but with a cheap amp, that should be taken care of just fine.
---
Summary
The top marks in this list definitely go to the Sena speakers. This set may be the priciest, but it's also the best in overall terms, delivering quality in just about every aspect. With that said, you should think twice about getting this if you're not going to be using all of its features.
For example, if you have absolutely no need for intercom riding and only want speakers for music, you should consider looking at other entries — particularly if you're on a budget.
The IASUS model edges out over the Chips speakers based on sound quality alone, and the IASUS speakers are better for your budget, too, giving the Chips the third-place spot.
Whatever you do get, though, keep in mind that most motorcycle helmet speakers are necessarily affected by the noisiness of your bike, the effectiveness of your helmet at keeping noise out, and impedance values.
Most will naturally need the addition of a handy amp to let you pump them at good enough volume levels to block out highway sounds.
If you are looking for Bluetooth helmets with built-in speakers and a long connectivity, try this range as we have review some of the best.