Helmet Hawk is supported by readers. Should you buy through links on our website, we may earn an affiliate commission at no additional cost to you.
Spiderman is a superhero that everyone looks up to. The friendly neighbor is acrobatic as he swings from building to building with prowess.
Also, he made a pretty sick costume for himself.
The list of Spiderman's awesomeness would be too long to get into. And we can't help but admit that we have all tried to shoot webs through our hands — hopefully not jumping out of buildings.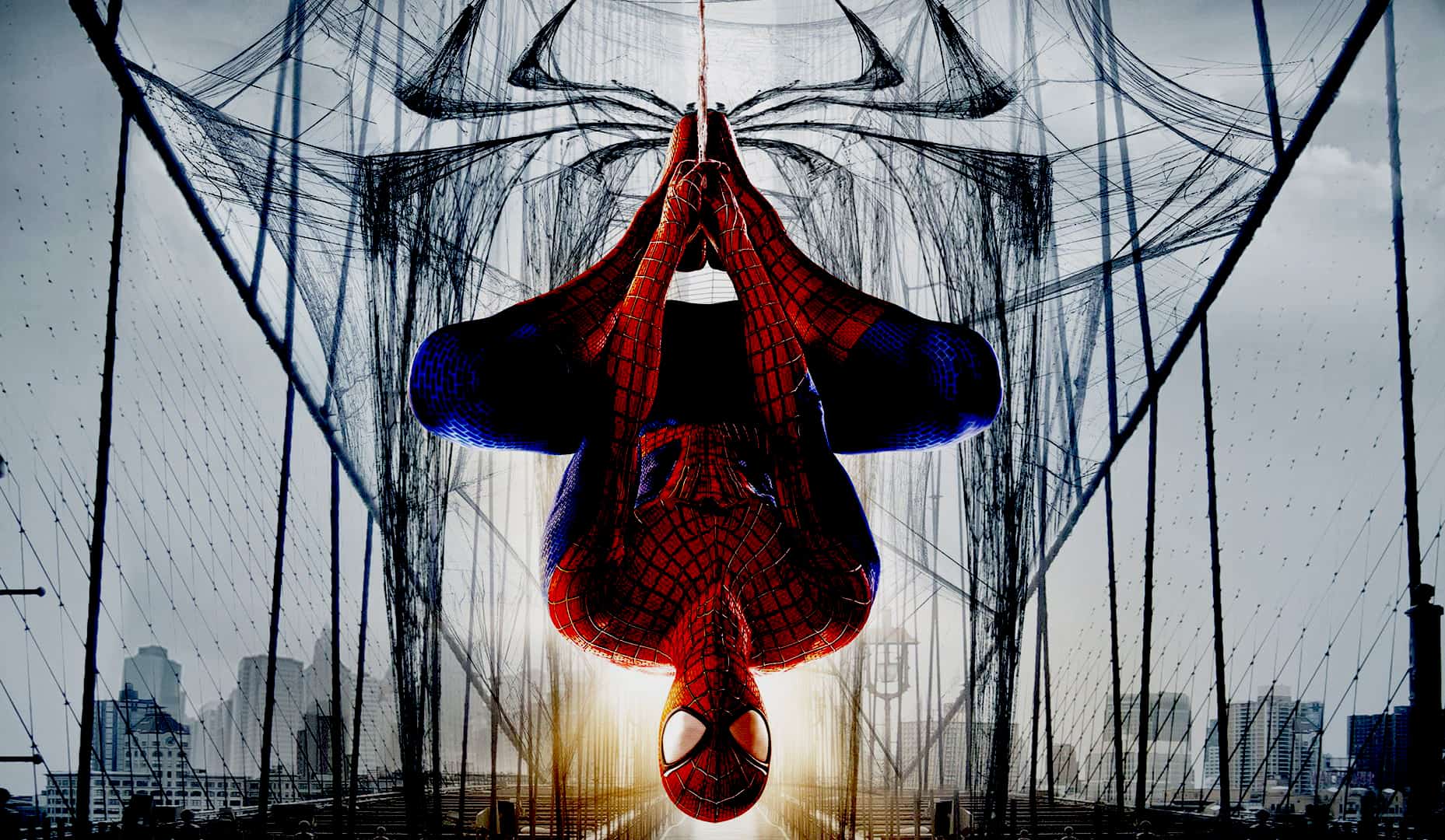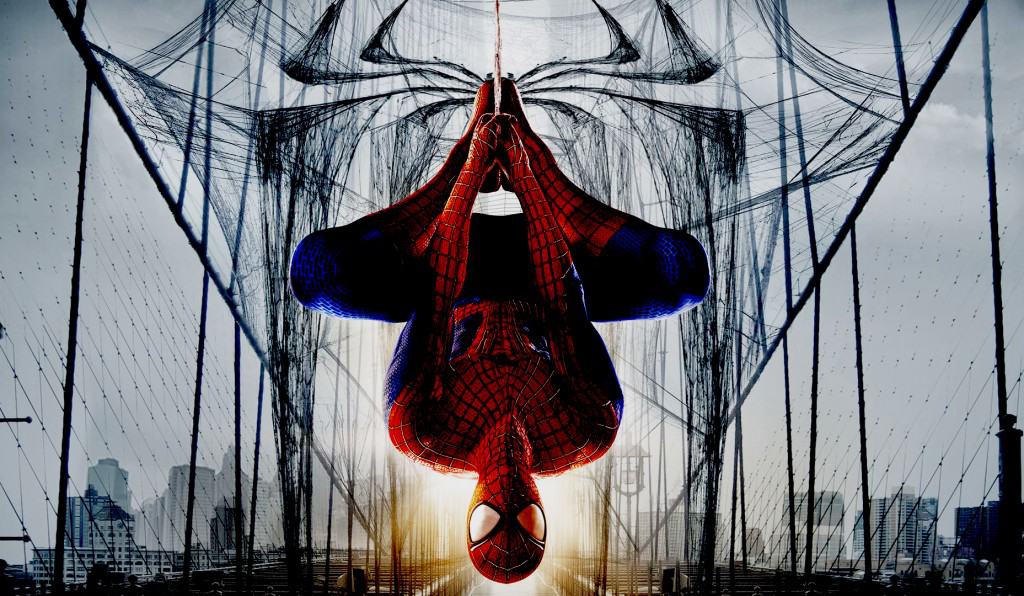 | Top 3 Must-have Spiderman Motorcycle Helmet | Price Range | Rating |
| --- | --- | --- |
| | $42.88 | 4/5 rubber chickens |
| | Price not available | 3/5 rubber chickens |
| | Price not available | 4/5 rubber chickens |
| | | |
In all seriousness though, these Spiderman helmets look amazing and are mostly designed for kids. Well, there are helmets which are DOT approved, which means you can wear them while riding on the road, that is, if it fits you of course.
These are three Spiderman helmets that we reviewed, some are only a few clicks away and are popular among riders of all ages.
---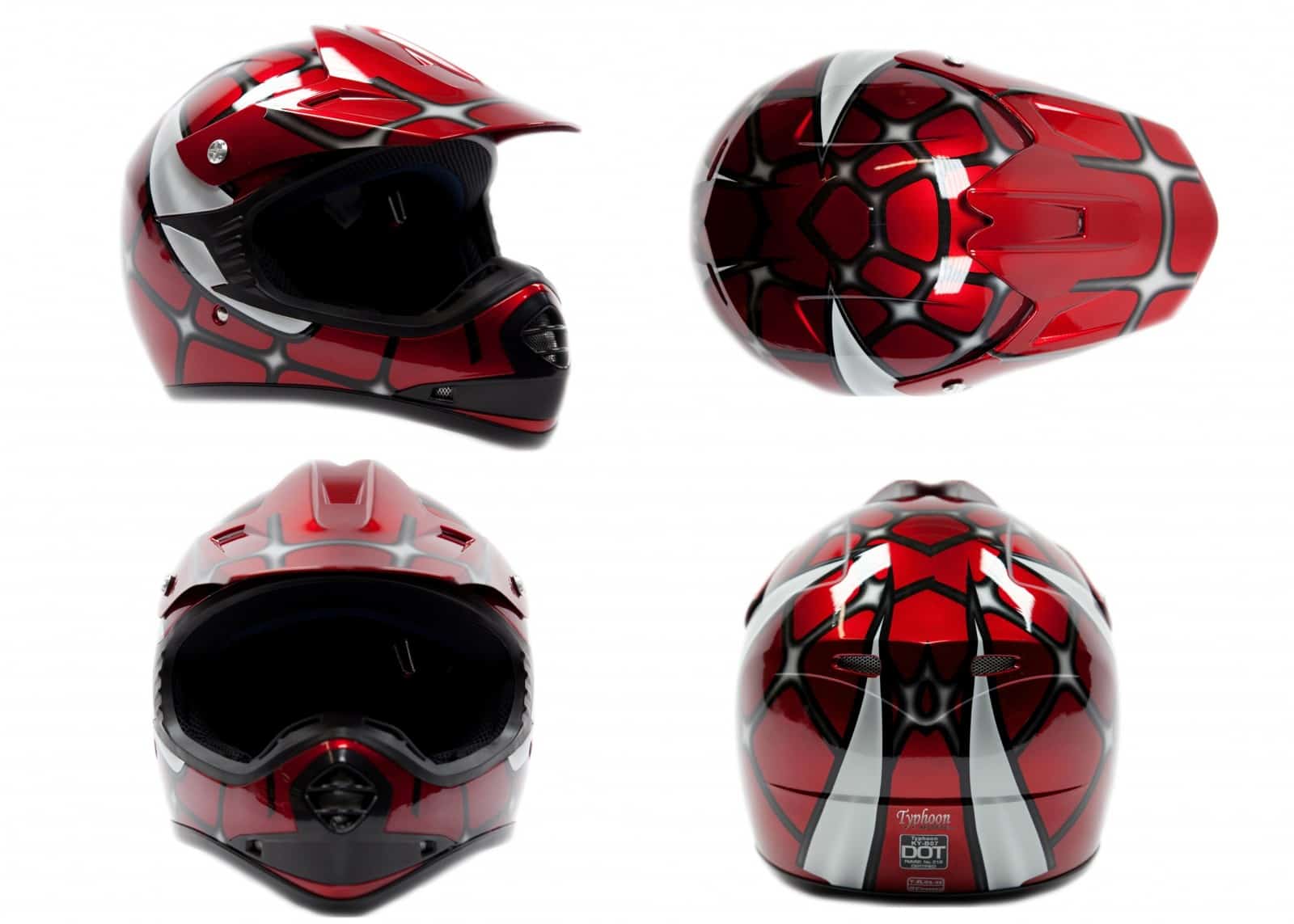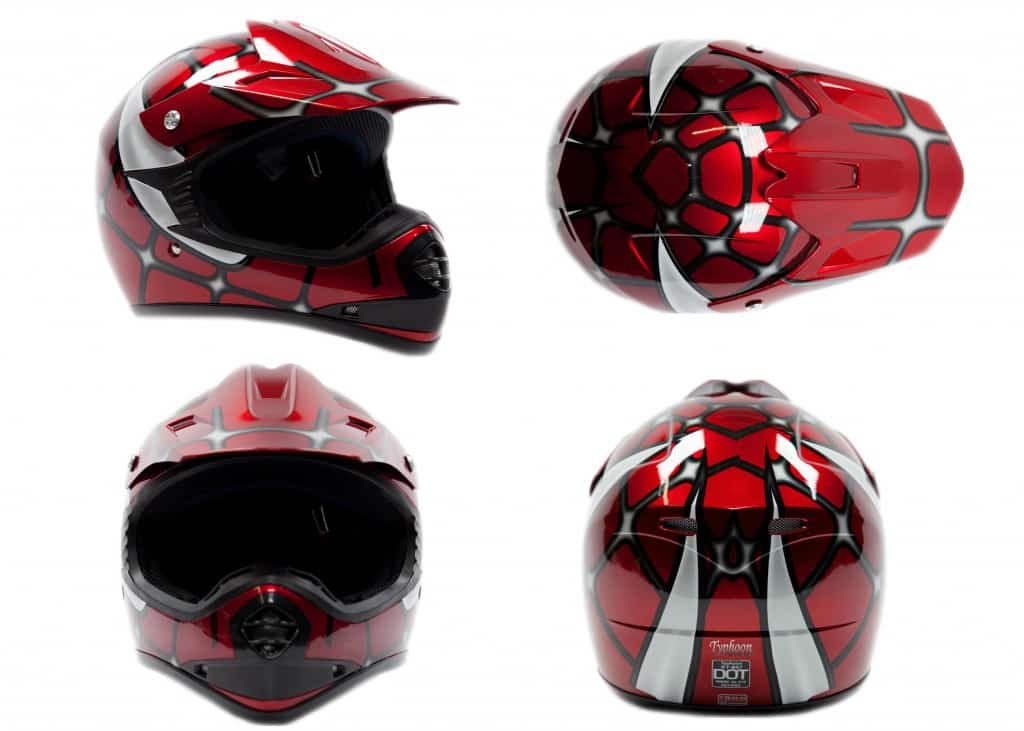 Kids Spiderman Dirt Bike Helmet
The youth off road helmet from Typhoon helmets are not really designed for adults. Hence, the smaller shell. It is not over padded like in adult helmets. It features an interior liner which can be removed and washed. The webbed Spiderman design looks great. It meets DOT standards and has been certified.
It is available in four different sizes for around $50.
Pros
This adventure style helmet features a superb Spiderman web design and looks really great.
It meets the DOT standards.
The high gloss clear coat finish assures its durability.
Cons
It's a youth helmet designed mainly for kids. So if your inner kid has been fancying this, be clear about the size chart to make sure it fits.
It's not meant for long hours of riding and will get uncomfortable if done so because of its thin padding.
It's a great helmet that is designed to last. Both kids and adults (with not so large heads) will be able to fit this on their heads. It looks great and has been designed for Spiderman fans. It meets the safety standards of DOT and you can feel confident while riding with it.
Comparison
The above helmet definitely stands out among most of the helmets in the category, as it is DOT certified and has a superb look. But it surely isn't the only one.
Kids Full Face Spiderman Motorcycle Helmet and Motorcycle Street Bike Spider Red Full Face Adult Helmet are both amazing helmets that carry a particularly noteworthy appearance and have been made especially for Spiderman fans.
---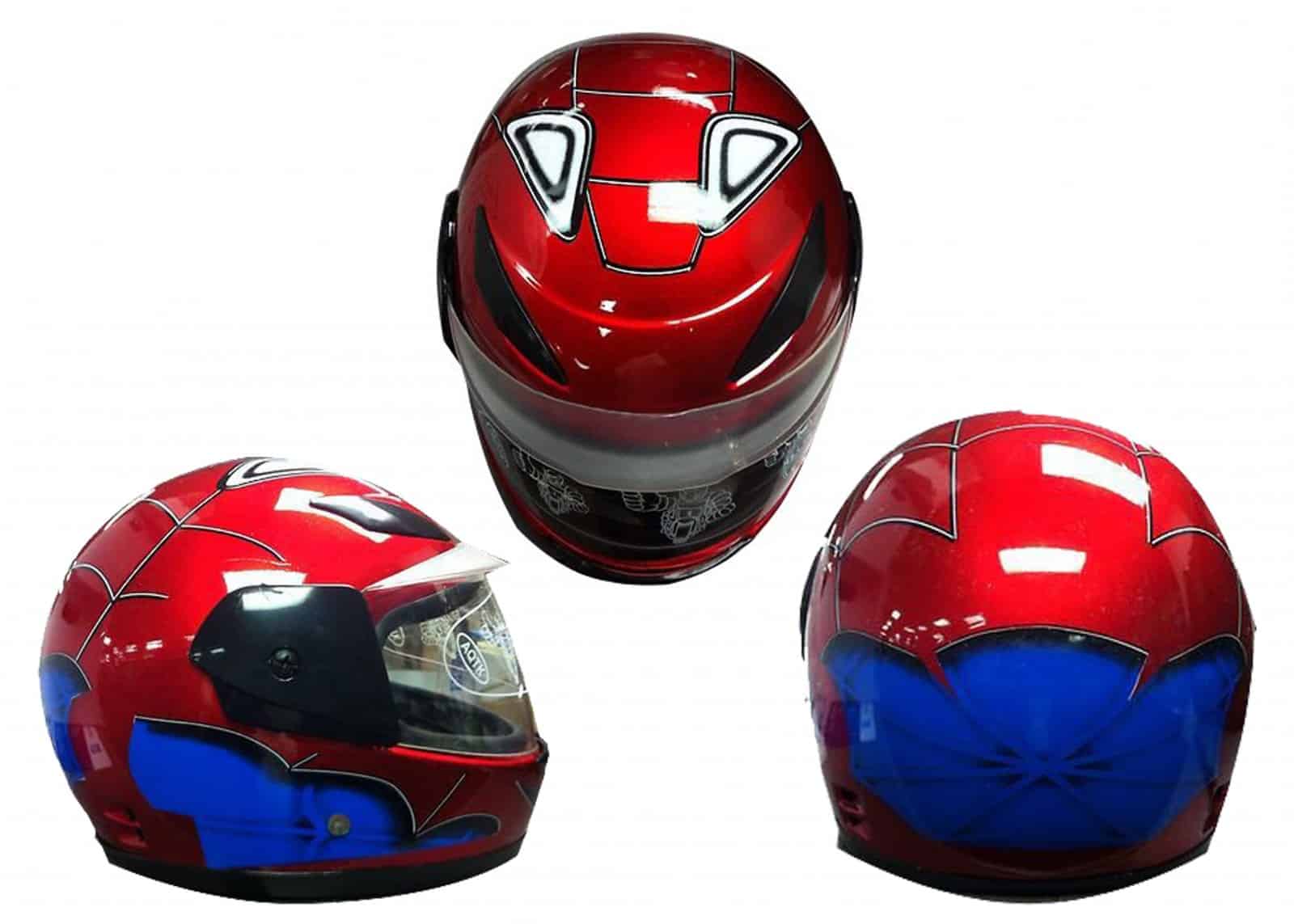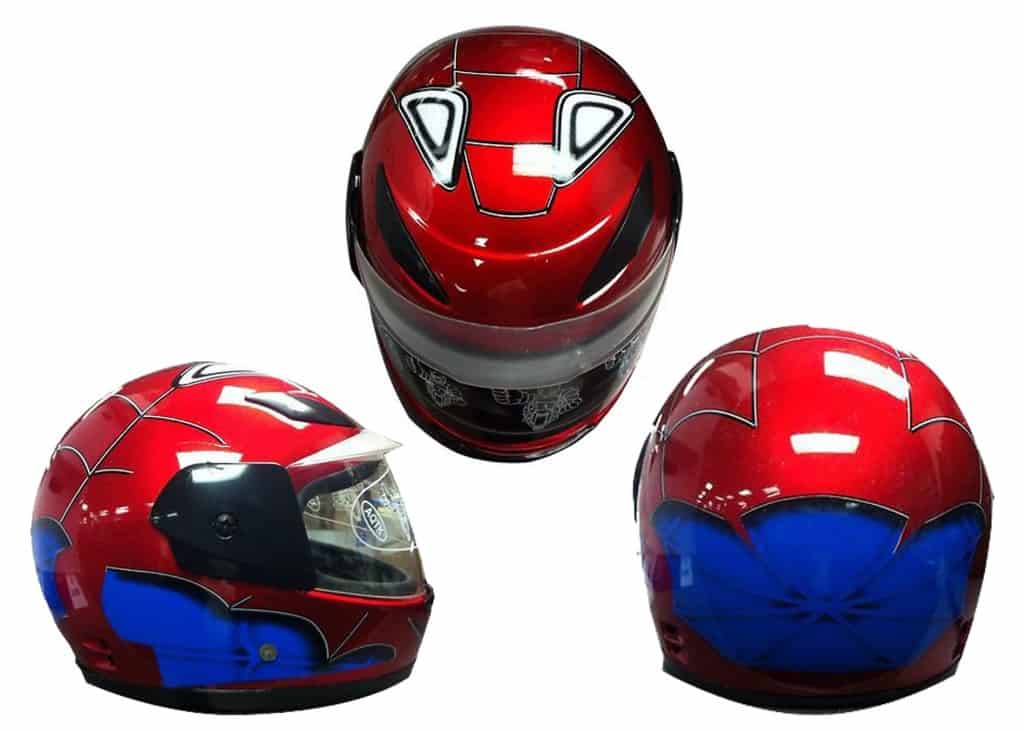 Children's Spiderman Design Full Face Helmet
This helmet is specifically designed for kids, which measures 48cm – 53cm. It is a lightweight helmet and is not designed for safety. It features soft and an environmentally protected velvet inner pad for comfort.
The chin strap is adjustable and it also features a quality ventilation system to make sure your kids maintain a cool head. The ABS plastic used for the construction of the shell looks sturdy.
It is available in four different colors: black, black/red, blue, and red. It will cost you roughly fifty bucks.
Pros
This helmet is meant for comfortable riding for kids and the strap makes sure the helmet stays on.
It's available in four different colors, which is a delight for kids.
Cons
If you are a Spiderman fan yourself and you want one too, unfortunately, this is not the one because of its size.
The padding is thin and not that comfortable.
It is not DOT certified.
It's sort of a toy helmet for kids, but it has been equipped with useful features nonetheless. It can be worn on peddle bikes or just for fun. If your kid has been begging for the Spiderman helmet, this is a quality product.
Your only worry regarding the product would be your kid growing up too fast and not being able to fit in it or not fitting in it for very long.
---
Motorcycle Street Bike Spider Red Full Face Adult Helmet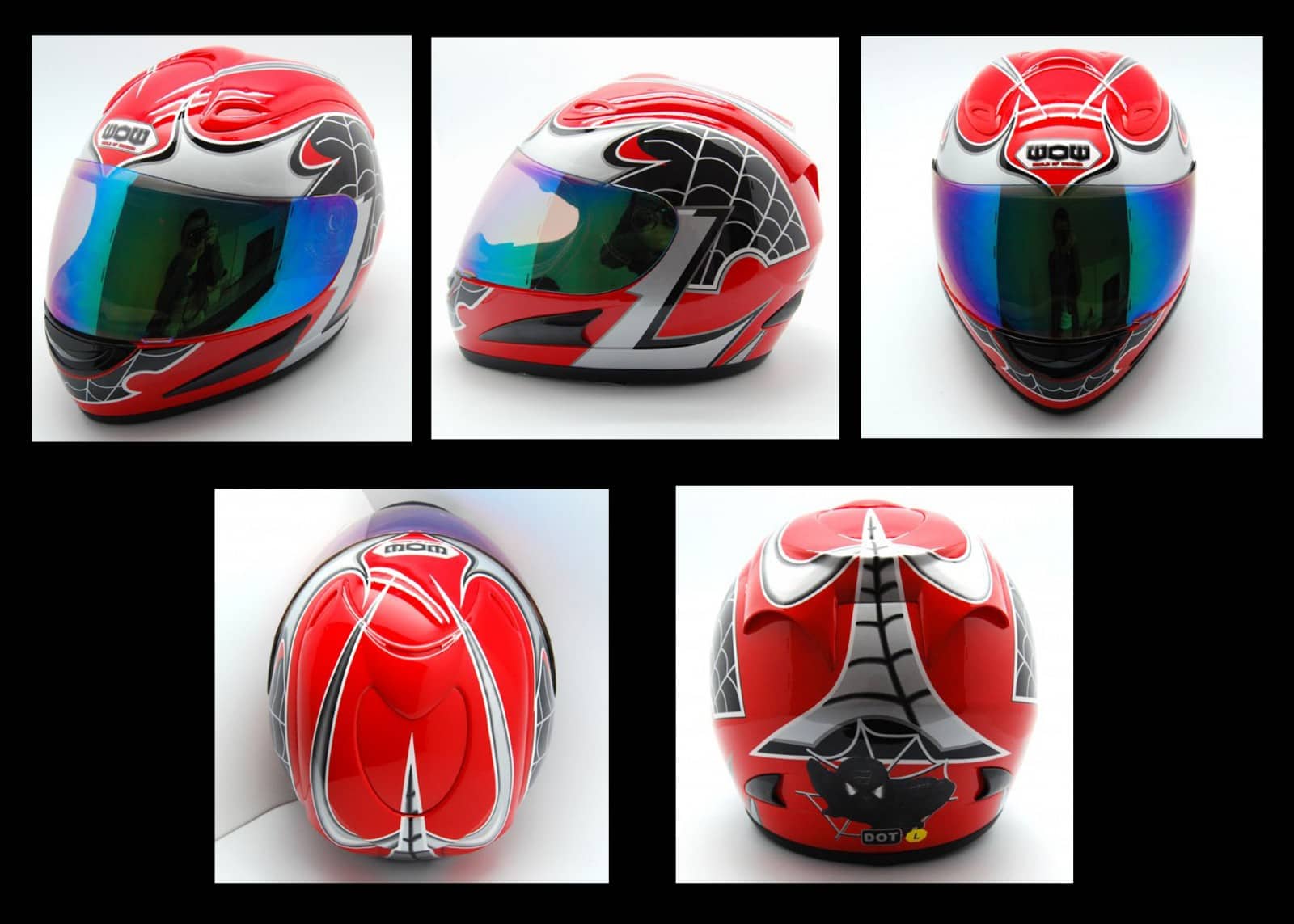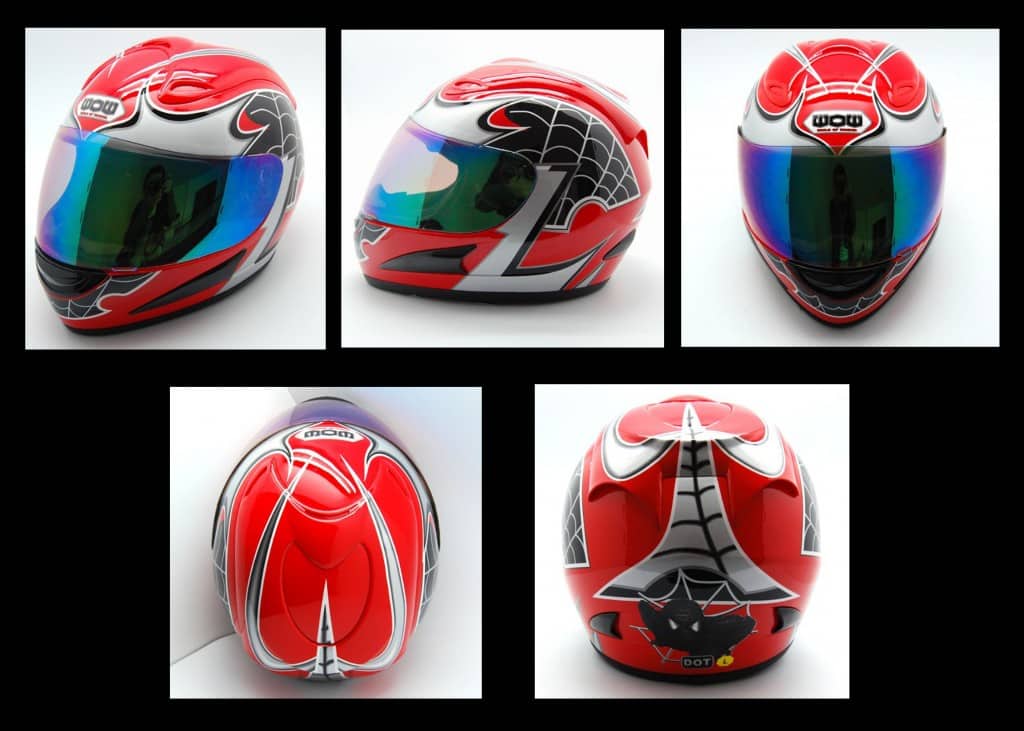 Full Face Spiderman Motorbike Helmet – For the Big Kids
This is an adult sized Spiderman helmet constructed with a durable aerodynamic thermoplastic alloy shell. The interior of the helmet is well-cushioned with comfortable padding, which is both removable and washable.
The glossy UV protective finish makes it look even better. It has been approved with DOT standards.
Pros
It's one of the few Spiderman helmets designed for adults. Feel free to let your inner kid have some fun.
The padding is comfortable and can be removed and washed.
It features glossy UV protective finish.
Cons
It's only available in a single size – small.
There is no ventilation, so it will get really uncomfortable while riding in heat.
If you want a Spiderman helmet to fit your adult-sized head, you should try this out. It's available at a really cheap price and will be comfortable riding around town. Looking at the price, you can't really expect much from this helmet. You get what you pay for, and it features a cool-looking webbed design.
Conclusion
One thing's for sure. Only Spiderman fans would buy these helmets. You can go with either one of them, whether for yourself or your kids — if it will fit your head 🙂 .
The Youth Off-Road helmet is the best choice as it is an adventure-style helmet with a slightly aggressive look. The look is amazing and it has been designed to last a while. It even meets DOT standards, so you do not have to worry about the helmet not being safe enough.
Feel free to make up your own mind about choosing any products we recommend. You should properly weigh in the pros and cons accordingly with your requirements, budget and the look your prefer, and make the best purchase.
Make sure that the product is durable and looks good enough to make due for its lack of comfort and safety. That's the best you can hope for with these custom-made helmets.
Image Credit: Amazon.com