Helmet Hawk is supported by readers. Should you buy through links on our website, we may earn an affiliate commission at no additional cost to you.
Old school trends keep on coming back whether it's clothes or cars, and now, helmets. We all remember seeing the cool retro helmets in the movies from the old days.
But, getting that exact copy might not be practical due to its lack of features and safety.
However, in the modern world there are companies which produce vintage style motorcycle helmets that feature the old-school retro look.
Don't worry! They have been equipped with modern day safety features and look totally wicked.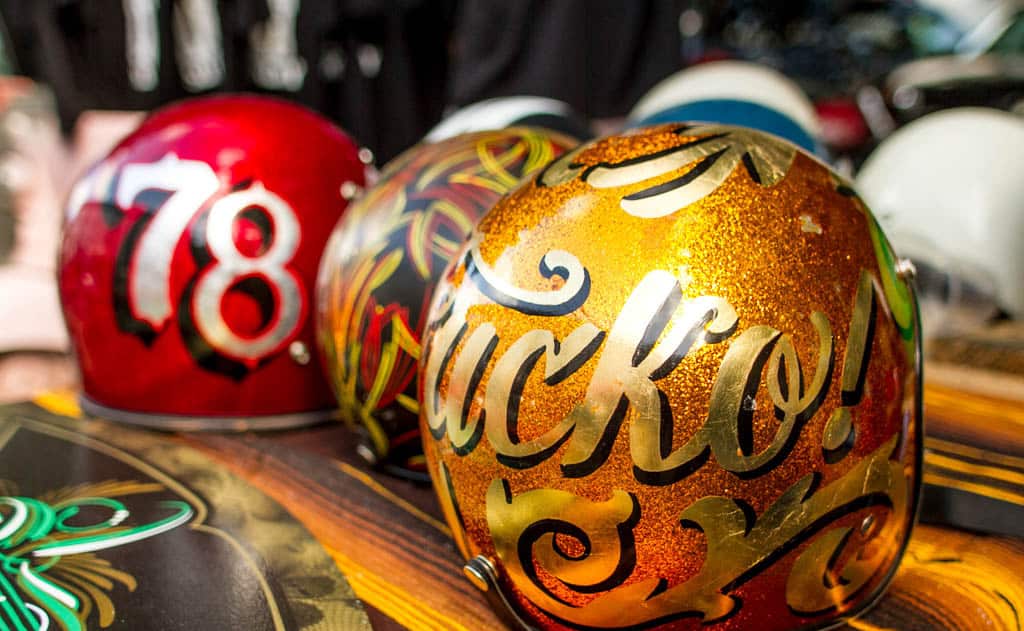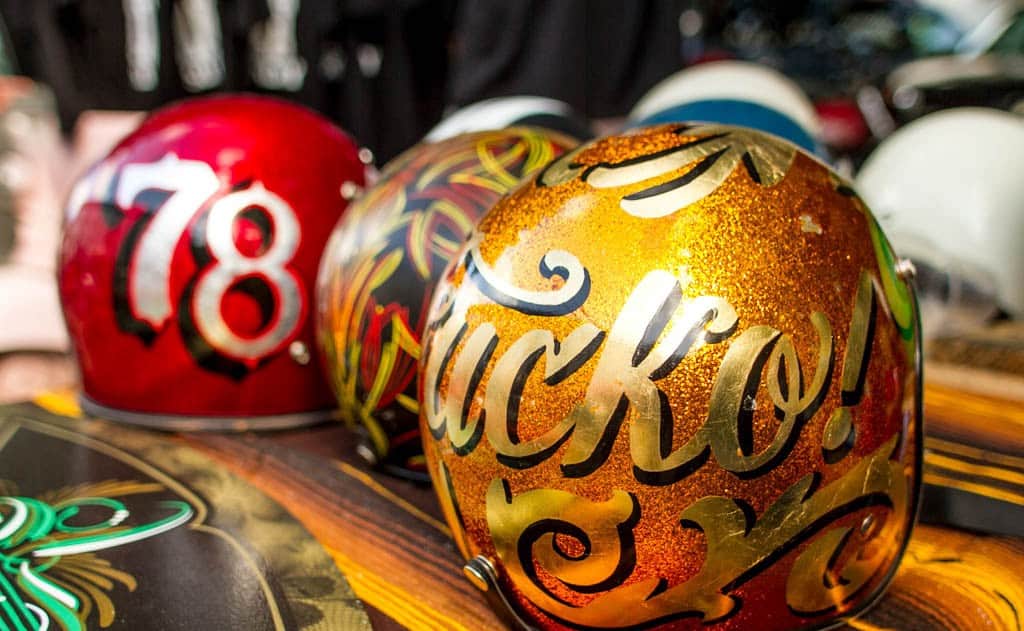 There are enough choices in the market place for you from full-faced, open faced, and half helmets. Whatever fits your style and riding habits.
This week we have put together our list of some of the most popular vintage-style motorcycle helmets.
---
Retro 70's Look Full Face Helmet
The full-faced helmet from Biltwell has been constructed with an injection-molded ABS outer shell and comes with a hand painted finish.
The expanded polystyrene inner shell and hand-sewn brushed Lycra liner with contrasting diamond stitched quilted open-cell foam padding offers superior comfort.
It features a rugged plated steel D-ring neck strap that makes sure that the helmet stays on. It has been certified with DOT standards.
It is available in five different sizes and will cost you a couple of Benjamin Franklin's.
WHAT WE LIKE
Comes with a strong outer shell for protection.
Shock-absorbing EPS liner and interior padding, cheek pads and a biofoam chin bar cushion for comfort.
Helmet will not budge, even at high speeds and will get you through most weather conditions.
WHAT WE DON'T
Riding with visor up can get slightly irritating due to the whistling wind noise.
Addition of modern day features puts it in the classier section of helmet prices, so ,it might not be affordable for some riders as it's not a mid-range helmet.
This is a great helmet with modern day safety features and classy '70s look. The full- faced helmet features comfortable padding for maximum comfort and will work just as fine as normal modern day helmets.
If you're willing to spend the sum required, it's a great buy and you are bound to receive lot of compliments.
COMPARISON
Biltwell is one of the leading companies when it comes to the manufacturing of vintage style helmets. But, there are other options out there.
If full helmets are not your thing, you can also consider the Arrow AV-84 Vintage Deluxe and Flat Black Novelty Helmet by Biltwell.
These open-faced helmets are designed with a superb vintage finish and are available at half the price.
---
Arrow AV-84 Vintage Deluxe

European Old School Motorcycle Helmets
Vintage deluxe from Arrow is constructed with a thermoplastic shell and has been certified by ECE 22.05, which is the European D.O.T. It is lightweight and the inner linen is extremely comfortable.
It features high-quality three dimensional lining for a personalized fit and is both removable and washable. The paint on the helmet is U.V resistant, ensuring it age well.
It is available in six different sizes and is priced well.
WHAT WE LIKE
It meets the ECE standards and the protection is optimum.
The three dimensional padding makes the riding comfortable and the padding can be removed and washed.
It is lightweight and will not strain your head and neck despite long hours of riding.
The strap is easy to use, even with the gloves on.
WHAT WE DON'T
Since it is an open-faced helmet and leaves most of the face open, it is not as safe as full helmets.
There are no air vents, so although being an open faced helmet, long hours of riding in the heat might get uncomfortable.
Delivery tends to take longer than standard time.
If a vintage style, open faced helmet is what you want, there is no better buy. It has been approved with safety standards of ECE and features a classy look.
With easy-to use straps and comfortable inner padding, it is a great buy, especially for the price.
---
Flat Black Novelty Helmet By Biltwell, Inc
Vintage-style 3/4 Open Face Helmet
Liner with detail stitching and contrasting ventilated panels in the top
Embossed goggle strap
Vintage style chrome strip
Helmets are non-DOT approved and meant for novelty purposes only
Vintage-style ¾ open face helmet in matte black
This is another helmet by Biltwell which deserves it places among the bests. The vintage-style ¾ open face helmet is light weight and comfortable.
The interior lining has been stitched with maximum detail. It features contrasting ventilated panels on the top for cool riding.
The signature chrome strip by Biltwell around the opening makes it look classy. It features an embossed goggle strap and an easy-to-use snap.
The only flaw is that; it is not DOT approved and is meant strictly for novelty purposes.
WHAT WE LIKE
The design is classy, and with the chrome strip to add an extra flavor to the vintage style, it looks even classier.
It is comfortable to wear and the embossed goggle strap will ensure clear vision.
WHAT WE DON'T
It is not DOT certified and the safety is questionable. Do not use it as a go-to helmet.
With no proper face shield, it will not perform well while riding amidst dust, smoke or unfavorable weather conditions.
You get what you pay for with this product, but it will not disappoint you in anyway. The interior padding has been stitched properly and ensures comfortable riding.
The only problem is with the safety because it does not meet DOT standards. Other than that, you will be receiving plenty of questions about the helmet and the riding itself will give you a superior feel.
---
Summery
Each of the helmets feature different designs, different features and are available at different set of prices. It really comes down to what you want in your vintage-style helmet.
Weigh the pros and cons with your requirements in order to get the best out of the product.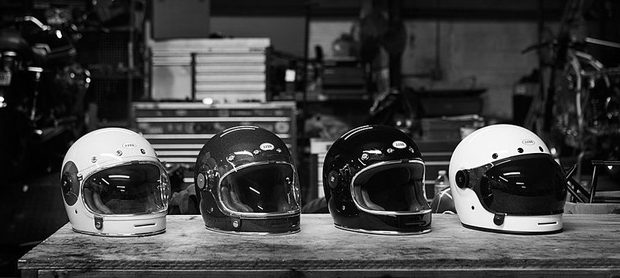 For instance, if you are only looking to ride around town with a classy helmet, the Flat black novelty from Biltwell should serve you just fine.
And, if you require safety to go hand in hand with style, you can opt for either of the other two.
The best choice is the Biltwell Gringo S. To say the least, it has a superior look and is a full face helmet, which makes sure you get maximum protection.
Granted, it is costlier than the other two, but fashion has a price and costs more when great features come with it. It's not over sized and isn't too heavy.
If you need one more reason, it is DOT certified and you can ride with ease and comfort without having to worry about any legal issues.