As a bike enthusiast, it's essential to ask, "What size motorcycle helmet do I need?" As your first layer of protection, an ill-fitting helmet can lead to disaster.
It can also be challenging to find the perfect fit without a bit of guidance. Fortunately, there are many ways you can size a motorcycle helmet to feel like it's custom-made for you.
Let's go over some key tips to help you find the perfect fit for your upcoming cruise or race.
Before You Get Started
There's no doubt that finding the ideal motorcycle helmet size is relatively easy once you have your measurements.
One of the most important things to note before getting started is that every manufacturer is different.
You need to consider the helmet type or design (as explained below) and manufacturer-specific measurements.
Always double-check every company's helmet sizing guide as company A's fit could be different from company B.
From there, you should be able to find the optimal helmet style to suit your every need.
Another critical thing to note is that helmets will adapt over time, which can be confusing for beginners.
Most helmets feature interior padding and cushioning that rests directly against your face. This padding is prone to adapting to the contours of your face the more it's worn.
Like memory foam, the more often you wear your helmet, the more it adapts to your specific face shape.
Most motorcycle helmets will shift up to 20% after wearing the helmet for around 20 hours. You shouldn't opt for a style that's way too tight and causes discomfort or headaches.
However, it shouldn't be loose when you wear it for the first time.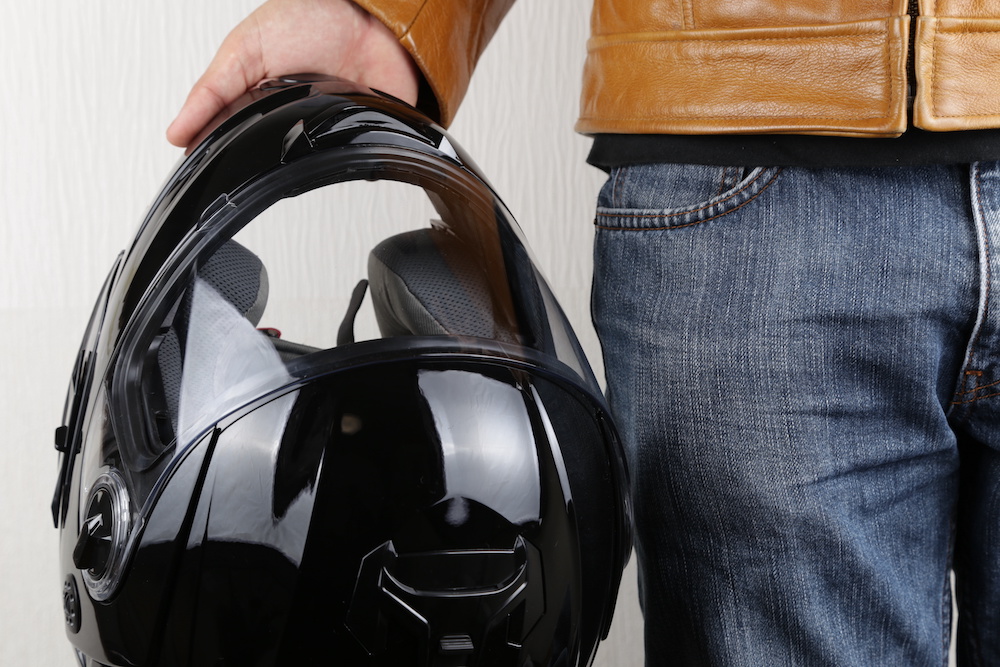 What Size Motorcycle Helmet Do I Need?
With those two key tips in mind, let's get into the steps to follow so that you can find the ideal helmet for you. There's plenty to consider, ranging from the shape of your head to the style of helmet you're considering.
Step #1: Figure Out Head Shape
The first step you'll want to do before getting your head measurements is to think about your head shape. Interestingly, every rider has a different head shape that typically falls within three categories: round oval, long oval, and intermediate oval.
Round Oval:

If you have a round oval-shaped head, it means your head shape looks the same side-to-side and front-to-back.

Long Oval:

Those with long oval head shapes have a longer length from the forehead to the back of the skull. Your ear-to-ear measurements will be less than your front-to-back measurements.

Intermediate Oval:

As the middle option, intermediate oval heads are slightly larger from your forehead to the back of the skull. When comparing your ear-to-ear measurements, they'll be slightly less. The intermediate oval is one of the most popular motorcycle helmet shapes because it's most common.
To help you determine your head shape, you can compare your measurements to see what category you fit into or use a friend. Have your friend take an aerial photo of the top of your head so that you can inspect the shape. However, we highly recommend using your measurements as it's more accurate.
Step #2: Measure Your Head
With a head shape in mind, it's time to get your exact measurements to help you find the perfect helmet size.
Fortunately, the process is as simple as finding the size of your head if you were ordering a hat. The only thing you'll need for this step is a flexible tailor's tape and a friend or family member.
Using the measuring tape, ensure it's placed just above your ears and about half an inch above your eyebrows. Ensure the tape is lined up correctly, and then write down your head's circumference on paper.
We recommend measuring two to three times to ensure you're getting the most accurate numbers possible.
Step #3: Consider Helmet Type
Now that you have your measurements to compare to a manufacturer's sizing chart, helmet type is important to look at. Not every motorcycle helmet is designed the same, and some styles are recommended for different bikes and speeds.
Currently, the four most popular helmet types include:
Full-face helmets are often preferred because they have a high level of coverage, making them one of the safest against impact. You'll also find they have a higher versatility regardless of the type of motorcycle you're riding.
They're designed for high and low-speed impacts alike and contain high-end features like a chin bar and visor.
Modular helmets are often referred to as flip-up helmets thanks to their innovative design. They're a mixture of 3/4 helmets and full-face helmets, as you can flip the visor and chin bar into an upright position.
Modular helmets are great for riders looking for eye protection and interior space for goggles. You'll also find they have slightly more weight, with the protection leaning more towards full-face helmets.
Another common name for open-face helmets is a 3/4 helmet, which offers less protection than the previous two models. They protect your head's top, back, and sides, but leave the face exposed.
With that said, these helmets are not ideal for high speeds and are better for cruisers.
As the least protective out of the bunch, half helmets only protect the top and back of your head. You'll find their coverage is lacking on the sides and only travels to right above your eyebrows. They're suitable for low-speed cruisers where you're unlikely to encounter any injury.
Step #4: Try the Helmet On
With your measurements and preferred helmet type in mind, it's time to try on your helmet to ensure it fits properly.
Ensure you refer to the manufacturer's specific sizing chart rather than choosing a general size. Every helmet type is bound to fit differently.
When your helmet fits perfectly, it should leave your eyes perfectly exposed, with the top of the visor sitting just above your eyebrows.
You should feel adequate pressure around your entire head without causing pain at the pressure points.
Another key way to test fit is to ensure the helmet doesn't shift when you twist and rotate it while worn.
The Right Motorcycle Helmet for You
When asking, "What size motorcycle helmet do I need?" it's important to remember the process is different for everyone.
Your helmet choice and size will differ depending on your head shape and size.
Be better prepared to find the ideal helmet for optimal protection and comfort using the above steps.
We hope you find this information helpful. If you would like to support this site, you can by purchasing through recommended links on the page. Should you decide to purchase, we may earn a small percentage of the sale at no cost to you.
Thank you for your support.