It goes without saying that every rider needs a helmet. And it's also common knowledge that different riders have different needs and that is why there are so many different helmet styles.
This is why it is important to compare the different helmet styles, to find the right one for your needs.
So far we have compared the Half Helmets and the Full helmets in this article here. And over the next few months, we plan to release a lot more comparisons articles, so you can weight up the pros and cons.
In this article we will be comparing the full face helmet verses the modular helmet.
When buying either of these helmets, you first must consider 1) rider convenience and 2) the level of safety provided by each type.


Modular Helmets – Pros and Cons
A modular helmet can offer the rider the best of both worlds, allowing you to switch helmet configurations. Modular helmets come with an adjustable visor or chin-bar that can be moved up and down.
They give the rider the convenience of talking with other people while on the move.
You can also wear a modular helmet on top of your prescription glasses comfortably. Additionally, a modular helmet allows you to enjoy cool and fresh air.
If the wind is too much for you, you can close the vent by bringing the visor down.
Modular Helmet Pros:
All Round Versatility
Better Visibility
Easy Communications
More Ventilation
Modular Helmet Cons:
Modular chin bar make it more dangerous in an accident
Less Noise Reduction compared to Full face
Usually Pricier than the Full Face
Best Modular Helmets
5 of the Best Modular Motorcycle Helmets
Shoei Neotec Modular Helmet
---
Full Face Helmets – Pros and Cons
One of the major pros of the full face helmet is the level of safety. They offer the most complete face and chin protection of all the helmet styles.

Full Face helmets, build with safety in mind!
The modular flip up chin section can flip in an accident and cause terrible injuries to the face and jaw.
The negatives are the full face helmets can hardly be worn together with spectacles. This is because they are not roomy.
Riders that wear full face helmets can never strike a conversation with the people they meet or fellow riders unless they remove the headgear.
Besides that, if you want to ride for many hours without stopping because you carried some drinks and snacks, you would have to stop somewhere on the way to enjoy your lunch. You can't eat while your mouth is covered.
The other problem is that full face helmets that don't have sufficient vents allow heat and sweat to build up in the head, which in the long run creates a favorable environment for bacteria that cause dandruff to accumulate.
Full Face Helmet Pros:
Best all round protection
Offer better full face protection
Better Noise Protection
Filtered Ventilation
Full Face Helmet Cons:
No Conversations
No Cool Breeze
Best Full Face Helmets
List of the Best Full Face Motorcycle Helmets
Shoei Men's RF 1200 Motorcycle Helmet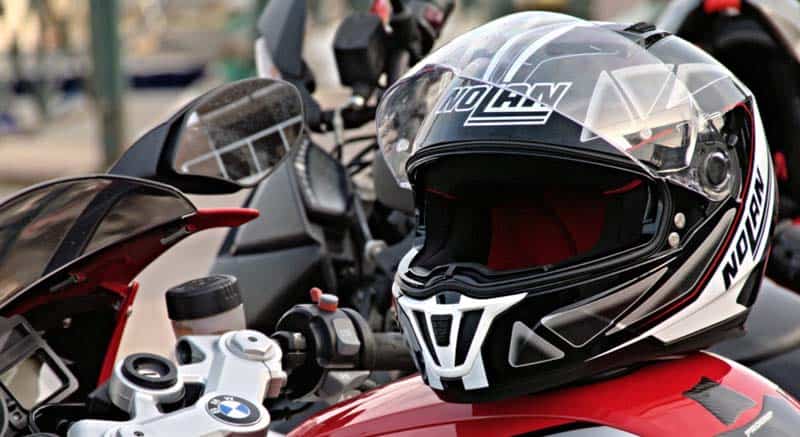 Conclusion: Full Face Helmets are the Best for Safety
A full face helmet is safer than a modular helmet. Full face helmets have an in-built visor that protects your face during an accident.
Comparing this with the modular helmet, the downside is that the adjustable visor has hinges that can easily come off during an accident.
As a matter of fact, the chin of the rider is highly vulnerable than the other parts of the head. In fact, most full face helmets are fitted with an built-in chin bar that remains intact in the event of a crash.
Furthermore, if an accident happened while the visor of a modular was still raised, the rider would suffer serious injuries on his nose and eyes.
Both full face and modular helmets protect the head against brain injuries the same way, but the difference comes in when the two are ranked on their effectiveness in protecting the entire head and face.
Ventilation
There is no doubt that modular helmets have the best ventilation. Raising the visor allows a lot of air to circulate in the helmet leaving the rider relieved.
However, that air is not filtered and it could contain debris such as dust that can distract the attention of the rider and cause serious health problems.
Full face helmets come with tiny holes that are located at the front and the back. These holes allow filtered air to enter into the helmet and leave through the vent ports at the rear.
If your bike has a windscreen, you will not notice the difference between the two helmets based on ventilation because the shield will always protect you from debris.
Noise Levels
With a full face helmet, you can never hear noise from other road users except wind. This allows you to keep your eyes glued on the road. Such noises can distract your concentration and cause you to crash.
Though the bike has side mirrors for viewing images that are behind, you might be tempted to look over your shoulder to see what's happening and before you know it, you end up colliding with an oncoming vehicle.
A full face helmet therefore keeps you locked from the events that are happening around you.
If you like listening to music while riding your motorcycle, a full face helmet is the best because you can only hear the music that's coming from the stereo.
The modular helmet on the other hand distorts the sound of your music because it allows a lot of wind to pass through.
Compatibility with Accessories
The advantage of wearing a modular helmet is that it allows you to install accessories stress free. Most of these helmets feature Pinlock inserts that enable you to install an additional visor.
If you have ever ridden a bike in the rain, you know that your sight is affected by the resulting fog. The pinlock insert function enables you to fix a visor that's resistant to fog.
Moreover, you can add a tinted visor for riding in the sun if the helmet has a clear shield.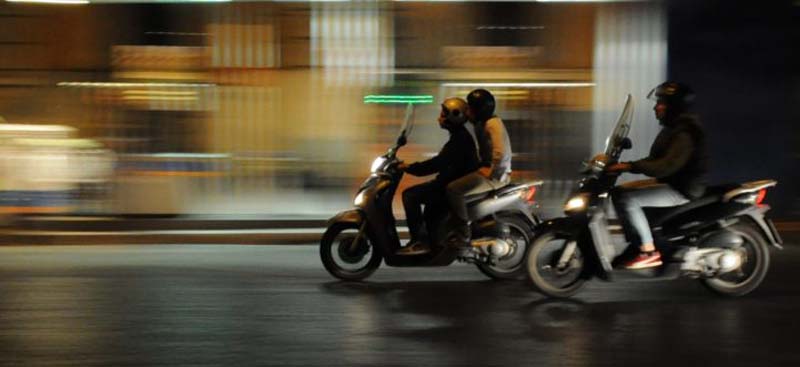 Wrapping Up Modular Vs Full Face
Full face helmets come with permanent visors, meaning you can't add anythingmore then just slide them up. Since full face helmets do not have Pinlock inserts, they tend to be lighter than modular helmets.
The accessories that are fitted on the visor add more weight to the helmet. They are therefore not ideal for riders that cover long distances.
Questions Related to Modular Vs Full face
Are modular helmets noisy?
Yes, they can be when compared to a full face. However if you are riding with the flip lid up, you are not using your helmet correctly.
Why you should wear a full face helmet?
We recommend a full-face helmet over a modular. Although the modular helmet does have benefits and may suit some uses. The solid one-piece shell of the full face will offer more protection then a helmet which has a weak point at rotating joint.
We hope you find this information helpful. If you would like to support this site, you can by purchasing through recommended links on the page. Should you decide to purchase, we may earn a small percentage of the sale at no cost to you.
Thank you for your support.