Helmet Hawk is supported by readers. Should you buy through links on our website, we may earn an affiliate commission at no additional cost to you.
The traditional all white and black/white helmets worn by police officers look pretty cool.
But, these police helmets are not limited to law enforcement, you too, can wear these cool helmets.
If you're short on time, check out the . We found it the best value and most 'police-like' from all the ones we reviewed.
Popular helmet manufacturers like Shoei and Intapol are among the best in the business and they also produce high-end police motorcycle helmets.
Usually, police officers are only seen to be wearing open-faced helmets, because it's easy to put on and take off as per the need of the situation.
However, for us normal folks who aren't real cops, the black/white design is what matters and they are really nice full helmets that could pass for the police style.
If you've always wanted to ride like a police officer, you really need to get one of these. But, make sure that it is not illegal to wear police style helmets in your region.
---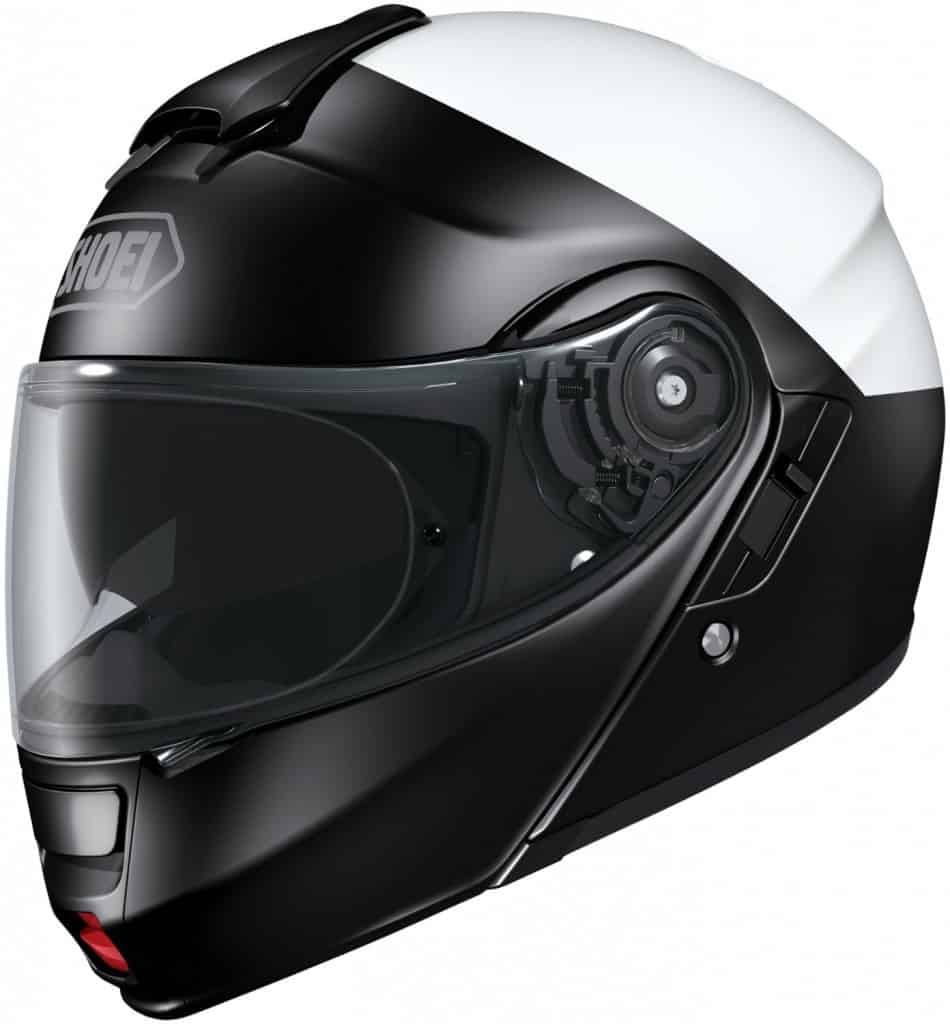 *This color way is not always available
Full Face Modular Police-Like Motorcycle Helmet
Neotec is the next level of modular helmet. The advanced technology helmet can be used as both a full-face helmet and an open faced helmet.
It features a wider and taller field of vision which accommodates an internal sun shield. The liner system is removable and washable and can be replaced.
The lock button is easy to use, even with gloves on. It features a 3D injection-molded inner shield which can be easily activated with a switch.
Both internal and external shields protect against 99% of UV rays.
It is available in eight different sizes. There are numerous color options, too, but if you want a police helmet, there is only one Bk/wh Neotec from Shoei.
The most expensive of all the reviews on this page.
The Pros
The aerodynamic shell used for its construction is unbelievably strong and the helmet will definitely serve its primary purpose, which is protection.
The field of vision is wider and larger compared to most full helmets, and it has been installed with UV protective shields.
There is little to no wind noise even while riding at high speeds.
The Cons
It has a little weight to it, so there might be slight neck strains while riding for long hours.
It is expensive.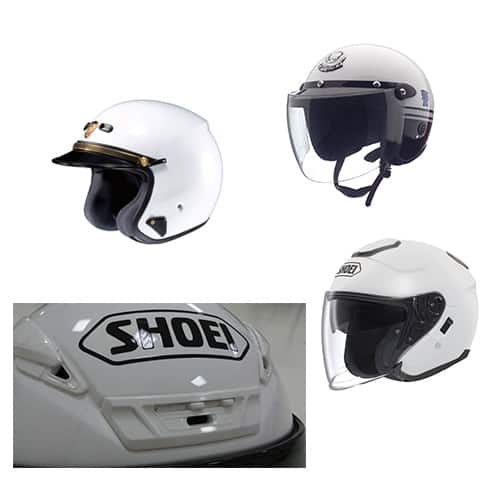 The modular helmet from Shoei looks great on the outside and has been built with the most advanced technology.
The helmet is expensive, but you have to consider the value it brings in regard to your safety.
This is guaranteed protection for hybrid riders. The interior padding makes it comfortable while riding.
The black and white color composition gives the feel of traditional police helmets.
Comparison
If you are against the idea of a full-helmet and want something that is worn by professional officers, you can always opt for the open face police motorcycle helmet.
and Shoei RJ Platinum-LE are two of the most popular police style helmets for you to consider.
---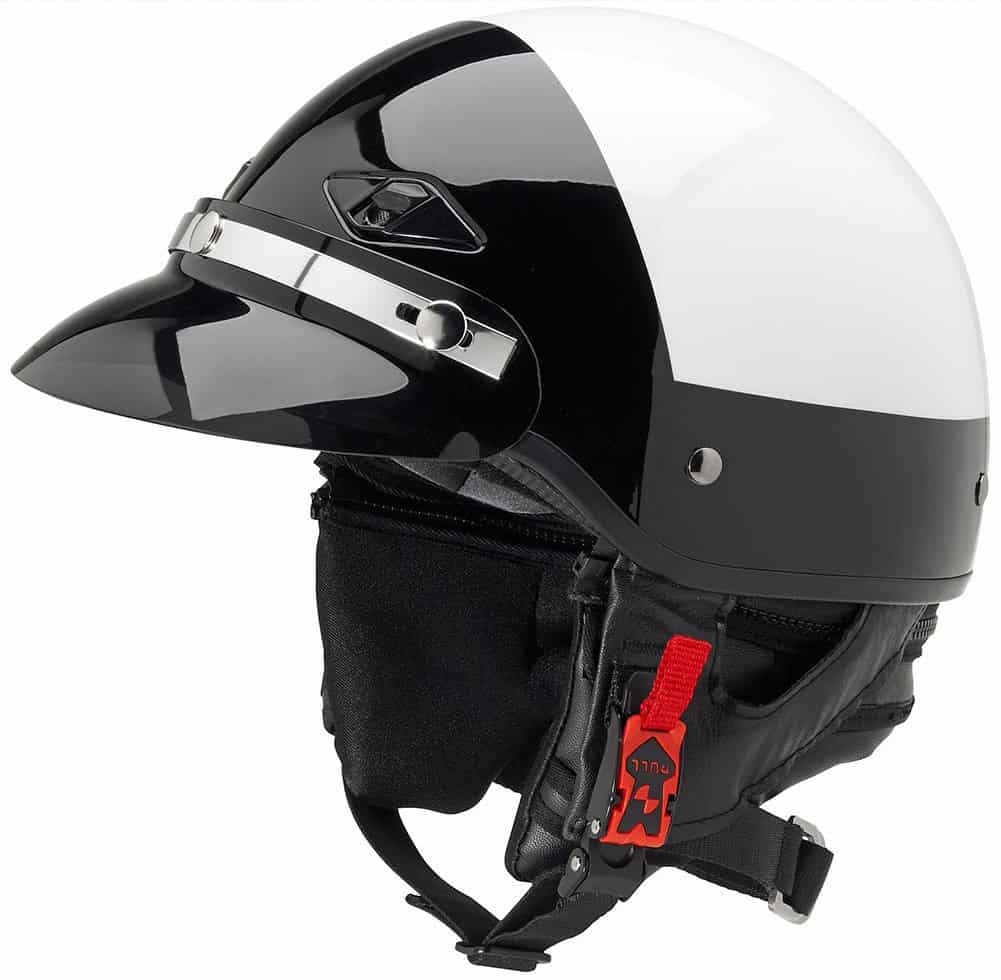 Highway Patrol Police Half Helmet
The official police motorcycle helmet from Intagon is a popular one. The black and white hi-rise paint scheme carries a superb finish.
It features the smoked snap-on visor which will also work as your sun protection shield. A zip off ear and neck warmer is also included in the package.
The tri-composite fiberglass shell used for its construction makes it extremely light weight. The comfort padding can be removed and washed.
Also, it features an easy to use chin strap.
It is available in three different sizes at the price of in the low 3 figures.
Pros
It has been certified with DOT.
It is lightweight and sturdy with the tri-composite fiberglass shell used for its construction.
The helmet includes zip-off ear and neck warmer for riding in unfavorable weather conditions.
Cons
It is an open faced helmet so the protection is minimal when compared to full helmets.
It is expensive in comparison to other open face helmets available on the market.
The police helmet from Intagon features a slick design. The helmet is comfortable to wear and the easy pull-quick release strap makes sure the lid stays on even while riding at high speeds.
The price might be a turn off, but this is as close to a police officer as you're going to get.
---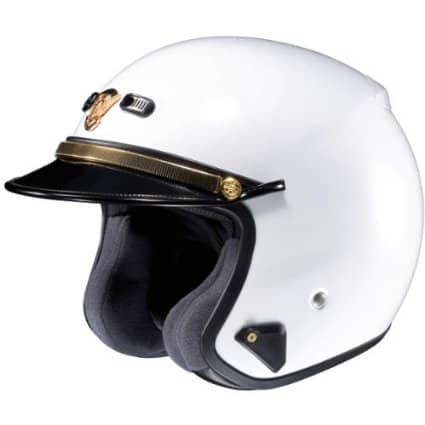 Shoei RJ Platinum-R LE Men's Street Motorcycle Helmet - White/Small
Shoe is number one status as the first choice of departments around the nation is embodied by the RJ...
This helmet is the answer for the officer demanding the best
The RJ Platinum-LE is the top of the line in a lightweight, durable 3/4-coverage helmet
Featuring Advanced Integrated Matrix Plus (AIM+), a hybrid combination of high performance organic...
DOT FMVSS No. 218 Certified
Shoei Three Quarter Replica Police Helmet
The helmets from Shoei have always been known for their class, quality and durability. The Shoei RJ platinum-LE does not disappoint in those terms.
The helmet features a superior build and soft and a comfortable 3D liner. The interior padding allows maximum comfort and is removable and washable.
It features an excellent ventilation system which consists of top intake and rare exhaust vents allowing optimum airflow.
The chin strap is padded. It is also compatible with a wide range communications system.
Pros
The all-white police helmet comes with comfortable padding for comfort.
The ventilation system makes sure that the rider keeps a cool-head at all times.
It is communications system compatible, which means you can connect with your mates via intercom connection and also store speakers comfortably.
Cons
Because it's not full face, it isn't fitted for high-speed riding or riding in extreme weather conditions, as it leaves a large portion of the face open.
There are no built-in visors or a face shield, which makes it uncomfortable for riders while riding amidst dust and smoke.
Despite being a quality product, it is pricey, at the second most expensive.
Whether you are a police officer for real or just want to ride like one, this helmet would be an excellent product for you. The padding provides optimum comfort and the outer shell is sturdy. There are slight cons which go without a miss among open face helmets, but other than that, it's a great product.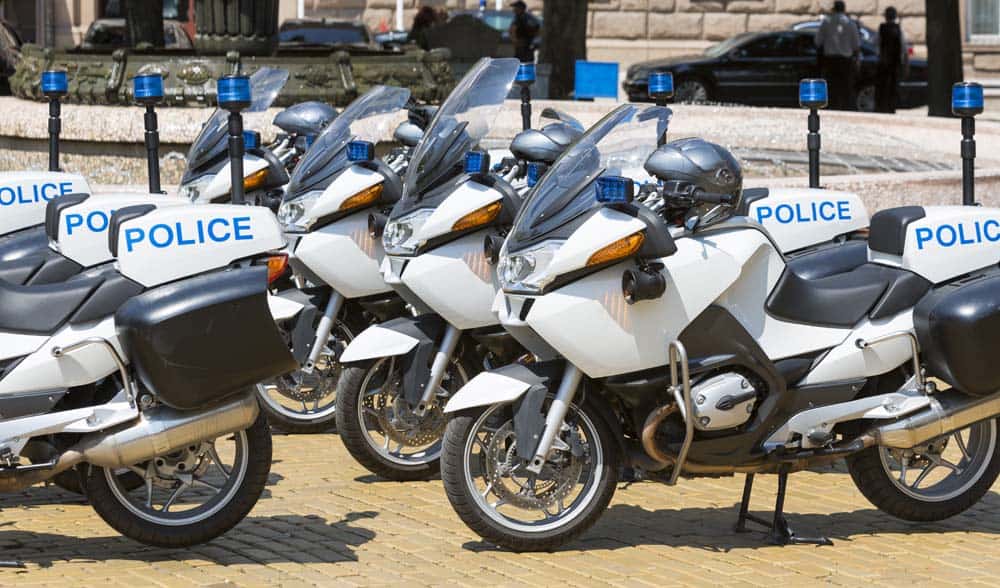 Conclusion
From these different police helmets, one thing is for certain: it will leave a massive hole in your pocket. The first thing you need to do is be certain that you want a police helmet.
All of these helmets have a sharp look to them and you will definitely stand out in the crowd. Since, you are getting one anyway, make sure you properly evaluate the pros and cons of the helmet you choose with your requirements.
The full police helmet ranks first among the helmets reviewed here.
Being a full helmet, you can be assured of its safety features when compare to the 3/4 for example. Plus, it has a wider range of vision and is remarkably comfortable.
The price tag will slightly exceed the normal helmet budget, but it's definitely worth it. The coloring plus the design has a sharp finish and this is one of those products that have been designed to last a lifetime.
Just make sure you do not to have will not face any legal issues for daring to put on a police style motorcycle helmet.
We hope you find this information helpful. If you would like to support this site, you can by purchasing through recommended links on the page. Should you decide to purchase, we may earn a small percentage of the sale at no cost to you.
Thank you for your support.