Helmet Hawk is supported by readers. Should you buy through links on our website, we may earn an affiliate commission at no additional cost to you.
Motorcycle half helmets are especially popular as cruiser helmets. It leaves a lot of the face open, providing enough exposure to the outside.
Half helmets are easy to put on and take off and most are designed to fit like a glove.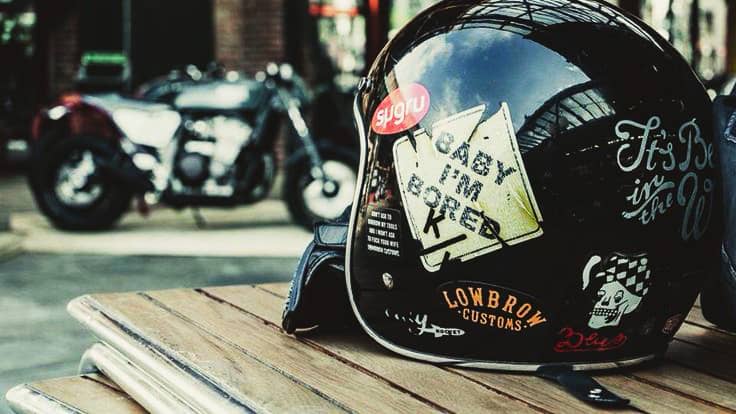 Half-helmets are definitely trendy too. From the material to the extra material attached and built-in sun shields, it's popular among long riders.
Without the unnecessary bulk, it is extremely lightweight. You can pull it off with almost any look and you don't need to be a professional rider.
However, due to its uncertain safety features, it's not really for new riders.
Choosing the best half-helmet is another matter entirely.
There are hundreds of them and whether you choose to purchase one online or with your local vendor, you will have a hard time figuring out what to choose from with different features, different price tag and materials in each.
Here we have listed three of the best motorcycle half helmets.
---
Best Half Helmet Overall
Bell Rogue Half Size Motorcycle Helmet (Solid Matte Black, Large)
Lightweight composite shell. 3 shell and EPS sizes for a personalized fit
Durable, adjustable Muzzle features removable liner. Fid Lock magnetic connection for easy muzzle...
Removable/washable interior. Convenient speaker pockets
Stainless steel D-rings and metal badges. Industry-leading Five-year warranty
Bell Rogue Helmet is easily the best one on the market at present.
It's been built with a lightweight composite shell and will fit comfortably. The interior liner has been padded with comfort in mind. Plus, the liner is removable and washable.
Unlike most half helmets, it features an innovative muzzle which is both strong and durable. The muzzle will work as a mask and protect you from smoke, dust and just about anything that might fly towards you.
It also features convenient pockets to add speakers or a headset inside your helmet with ease. The premium stainless steel D-rings and metal badges make it even stronger.
All Bell products come with a five year warranty for any kind of manufacturing defects.
There are seven different sizes and nine different colors to choose from.
The Pros
It's a high quality half helmet which means you will have no problem regarding ventilation of the helmet.
The muzzle is easy to put on-off due to its fidlock magnetic connection and will work as an excellent built-in protection.
It is available in all kinds of sizes and colors, making it suitable for almost all riders.
It has been certified with DOT and comes with a five year warranty by the company.
The Cons
Being a half helmet, the large portion of your face is open which could prove fatal in case of head first collisions.
It is better than most half helmets with the durable muzzle but will still not be suitable for all weather conditions.
Summary
Bell Rogue is comfortable with removable and washable liners. You can easily install your intercom devices or speakers in the convenient integrated pockets. With all its features, the best thing about the helmet is still its looks.
It is pure badass and you will feel confident about your appearance. Also, the price is justifiable with a long list of pros and the Bell company tag.
Comparison
Half helmets all look the same to most people. The major similarity being a half helmet which does not cover the full face. However, there are quite a few differences in terms of quality of the material, design, durability, comfort and of course the price.
If the Bell Rogue is too pricey for you or you are just curious about your other options, you have come to the right place.
---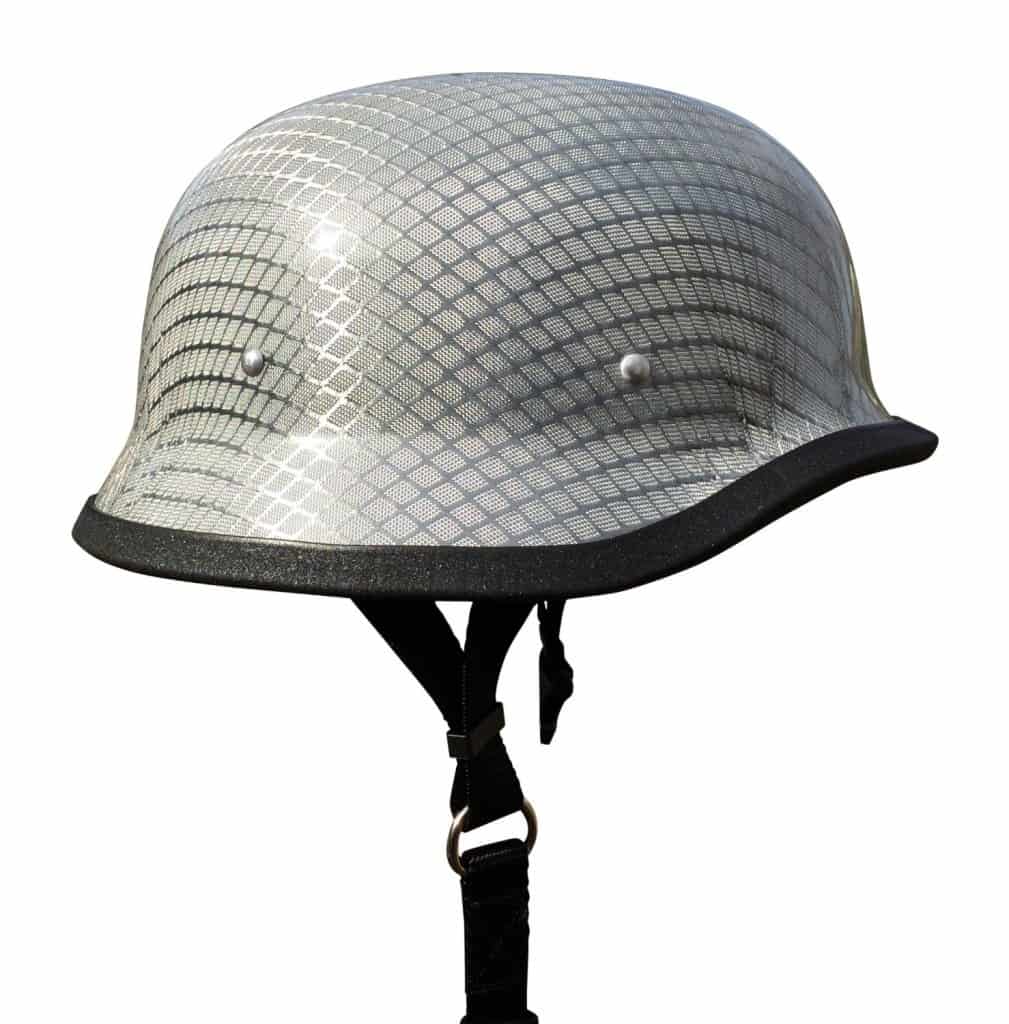 Best German Style Half Helmet
This German style half helmet is super strong. Totally capable of handling most kinds of impacts. It's made in the USA using a unique blend of real carbon fiber and Kevlar. The Chrome weave of the carbon fiber gives it an awesome finish.
The helmet has some fast clipping buckles with performance nylon straps to make sure your helmet stays on, even if you are riding at high-speeds. Also making it easier to take on and off.
This brand is available in a chrome mesh weave pattern and there are three different sizes to choose from.
The Pros
Nice styling with a non mushroom-like appearance
Carbon fiber and Kevlar combo guarantees protection (kind of?).
Its easy to fit and the chrome design make it a compliment magnet
The Cons
It's not DOT certified, so it's not exactly a motorcycle helmet. But the materials used for its construction are among the best out there and is just as safe as any other half helmets.
No face shield means you will need extra protection to block smoke, dust or any other object that might fly toward you while riding.
Summary
It doesn't meet DOT standards so, it cannot be legally considered as a legal road riding motorcycle helmet. But, it does not lack safety and comfort by any means. Plus, its lack of certification means it does not come with that mushroom like appearance.
Dot Certified Option Recommended
---
Scorpion EXO-C110 Split Helmet

Top Skull Cap helmet with Sun Visor
The Exo half helmet from Scorpion has been constructed with advanced poly carbonate shell designed for excellent impact dispersion. It features a sun visor which is retractable and interchangeable with the flip of the switch.
The anti-microbial KwikWick 2 interior liner has been installed with comfort and freshness in mind. It is removable and washable. The aero tuned ventilation makes sure that the hot air stays out and your head stays cool.
You have six different size options to choose from with this product. Available in two colors.
The Pros
The padded liner is excellent and provides maximum amount of comfort to the rider.
The sun-visor has been well designed and protects from the sun while also minimizing wind resistance.
Aero-tuned ventilation allows maximum air-flow keeping your head from getting cooked.
The Cons
It goes without saying that it won't be suitable for harsh weather and leaves a lot of room open on your face, so the safety of the helmet is minimal.
When the sun-visor is lowered, riders might feel the helmet vibrating which could get really uncomfortable. The vibration will be intense if the size of the helmet is already larger than the normal fitting.
Summary
Scorpion is one of the leading helmet manufacturing brands and does not disappoint here. There are slight adjustable cons to it, especially when it's available at such a reasonable price. You can be assured of its durability and the outer shell has been built strong. You will continue to feel fresh and free with this half helmet.
---
Certified DOT Half helmet
The unisex half helmet from Bell has been constructed with the blend of tri-matrix composite shell, Kevlar and Carbon fiberglass.
The new speed dial adjustable fit system is adjustable both vertically and horizontally. It features an internal sun-shade for on the go sun protection.
You can easily set up your pit boss with communication devices due to its integrated speaker pockets.
It is available in pink and matte titanium. You have the option to choose from seven different sizes.
The Pros
Speed Dial adjustable fit system provides maximum level of comfort to its rider while also avoiding the helmet being lifted off the head.
The sun shield provides sun protection along with wind resistance. Also, it has been equipped with removable neck-curtain for the cold weather, making it more weather friendly than most half helmets.
It has been certified with DOT and comes with a five year warranty from the company.
The Cons
There isn't really any ventilation except for its openness which could cause the helmet to heat up after long hours of riding.
Even with the neck-curtain, it will not be suitable in winter and other harsh weather conditions.
The safety side with a half helmet is always questionable.
Summary
The build quality of the helmet is exceptionally amazing at the price. The design with its flames finish looks superb.
It's slightly more weather friendly than most half helmets. It's great for average riding but if you require going out in the sun for hours and hours, you might start feeling the heat due to the lack of proper ventilation.
Overall, it's definitely worth a buy for normal riding and is extremely comfortable.
---
Verdict
The major difference among the three helmets is the drastic price difference from the first to the rest.
Bell Rogue helmet is a clear winner here. The badass look, comfort, weather-friendliness among its long list of pros makes it stand out from the others.
Bell Pit Boss and Scorpion Exo are also good quality helmets and they are also available at an affordable price in comparison to the Rogue.
While the half helmets are really cool and give you that feeling of freedom, they're not recommended for new riders.
Also, it is always safe to own an extra helmet for the times when you need better protection in harsh weather conditions.
Other Reviews For Best Half Helmets