Helmet Hawk is supported by readers. Should you buy through links on our website, we may earn an affiliate commission at no additional cost to you.
Professional motorbikers take joy in their sport, and in most cases, they want to capture every moment of their activities on the road and off.
For that purpose, specific actions cameras have been developed to be attached to the helmet and capture the event from this ideal angle.
This type of camera is perfect for those "your should of seen that" moments.
Best Motorcycle Helmet Cameras
TomTom Bandit 4k Action Video Camera – Price not available
GoPro HD Motorsports Hero – Price not available
Polaroid XS100 Action Camera – $97.59
So, how do you tell what are the good ones, and the ones to avoid.
Well, it's always a good idea to find a camera that lives up to your expectations, with limited disappointments. So we'll run though the Pros and Cons of each model.
That said, here are the top 5 motorcycle helmet cameras that we reviewed for you to consider.
---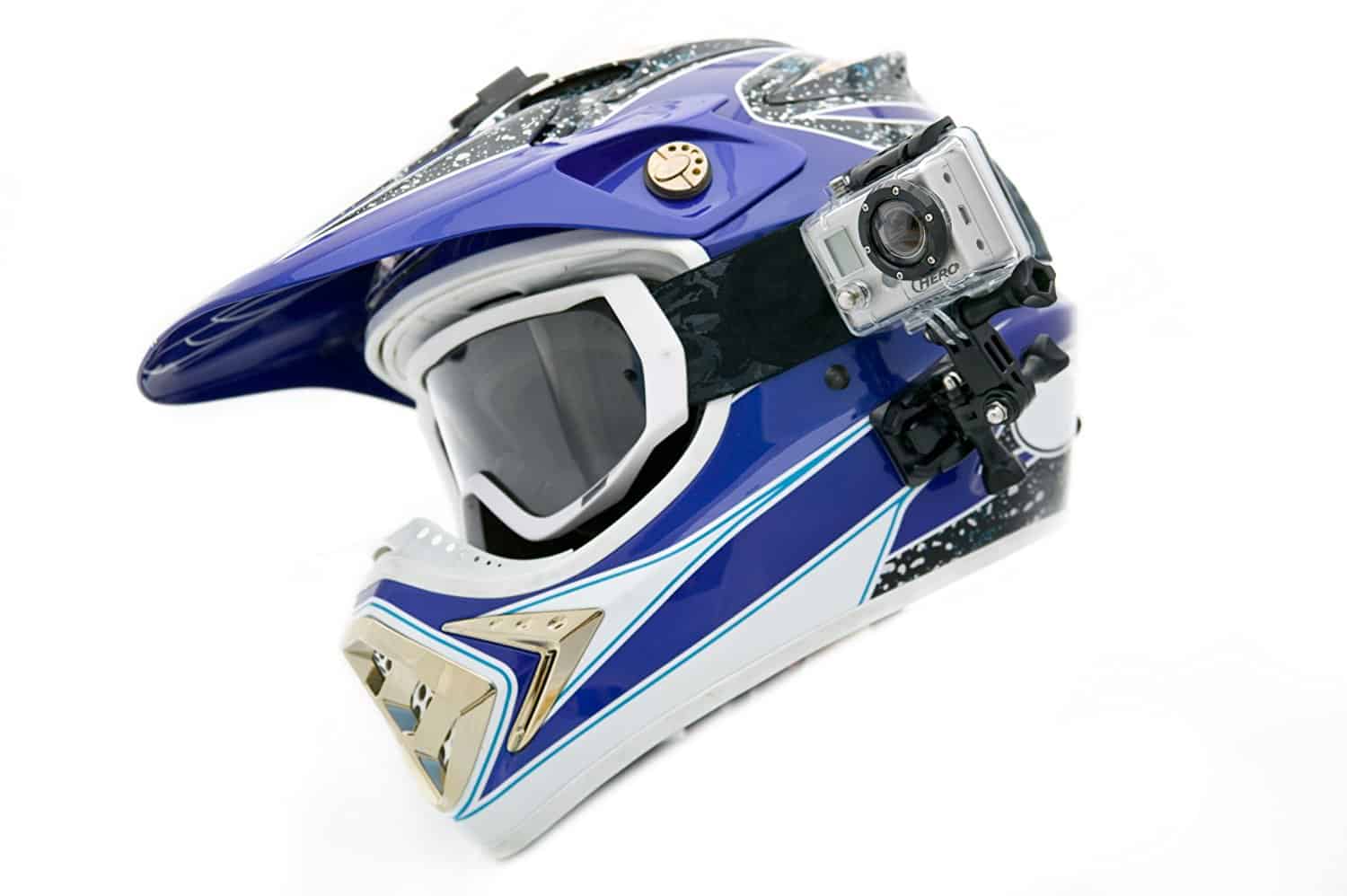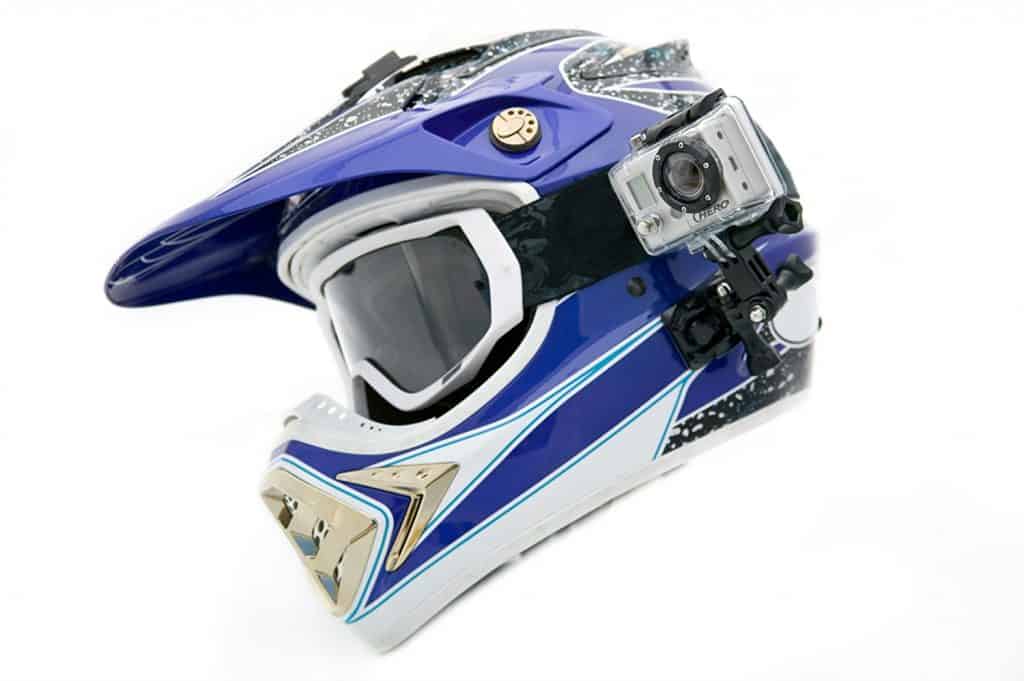 GoPro is a big name in the action sports world and is well respected. So we decided to start with the seeming most popular as the first to review.
Don't get me wrong, this one is an amazing video camera, but we believe it to not be the best out there. We found the Tom Tom a much better around camera, but more on that later.
The GoPro offers an amazing slow-mo playback, which is an added advantage for those breathtaking action moves. The camera is compatible with iMovie and Windows Movie Maker for easy playback and video editing. The lens capture is incredible, and the still recording is also top of the line.
Unpacking the hero is amazing, as it's packed with loads of accessories. With a rechargeable battery, three adhesive mounts, two quick-release buckles, a USB cable, a side arm assembly for mounting the camera on the helmet side, and a waterproof housing.
I just found it a little confusing to setup.
Pros
Awesome video recording in different modes
It comes with a waterproof housing
Various mounting options for versatility
Still image recording is amazing
Cons
Low-quality audio
It is expensive
The manual is somewhat complicated, which makes the setup challenging.
Conclusion for the GoPro HD
The GoPro HD Motorsports Hero is a decent camera if you need high-quality recording with various options. Also, you can edit the videos on your computer with ease; there is no need to have a dedicated app.
However, the price might be relatively unfair, especially due to the low-quality audio. It is best suitable for the tech savvy, who can set it up without having to understand every bit of the manual.
---
This one is eye-catching, thanks to its small size and the wide angle camera. The camera can capture a maximum wide-angle of 120 degrees. Above all, the camera has an infrared night-vision feature for recording even when it gets dark. You also enjoy other features like the Pan and Tilt for easy adjustment to the angle of your choice.
The package is loaded with a WiFi camera, a USB cable, a stand holder, as well as a user manual.
Pros
Day and Night surveillance features for recording at any time of the day.
Wide angle camera to capture more feeds.
Small and comfortable to attach to the helmet
Two-way audio
Waterproof design
Cons
The video quality is not as impressive as such
The dedicated app tends to freeze some devices
The camera heats up when used for long, and when paired with the app
It doesn't record on the local storage
Conclusion
This unit is decent enough to enjoy wide-angle and low-light recording. If you tend to ride your bike even in the dark, you will enjoy using this camera.
However, it is not best to use it for long hours, lest it overheats and affects the performance.
---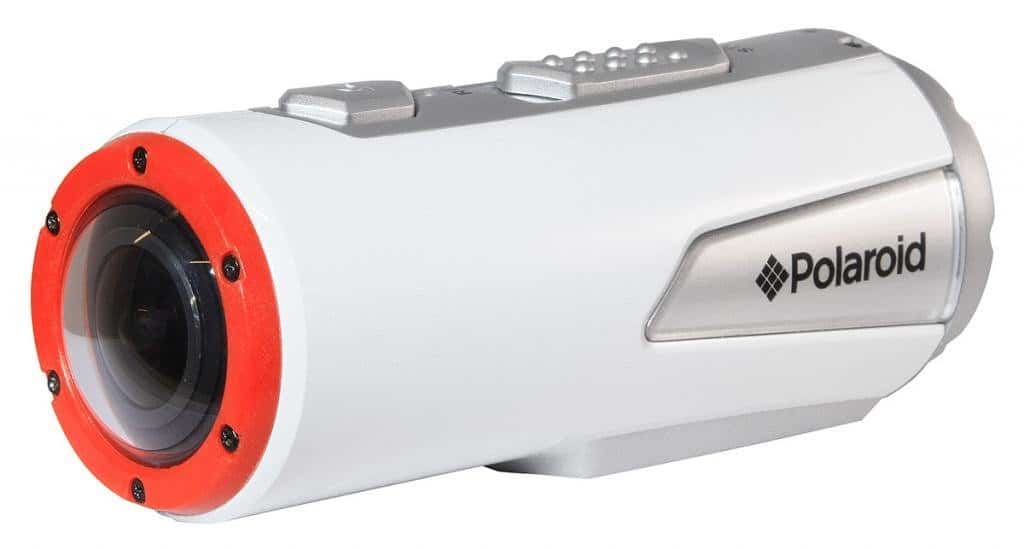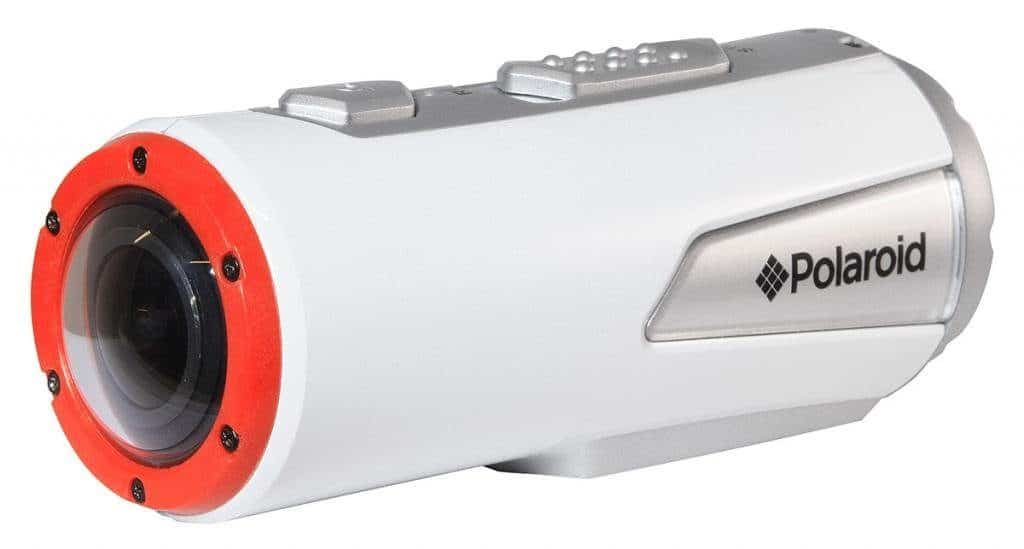 When it comes to a camera that combines quality, functionality, and durability, the Polaroid XS100 boasts a decent score. This camera is waterproof, and it stands out of most action cameras in the market. You can adjust the frame rate with this unit, and it also allows you to record on the location of your choice. The construction is rugged, leaving it with a shockproof body for endurance in harsh conditions.
Along with the camera, the package also comes with free HDMI and USB cables, a mount lock and key, a helmet mount, a handlebar mount, a carrying pouch, a secure string, and the user manual.
Pros
Impressive HD videos
Decent audio quality
Anti-vibration feature for still recording
Reliable battery life
It also has plenty of features for flexible functionality
Cons
Some of the mounts are of poor quality, which can easily break
It has a non-removable battery that limits the swapping possibilities
The lens is covered with a dome that can create a halo in the video on a bright day recording
Conclusion
The Polaroid helmet camera comes with an impressive design, and the fact that it has a shockproof body makes it a device worth purchasing.
You might want to be careful when tightening the tripod mount since it has some delicate plastic parts.
To top it all, it is quite affordable and easy to use.
---
This PowerLead Action Camera is one of the few that can record 1080P videos. Another top feature of this motorcycle helmet camera is the long recording time.
The camera also comes with a 120-degree wide angle lens. It has a small size and fits perfectly on the helmet without any discomfort. You can add a microSD of up to 32GB to record the 1080P videos.
The camera is packed along with a USB cable, a strap, helmet mount holder, car mount holder, and a detailed user manual.
Pros
High-quality videos
Long recording time
Low noise HQ photosensitive element for recording in the dark
One year, 30 days warranty that lets you exchange it for free if it has any defects
MicroSD support of up to 32GB
Multiple mounts
Cons
It has an inbuilt battery that takes almost 120 minutes to charge
The night-vision feature is not as reliable as such
The mounts can be delicate
Conclusion
This camera is also a top choice if you want a device that can record high-quality videos with from a wide angle. The fitted battery might be able to run for about 2.5 hours, though it will require about two more hours to charge it fully.
That is a thumb down for this camera. On the bright side, the setup is not complicated, and using it is also easy.
To top it all, the camera comes with a year and three months-long warranty, which is covered with a free exchange.
---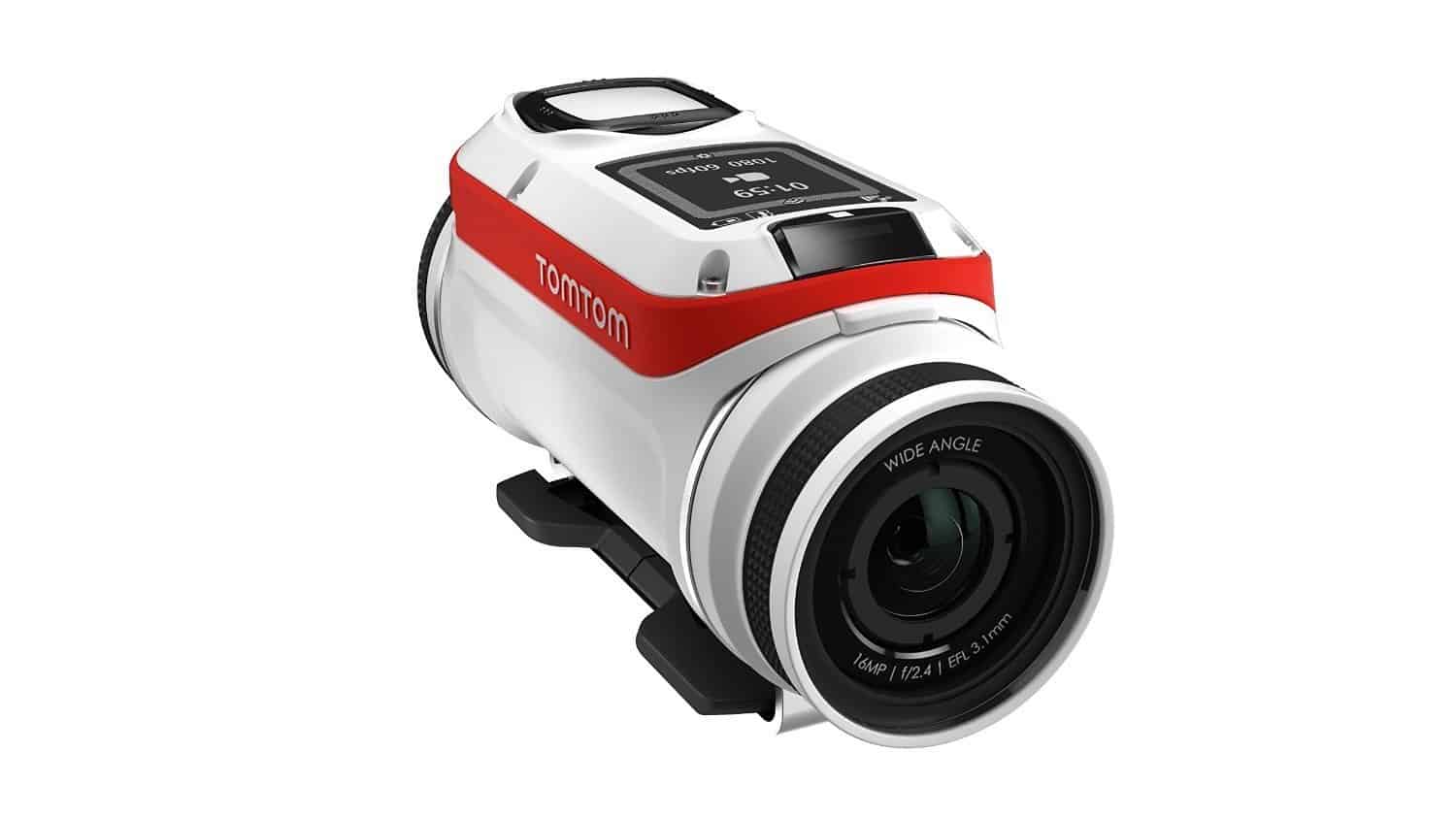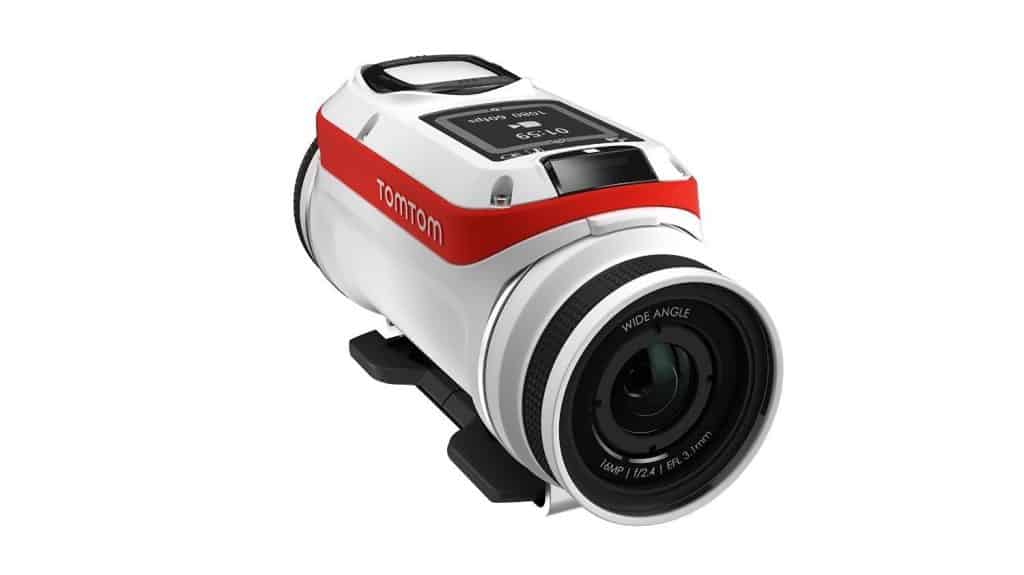 I was really impressed with this camera. While other cameras can record 720P and 1080P videos, this one from TomTom comes with a 4K video recording capability. It's the perfect choice if you're interested in the quality of your action recordings. It comes with an impressive bullet shape, and it's one of the few action cameras that are completely wireless. It has a robust design to keep it in perfect shape and enhance the durability.
This product comes along with a unique piece that has some tiny bristles like a brush. With this, you can be sure of a high-quality audio recording, since it blocks the wind from getting through the microphone. Also, there is a USB charging cable included.
Pros
4K Ultra HD videos
Strong design for endurance and durability
Auto-editing feature that delivers high-quality videos
Waterproof
Good quality audio
Expandable storage
Wireless connection
GPS for easy navigation
Plenty of sensors, including altitude, rotation, speed, and acceleration.
Cons
It is heavy, weighing about 193g
The 4K videos are recorded only at 15fps, which is low for a 4K recording camera.
It has a fixed focus lens that might be unreliable to some users.
Conclusion
The TomTom Bandit 4K action camera has been designed with a robust body, which can withstand the harsh conditions. Also, it has a GPS that makes enhances your adventure, especially in new locations. The multiple sensors also make this camera extra reliable. It's packed with a battery that can record for three straight hours, and you can charge with the USB port or the standard charging cable.
Summary
Out of all the best motorbike helmet cameras, the TomTom Bandit takes the lead; thanks to its amazing features functionalities.
Even though it is one of the most expensive action cameras, TomTom Bandit is a stable unit that can serve you for long and also deliver high-quality videos.
So if you want to enjoy and explore your motorbiking adventure with a difference, the TomTom is the companion you should take.