Helmet Hawk is supported by readers. Should you buy through links on our website, we may earn an affiliate commission at no additional cost to you.
Harley Davidson is one of the most successful motorcycle manufacturing companies in the world.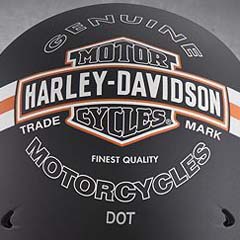 But, most people aren't aware that Harley-Davidson produces amazing helmets to provide optimum protection for your head.
The best thing about these helmets is the "Harley-Davidson" tag embossed on the helmet. The tag alone is an instant attention grabber, and your helmet does all the talking.
Of course, it's not a must that you need Harley-Davidson- made helmets to ride your Harley. But, if there are amazing helmets with the Harley-Davidson moniker on them why not match your bike?
These helmets from Harley-Davidson have been designed for style as well as safety.
Harley-Davidson Men's Americana Hybrid Black Flaming Full Face Helmet

The full face flaming helmet from Harley-Davidson has been constructed with a hybrid fiberglass composite shell. The helmet is lighter than most full helmets. The face shield features a quick release mechanism.
It has been equipped with a proper ventilation system with front and rear vents to provide optimum air flow. The internal padding has been designed such that it's capable of wicking moisture away and providing superior comfort.
The Nylex liner is also removable and washable. The custom flaming graphics looks superb with the Harley-Davidson name printed on it.
Positives

It has been certified with DOT standards.
The moisture wicking padding is removable and washable which provides maximum comfort.
It features a proper ventilation system with front and rear vents to assure that the rider keeps a cool head.
It comes with a helmet bag and a replacement face shield.
Negatives

As it is a full faced helmet, you might miss that feeling of open air and freedom while riding.
The flaming graphic accompanied by the prestigious Harley-Davidson name makes it look superb. It has just as many features to live up with the brand name.
It will perfectly with your Harley motorcycle and this helmet will definitely boast your passion for riding.
It has comfortable padding and the sturdy fiberglass shell makes sure you are protected.
Harley-Davidson Men's Americana Hybrid Black Flaming ¾ Helmet

It's basically the twin brother of the Men's Americana Full Helmet, minus the chin bar. The ¾ open face helmet has been constructed with a high quality hybrid fiberglass composite shell.
The open face provides the air of freedom but it isn't limited to just that. The nylex padding has been put in for comfort which wicks moisture and can be removed and washed to maintain its freshness.
It has been ventilated to provide maximum air-flow to the rider. It also comes with a replacement face shield and a helmet bag.
The Pros
It is an open faced helmet so it will sit easy on the head, which is in contrast to its full-faced twin counterpart.
It is DOT approved.
The flaming custom-painted graphic looks sharp.
The Cons
It does not come with a sun-shield, which is a downer while riding in the heat.
Being an open faced helmet, it cannot be considered as safe as full-faced lids.
This is a perfect open-faced substitute for the Men's Americana full helmet. The graphic is superb and the Harley-Davidson name-tag makes it look even cooler.
This helmet is not just sharp on the outside; and it has been equipped with comfortable moisture wicking padding for superior comfort.
Harley-Davidson Women's Modular Helmet with Retractable Sun Shield

This modular helmet from Harley-Davidson has been constructed with a polycarbonate shell and has been designed to coordinate with the RCS-Rider Comfort System.
The tinted sun-shield deploys quickly and easily with a single touch. The face shield has an anti-scratch coating and is capable of 95% UV protection.
The interior padding is moisture wicking and it can also be removed and washed.
Some of the Pros

It has been certified to DOT standards.
It's a modular helmet, so you can wear it as a full helmet or convert it into an open-face helmet, whatever you prefer.
The sun-shield provides maximum UV protection and you also don't have to worry about any unwanted scratches caused out of carelessness.
Some of the Cons
Since it has been tagged as a woman's helmet, it might be unappealing for men. However, it does not have any significant feature to indicate it as a woman's helmet. Even the color is black.
It is expensive compared to prior mentioned helmets from the same company.
Although it has been tagged as Women's modular helmet, it cannot be categorized in such manner. Maybe it's too comfortable? But, every rider knows that's not true. It is available in black with the Harley-Davidson graphic. This DOT certified helmet is made from a quality polycarbonate shell and you can be assured of its strength and durability.
Conclusion
The one thing in common with all of these helmets is the Harley-Davidson graphic. Each rider has their own preference and if you want a Harley-Davidson helmet that is not just designed for style and also for safety; these are the ones to go for.
Weighing in the pros and cons of each of these helmets, Harley-Davidson Men's Americana Hybrid Full Face Helmet is the clear winner here.
It has been built with quality material and the custom-painted graphic on the outer shell has a sharp finish. The moisture wicking padding provides supreme comfort and it is available at a reasonable price.
Make sure you are fully aware about all the details of the product you are going to purchase. Remember that it's not just a helmet, it's your savior; should you be unfortunate to get involved in an accident.
Make no compromises and get the best out there that matches your personality and also provides the finest protection.
Save
Save
Save
Save
Save
Save
Save