Helmet Hawk is supported by readers. Should you buy through links on our website, we may earn an affiliate commission at no additional cost to you.
Whether you're on the track or off-road, quality goggles are among the most important pieces of safety equipment to own. But, with so many brands on the market, it can be hard to narrow down the best MX goggles for your style.
Today, we're going to take a closer look at the best MX goggles on the market and let you know what to look for when you're selecting a pair.
The Best MX Goggles for Every Rider
No matter how you ride, these five glasses are the perfect way to protect your eyes and keep your vision sharp while you're riding.
---
Best MX Goggles for the Money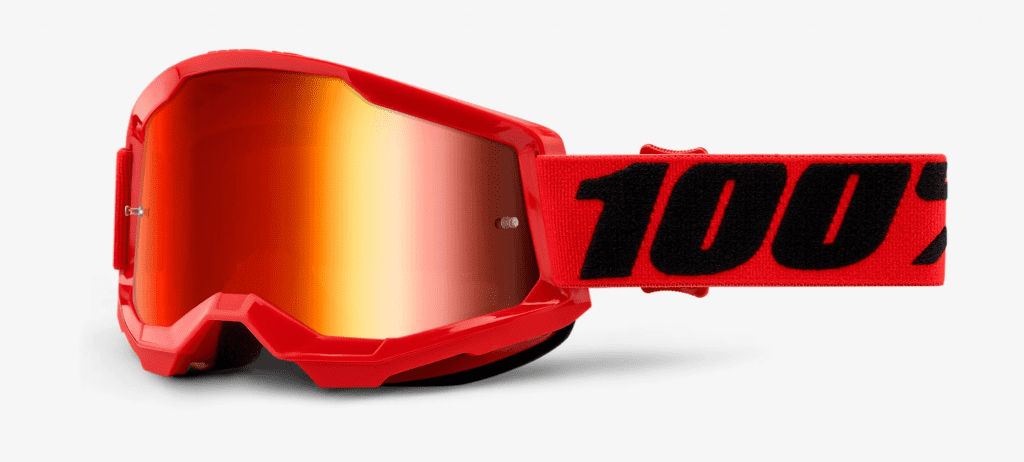 The Strata goggles from 100% provide performance-minded features at an incredible price, which is why they're one of the most popular choices on the market. The Strata goggles come in tons of different lens and finish configurations, so you'll have no trouble matching these to your gear.
These goggles feature a thermoplastic rubber frame that's impact and shock-resistant. The material is slightly flexible, and it's built to stand up to a beating for years to come. The lenses are Lexan polycarbonate, and they're treated with anti-fog and anti-scratch coatings to help keep your vision clear as you ride.
100% employs a 9-pin lens retention system, which is more retention points than you'll find on competing glasses; there are also tear-off pins so you can always have clear vision even on the muddiest tracks.
The inside lining is a dual-layer foam that absorbs moisture and provides a plush feel for your face while a wide silicon strap provides excellent comfort while keeping your goggles secure.
100% Unisex-Adult Speedlab (50410-232-02) STRATA Goggle Furnace-Mirror Red Lens, One Size
Curved fit suited for comfort and great field of vision
Plush, dual-layered face foam soaks up sweat and moisture, keeping it out of eyes
Constructed out of flexible, yet durable urethane featuring combined matte and gloss finishes
Anti-fog, scratch resistant Lexan lens for unimpaired vision complete with tear-off pins
40mm silicone-coated strap holds goggles in place
Pro's
Comfortable fit
Durable scratch-resistant frame and lenses
Conveniently located tear-off pins
Affordable
Con's
Mirrored finish isn't very long-lasting
Mediocre ventilation
---
Best MX Goggles for Anti-Fog
Smith Optics is one of the leading brands in performance optics, and their Squad MTB glasses are a testament to their superior quality.
These goggles feature ChromaPop lenses for enhanced color perception and crisp contrast so you can see the trail or track with the sharpest vision possible. Each pair of lenses includes clear lenses and stylish two-toned mirror lenses, so you'll be ready to ride regardless of the lighting conditions.
The Squad MTB features cylindrical Carbonic-X lenses for superior impact and scratch resistance, and optical clarity. The lenses have integrated tear-off posts for muddy conditions. The lenses undergo and anti-fog treatment, and the frame is heavily ventilated, so fog is a non-issue with this pair.
The urethane frame is durable and provides a comfortable fit accentuated by Smith's Sweat-X F.A.T. 3-layer lining that comfortably hugs your face while wicking moisture away from your face.
The MTB goggles come in tons of different colorways and lens configurations, including tons of different tints. While these goggles may be a little pricey, Smith stands behind them with an unbeatable lifetime warranty.
Pro's
Virtually eliminates lens fog
Unrivaled clarity
Includes clear and mirrored lenses
Lifetime warranty
Con's
Expensive
Ventilation holes can allow dust and debris to get under the goggles
---
Best MX Goggles for Dust
Track racers regularly contending with dust and debris kicking up as they ride are sure to love the Main II goggles from Fox Racing, which do a great job of protecting your eyes from everything the track or trail can throw at you.
These goggles feature Lexan polycarbonate lenses that offer 100% UV protection for riding in the hot sun, and the tear-off pins are located far outside of your field of view, so you won't have to worry about them obstructing your vision.
Fox employs a three-layer foam liner to help keep you comfortable while wearing your goggles, and they're topped with a fleece liner that absorbs sweat and helps keep you warm when riding on colder days.
These goggles come in several colorways, so matching your gear shouldn't be a problem. Fox also has several replacement lens colors available in clear and mirrored styles, so you can easily pop new lenses in when yours become scratched or lose their mirrored coating.
Pro's
Position of vents helps keep out dust and debris
Offers 100% UV protection
Lenses feature anti-fog and anti-scratch coatings
Comfortable
Con's
Prone to lens fog
Fleece lining makes you sweat more on hot days
---
Best MX Goggles for Impact Protection
Scott has been producing innovative MX goggles since the 70s, and their commitment to motocross shows in every piece of equipment they develop. Their 2020 Prospect goggles are among the most advanced pieces of eyewear they've ever made.
With the Prospect goggles, Scott increased the lens height while also lowering the nose to provide goggles with an industry-leading field of view. If you find that other goggles obstruct your vision, the Prospect goggles could be perfect for you.
The frame is especially thin to help prevent the tunnel effect you get with thicker goggles, and the lenses feature a more extreme curvature to provide you with unprecedented peripheral vision.
The lenses are also significantly thicker than most other brands, and at 1mm thick, they're able to stand up to impacts better than anything else on the market.
These goggles feature a 3-layer foam that helps keep you comfortable while wicking sweat away from your eyes. The top layer is Scott's patented No Sweat microfiber foam, which absorbs sweat incredibly fast, preventing it from reaching your eyes or fogging your lenses.
Pro's
Widest field of view in any goggle
Compatible with roll-offs and tear-offs
No Sweat face foam
Dual silicone runners on strap for unparalleled stability
---
Best MX Goggles for Glasses
Life has never been easy on the track for riders who need glasses, but 100% has changed that with their comfortable and stylish Accuri OTG goggles. These goggles are comfortable with or without glasses underneath, and they're even available with prescription lenses, so you can wear them in lieu of your glasses, too.
These goggles feature an especially wide eyeport that is compatible with even larger glasses styles, and the frame is heavily vented to prevent fogging.
These goggles fit great with or without glasses, and the 3-layer foam lining helps keep you comfortable while absorbing moisture and wicking sweat away from your eyes, eliminating fog in the process.
Pro's
Perfect for glasses wearers
Large eyeport accommodates glasses of all sizes
Replacement lenses available in tons of colors and finishes
Con's
Tear-off pins are located within the field of view
---
Motorcycle Goggle Buying Guide
Each of the goggles on our list is a great option for any motorcycle enthusiast. But, not every pair of goggles is perfect for everyone and depending on the way you ride, and what you need from your eye protection, you'll find that some goggles are better suited for you than others.
Here's what you'll want to consider before deciding on a pair.
Types of Motorcycle Goggles
Depending on the type of riding you do, you'll find glasses designed to meet the road's unique demands.
Off-Road Goggles
Off-road goggles are designed to meet motocross riders' needs who are regularly riding through mud, the woods, or other especially dirty areas. The primary focus of these goggles is to keep your eyes protected from dirt and debris that flies up from the ground.
These goggles resemble what skiers and snowboarders wear, and they fit tightly around the eyes to prevent anything from traveling underneath the glasses and into your eyes. These goggles are the bulkiest type of mx goggles, and they're especially rugged to stand up to the extreme conditions you'll encounter when offroading.
Street Goggles
Made for the concrete jungle, street goggles are ideal for anyone getting around on a cruiser, sportbike, or touring bike.
These goggles have a sleeker and more streamlined silhouette compared to off-road goggles, but they're still built tough to protect you from flying debris and keep the wind from bothering your eyes.
OTG Goggles
OTG or over-the-glasses goggles are a must-have for any rider who needs corrective lenses. Riders who wear glasses will quickly find that traditional off-road or street goggles aren't made to accommodate corrective eyewear. It might not be a problem for contact wearers, but those who wear glasses need a special solution, which is where OTG goggles come in.
You'll find OTG goggles in off-road and street styles, and they have extra clearance between your face and the lenses so that you can comfortably wear your prescription glasses underneath your riding goggles.
Prescription Goggles
For riders who require prescription eyewear but aren't interested in wearing glasses while they ride, prescription goggles are an option. These goggles are available in both off-road and street styles, and they're outfitted with prescription lenses.
Prescription goggles eliminate the need to wear glasses while riding, but they can be quite expensive. Only a few manufacturers make prescription goggles, and they usually don't make many different styles, so you won't have much of a selection if you go the prescription goggle route.
---
Features to Look For
Not sure what you need in a pair of MX goggles? Here are the key features you'll want in your next pair.
UV Protection
Top-quality MX goggles offer 100% protection from both UVA and UVB rays. The sun's rays can cause a variety of different vision issues over time, including macular degeneration and cataracts, so opting for a pair that offers UV protection is a smart choice.
Polarization
Polarized lenses receive a chemical treatment that allows the lens to filter out horizontal light waves before reaching your eyes, so only vertical light waves get through. This process helps to eliminate glare and improve the clarity and sharpness of what you're looking at, and who wouldn't want clearer vision when riding?
Ventilation
All motocross goggles, particularly off-road styles that occupy a large portion of your face, should be well ventilated to help keep you comfortable. Perhaps more importantly, ventilation can help prevent moisture buildup and fog, which are serious concerns when you're riding.
ANSI Certification
In most states, motorcyclists can wear practically any eyewear they want when riding, but that doesn't mean it's a good idea to throw on a pair of Ray-Bans when you're on the bike. Goggles that carry the Z87.1 certification from the American National Standards Institute (ANSI) are the best choice for your safety.
Lenses made of polycarbonate or Trivex can carry this certification, which signals that the lenses are shatterproof and impact and breakage resistant.
Materials
Beyond the lens material, the other materials that make up the goggles are also important. Materials that are lightweight and shatterproof are best for the frame, and you'll want easy to adjust straps and generous padding to help you stay comfortable.
Anti-Fog Coating
There are plenty of sprays you can buy to provide your goggles with anti-fog properties, and they all work to varying results. The best lenses are treated at the factory with an anti-fog coating that helps prevent lens fog much more effectively. Anti-fog is especially important with large styles like off-road or OTG goggles.
Lens Colors
The color of your lenses isn't merely a stylistic choice; certain colors can help improve your vision depending on the conditions you're riding in. Here's what you need to know about the different lens colors.
Blue or Purple: Improves color perception and contrast
Brown or Amber: An ideal all-purpose tint for all riding conditions that's perfect for hazy conditions
Grey or Black: Offers accurate color perception and reduces eye strain
Pink or Red: Provides excellent contrast and depth perception while reducing eye strain
Yellow or Orange: Ideal for foggy conditions, dawn, and dusk. Helps improve contrast and depth perception while filtering blue light to eliminate glare
Green: Helps improve contrast even in low light conditions while reducing glare
Mirrored finish: Mirrored lenses are available in every color, including clear, and they can help reduce glare even further
Final Word
Whether you're on the track, off-roading, or taming the concrete jungle, protecting your eyes is one of the most important safety measures to take. Investing in a pair of the best motocross goggles is something every rider should do.
Each of the five goggles on our list represents the best MX goggles on the market. Whether you're looking for a cheap pair of goggles to fool around in, or you need the tactical performance features of a high-end model, you should have no trouble finding the perfect MX goggles for you.
---
Related
[Goggle Lenses]
[Goggles Replacement Parts]
[Goggle Tear Offs]
[Riding Glasses]