Helmet Hawk is supported by readers. Should you buy through links on our website, we may earn an affiliate commission at no additional cost to you.
The primary purpose of motorcycle helmets is safety. But it isn't limited to that anymore.
It's all about showing off your personality and to some extent keeping up with the latest trends. Some of you will most likely be setting the trend.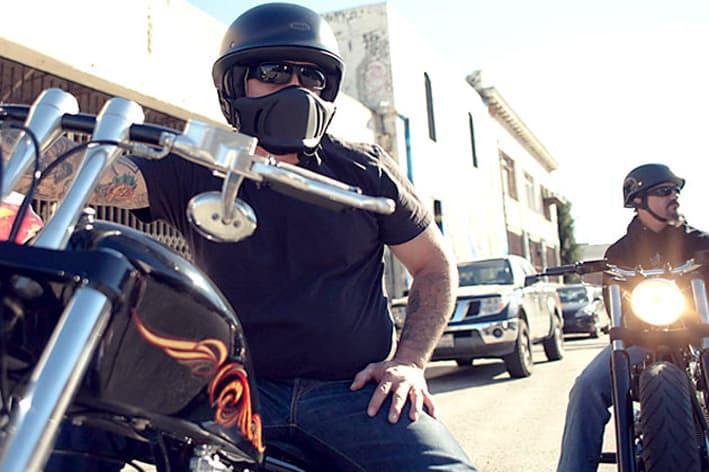 The kind of motorcycle you ride says a lot about you, and the lid on your head is just as important.
If your in a hurry check out these favs we've added in a easy to scan product table. Check it out below.
Whether you want to look tough with skull tattooed helmets or just want to pull off a cool super-hero look, you can find helmets for everything these days.
Novelty helmets are for a single purpose: to make you look cool. Safety goes out of the window when it comes to novelty helmets.
Here is a list of the best novelty motorcycle helmets available online.
Keep in mind that the list is completely random and isn't rated in any manner.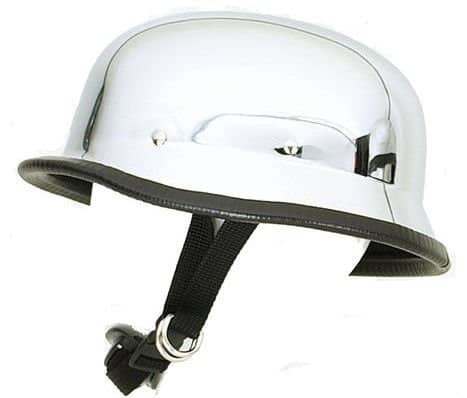 This classic German style helmet has a war-like vibe to it. All of us have at one point desired something like this to go cruising.
It's shaped like one of those ancient war models but was created with modern technology and made for comfort.
It is not certified so you would be a fool to expect normal helmet-like protection.
The best thing about this helmet is its price, which is more than reasonable.
For the price, it is remarkably comfortable and features an easy-to-use adjustable strap for safety.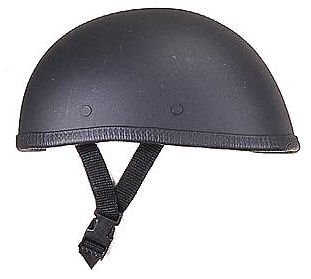 Best Half Beanie Style helmet
Overview
The BikerAccess Novelty Eagle Helmet is made of a fiberglass shell and fitted with a D-ring-equipped chinstrap. It has a padded interior for comfort and is not DOT approved.
It comes in sizes S-2XL and is reasonable priced.
Pros
Cool vintage looks and traditional styling
Very light and comfortable on the head
Doesn't sit too high on the head
Looks like a DOT-approved helmet (although it is not)
Cons
A little narrow in shape, so those with wider heads will have trouble with it
Offers virtually no protection in case of a crash
Conclusion
This product from BikerAccess probably best exemplifies the novelty helmet out of all the items on this list.
It makes no bones about the fact that it is not a real protective helmet—the manufacturer even warns you that it does not have DOT approval.
What it does do is offer a stylish "faux solution" for those who hate to wear helmets but have an appreciation of vintage style.
You cannot possibly expect it to save you from serious head injury if you have an accident, but if you're going for looks alone this is retro and affordable.
This is an amazing novelty piece. It's a chopper helmet which is constructed of a light weight fiber glass shell.
Although it is not DOT approved, it features a sturdy outer shell.
The interior padding has been designed for comfort and it also features a Y-strap padded chin strap, which is easy to use.
You'll find it's probably one of the smallest motorcycle helmets out there and it definitely wasn't built for safety.
There are a few different sizes available and it will sit perfectly on your head with no discomfort whatsoever.
Best Skull Cap Novelty Helmet
This skull cap it pretty awesome. You don't have to wear a boring old helmet. You can spice things up with something more fun, like this skull cap novelty motorcycle helmet! It's the perfect little touch of swagger that let's people know you mean business.
You don't get much of a color choice. You get to choose from: black (shiny black or flat black). But who doesn't like black right! It also has some comfy inner lining and chin straps.
Pros
Makes you feel like a badass biker, while looking cool at the same time.
Cons
Does not meet D.O.T. Safety Standards so can not be worn as a protective helmet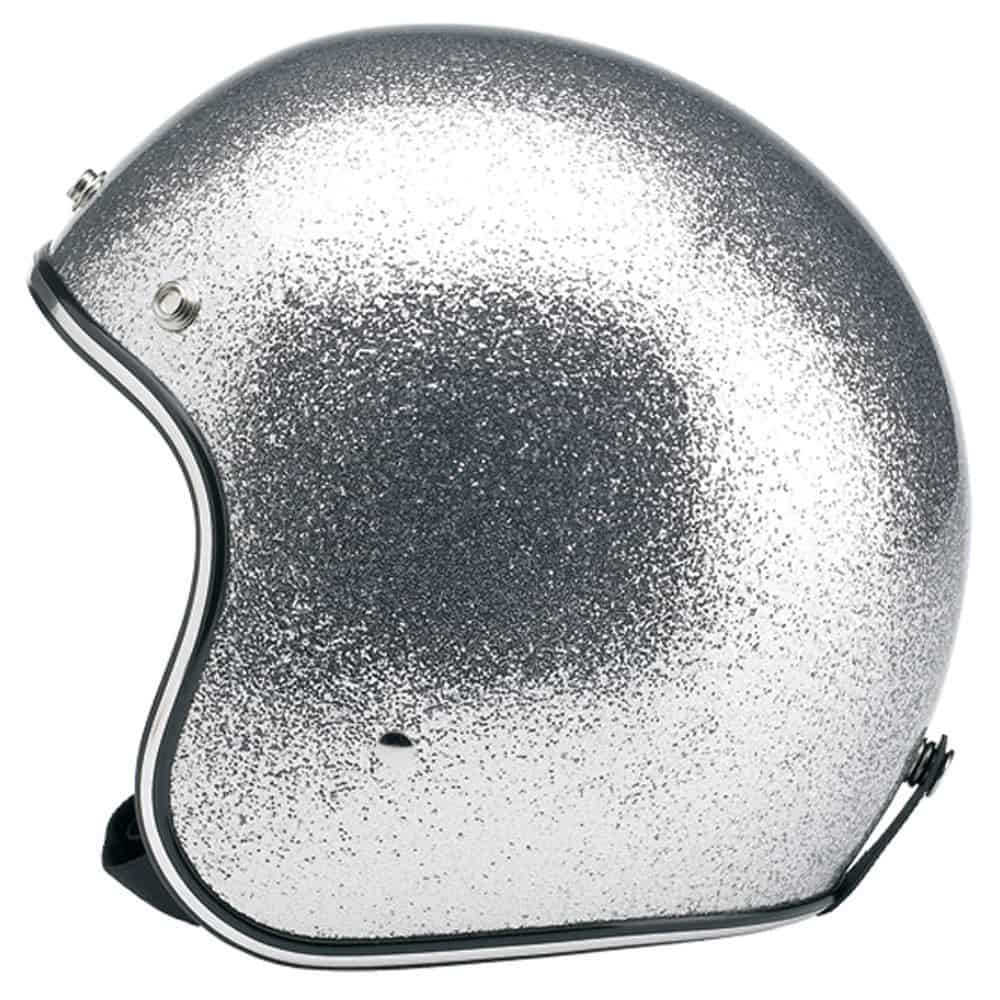 This one's a classic. It is a vintage style ¾ open faced helmet. The looks been borrowed straight out of the 60s and the 70s.
It's got the original vintage look with no modern day face shields and no extra baggage.
It features a vintage style chrome strip and embossed goggle strap. The ventilated panels on the top make sure that the rider stays cool.
It has an incredible look to it and looks really classy. It's an amazing novelty item available at a decent price.
Keep in mind it's more bling and it's not meant for safety.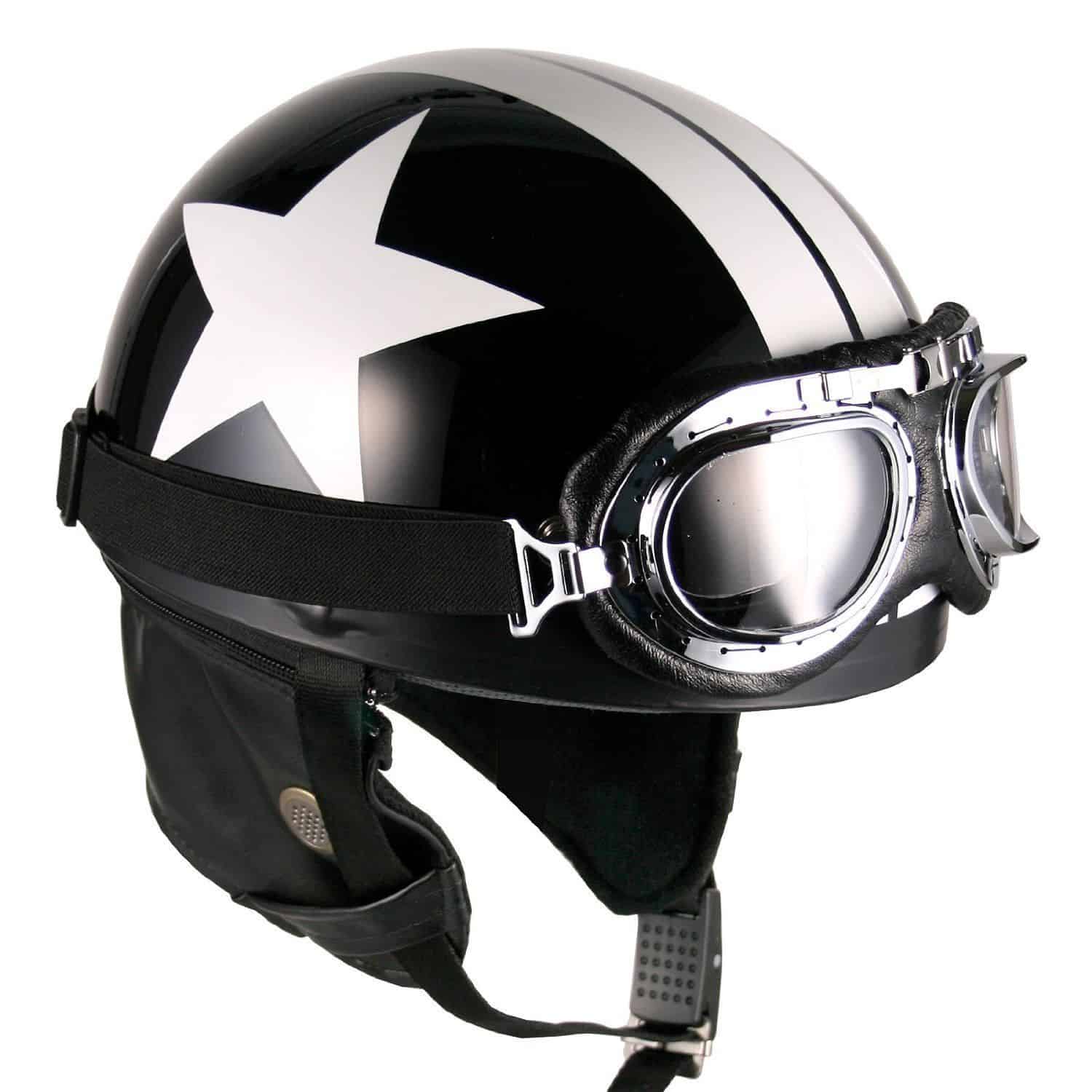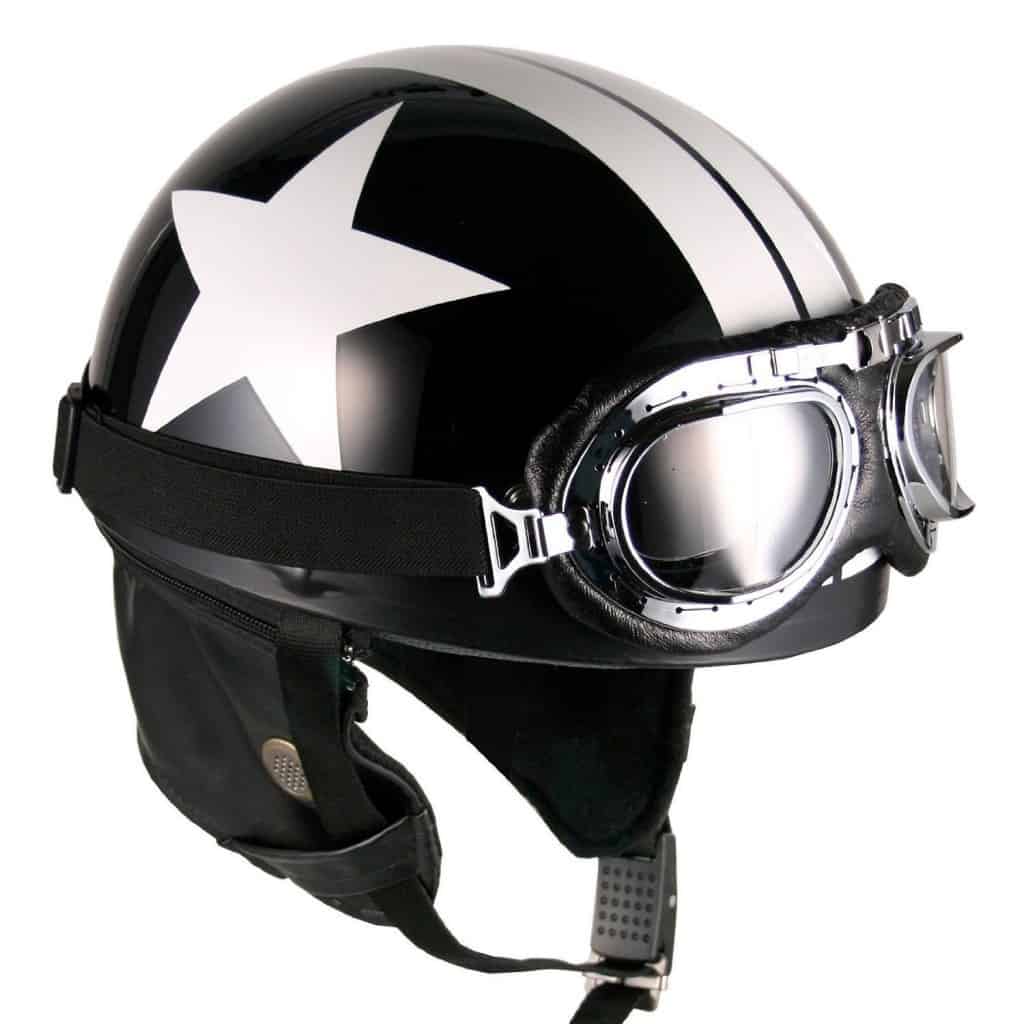 Best German Style with Goggles
Overview
The Hanmi Vintage German Style Half Helmet is a novelty helmet made of ABS plastic.
Equipped with old-school goggles, it comes in a number of finishes, such as a white stripes-and-star design on a black background and a faux leather-and-copper look.
Pros
Cool look, especially because of the goggles
Chin strap is easy to adjust
Cool finish options
Cons
Feels a little on the flimsy side
Only comes in one size
Conclusion
This is another one of those classy vintage half helmets. These used to be largely popular among biker gangs back in the day, or anyone who fancied cruiser touring.
This piece also comes with a goggle, an ear muffle and of course, a helmet. The ear muffle is remarkably comfy and is detachable; it will prove useful in all seasons.
The interior liner is comfortable and has been made with high grade fabric. The one touch convenient chin strap makes sure that helmet stays on.
It's got that Hollywood-ish vibe and will look good on almost anyone. The white star graphic painted on top adds a nice touch.
Like most novelty helmets, the Hanmi German Style Half Helmet does not boast DOT certification (although it does claim to have KPS certification).
As such, a bit of flimsiness is probably to be expected from it as well as from the other items on this list.
As far as looks go, though, it's a winner, offering innovation by—ironically enough—calling up the past.
Paired with a vintage ride, it will guarantee heads turning to watch you wherever you go.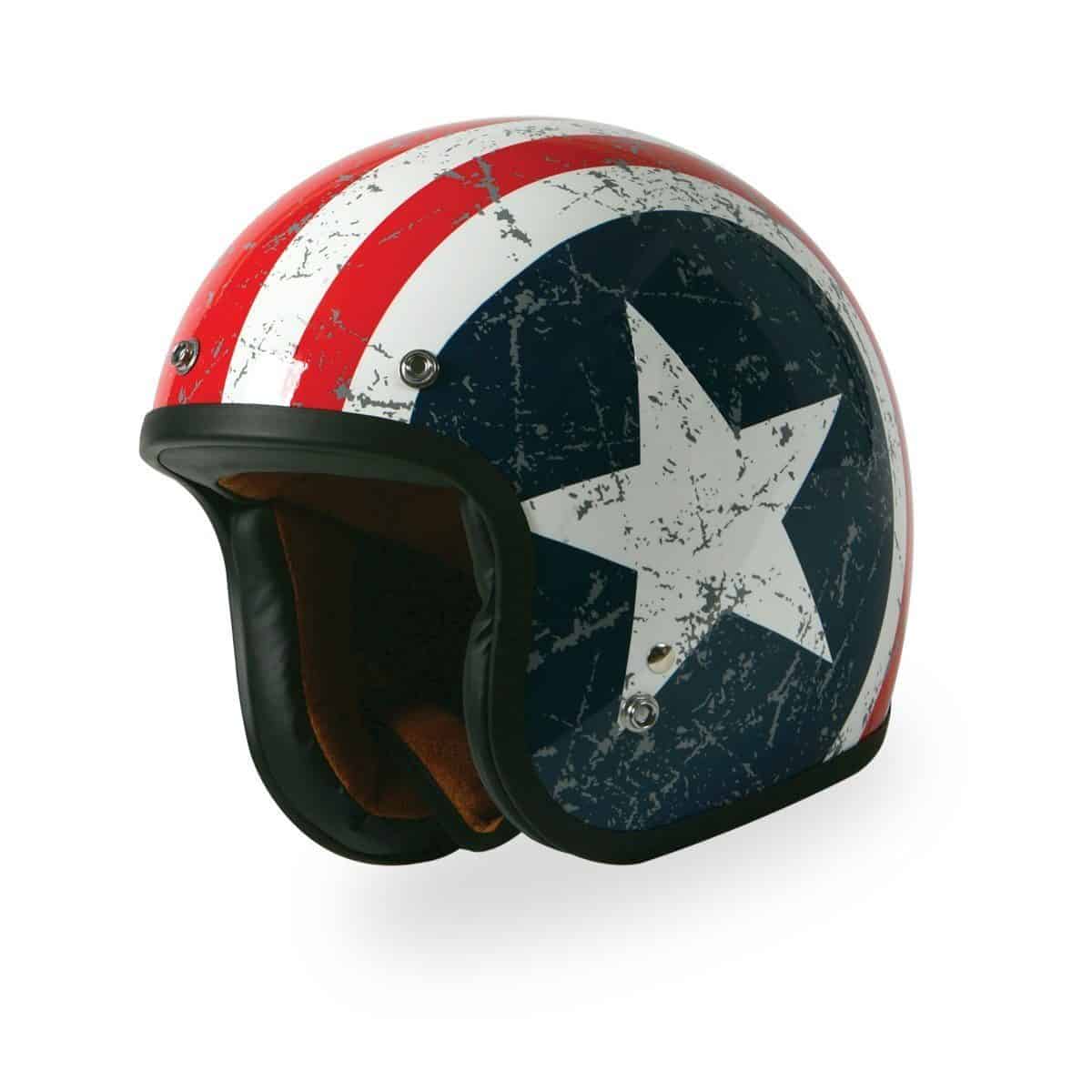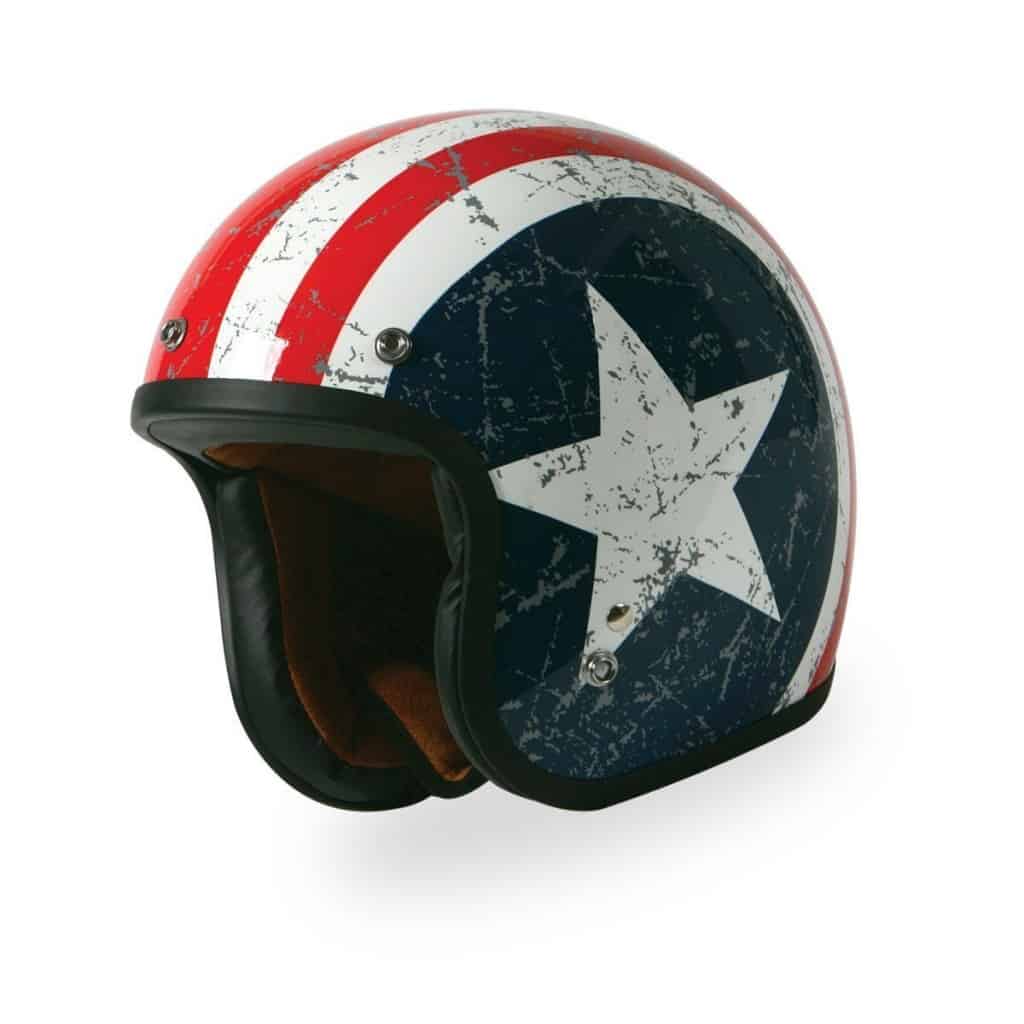 Novelty Rebel Star Open Face
TORC (T50 Route 66) 3/4 Helmet with 'Rebel Star' Graphic (White, X-Large)
Removable washable cheek pads. Low profile sized shells
Removable visor
Meets Dot safety standards. All helmets meet or succeed Federal Motor Vehicle Safety Standard...
Ultra suede inner comfort liner padding in all models in chrome trim
Advanced Thermo Polymer Alloy Shell-is engineered to protect the rider by minimizing the weight of...
Overview
As a novelty helmet that also happens to be DOT-certified, the Route 66 T-50 is a handsome ABS-construction product with a distressed retro paint design featuring red and white stripes with a white star on a blue background.
The inner lining is removable for cleaning and the visor can be removed as well.
It comes in sizes XS-2XL
Pros
DOT certification
Attractive and convincingly retro design with some American pride for good measure
Very comfortable on the head
Cons
Sizing can run a little small
Will sit a little high on the head for some users
Conclusion
The TORC helmet is one of those helmets that straddle the divide between novelty helmets and functional ones.
This is good news for its admirers, of course, as it means they can get DOT-certified safety equipment while still having a unique look.
While it is well made, there are some nitpicks worth mentioning, though.
Besides the ones in the Cons section above, there is also the fact that the design is a decal.
This should not be a deal-breaker, though, as a genuine distressed paint job would bring up its price significantly from what it is now (under one hundred).
Novelty Skull Face 3/4 Helmet
Overview
The 1Storm Motorcycle Dual Visor Open Face Helmet is obviously another of the skull-inspired (even sporting a Bad Ass Mohawk design) novelty helmets available today.
Like the preceding item on this list, it happens to have DOT approval too, giving it extra functionality.
It sports a thermoplastic shell, a UV-resistant finish, removable inner padding, and seven different finishes, including one that looks like digital camouflage.
It comes in sizes S-2XL.
Pros
DOT approval
Wide range of finish options
Comfortable fit
More detail than the IV2 model
Cons
Skull visor can be uncomfortable
Visor may restrict peripheral vision
Conclusion
Like all novelty helmets, this suffers some hiccups: the lenses are not very scratch-resistant, for example, and the skull-face visor can be restrictive of vision when kept down. Still, the bold 3D touches of the thermoplastic skull give it a great look that will not be easily dismissed.
German Motorcycle Half Helmet Novelty Spikes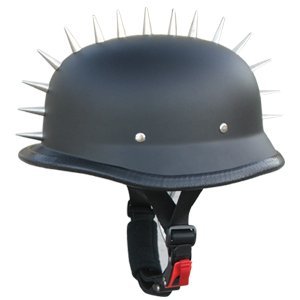 This novelty item has been constructed with durable polycarbonate shell and looks amazing.
The interior is well cushioned and is remarkably comfortable.
The German style alone should be enough to make you stand out in the crowd. On top of that, it's got sturdy looking spikes to go along with your tough nature.
Keep in mind that it's only a novelty helmet and is not meant for protection. In fact, it won't do you any good other than to ride around town, definitely not at high speeds. But it's super cheap and extremely affordable.
IV2 "3D Skull" Chopper, Cruiser, Beanie, Half helmet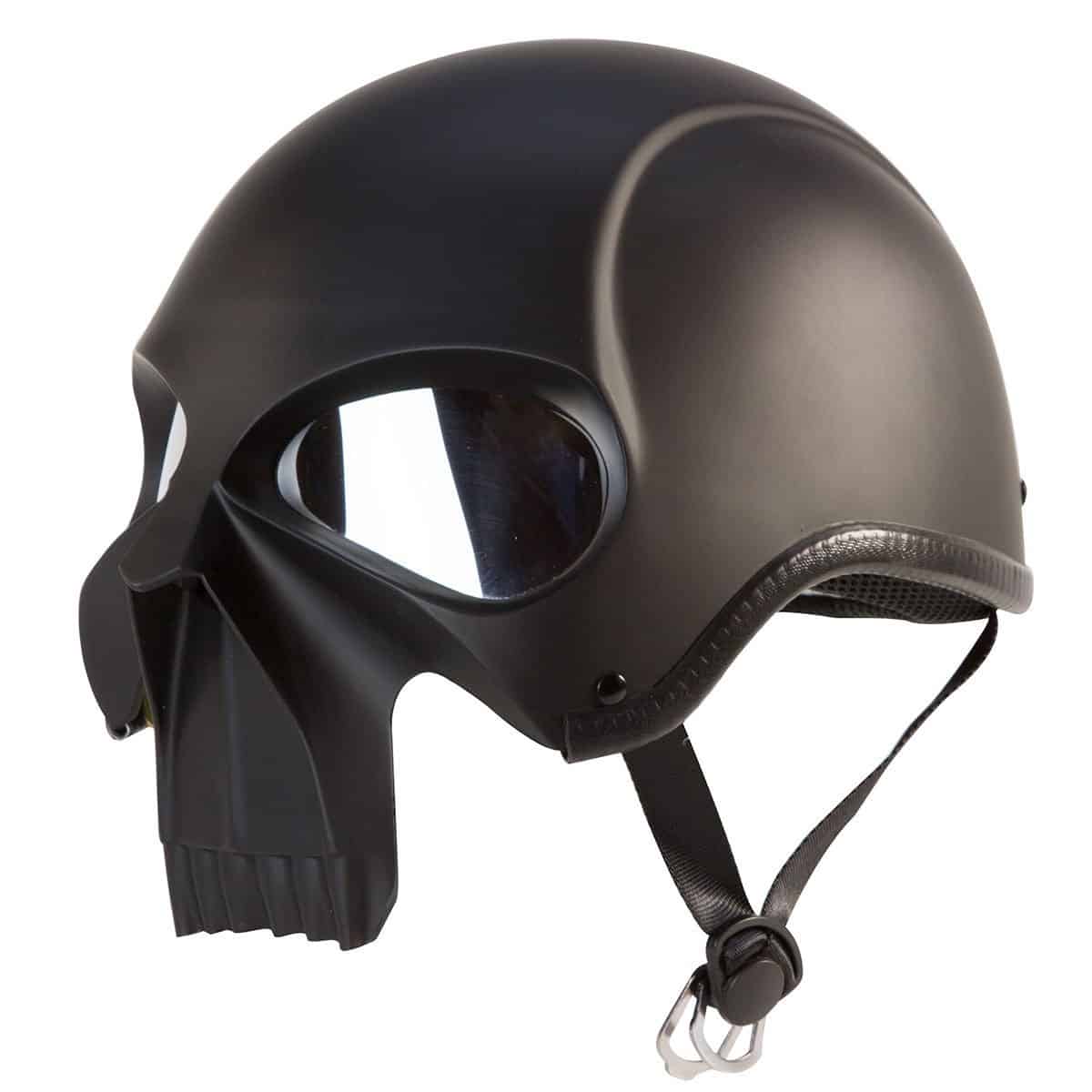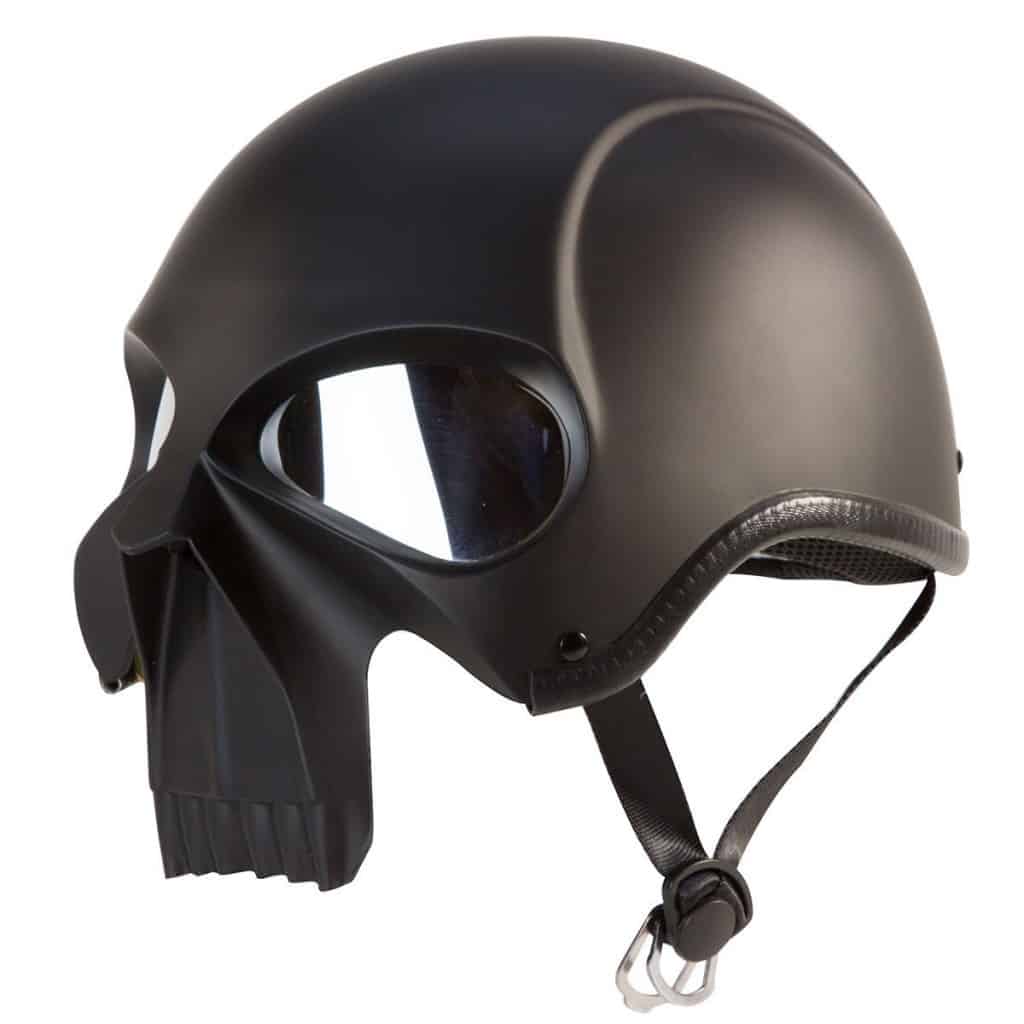 Coolest Novelty Half helmet
This is another helmet that looks incredible and is totally fn cool. And for reasons beyond me it is now not available anymore.
It's got an awesome 3D skull design.
Although it looks great as a novelty helmet, it has also been approved by DOT standards.
It has been constructed with a light weight durable shell.
The interior has been padded for comfort and the dual d-rings strap makes sure that the helmet stays on.
This helmet is the definition of tough. It's available in three different sizes and if you manage to get the right size, you will have the perfect skull mask as a helmet.
It's currently available for a decent price and a range of color options.
If looking like the toughest bike rider around enough for you to compromise safety, it's a great buy.
Black Reaper 3D Skull Motorcycle Helmet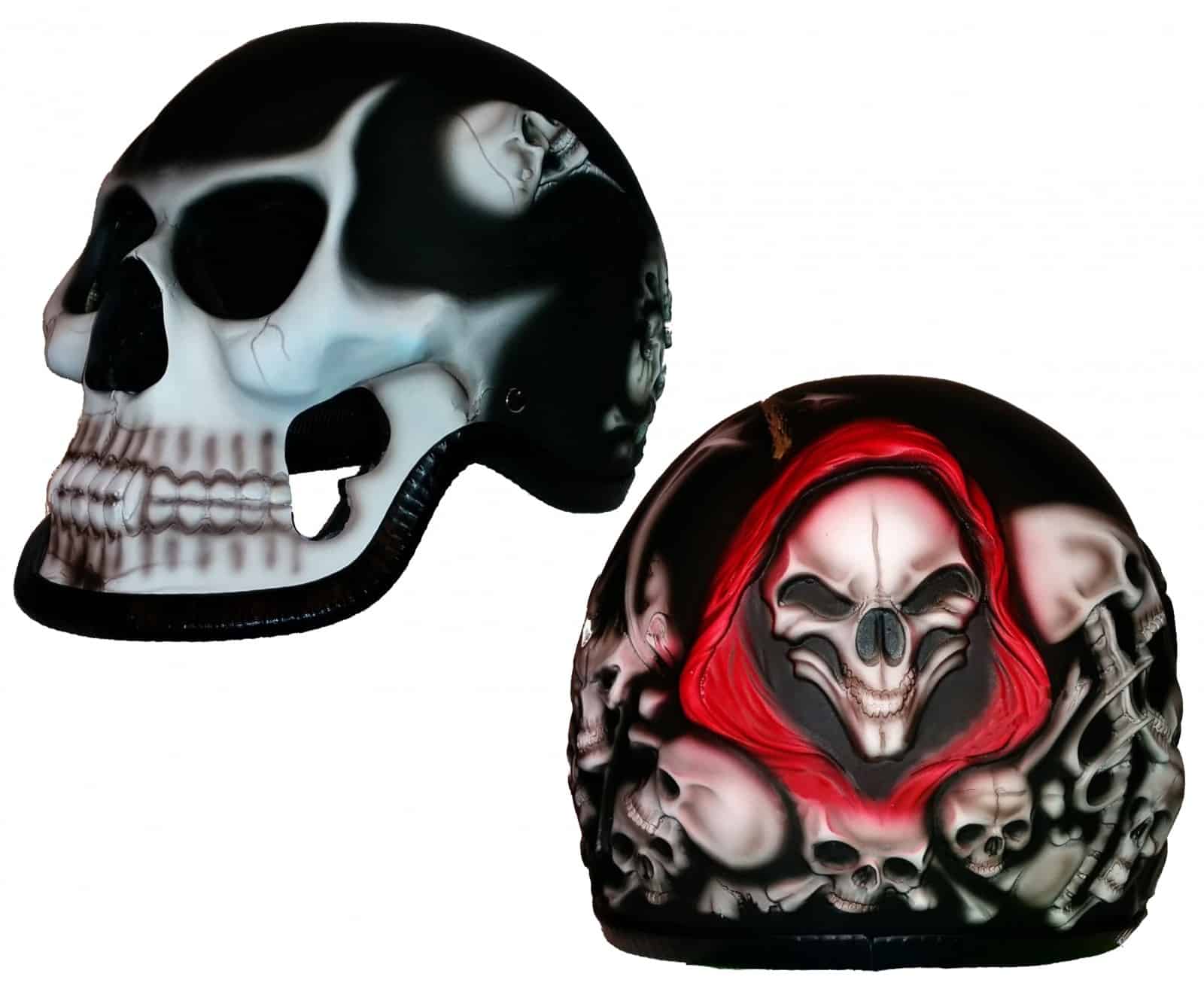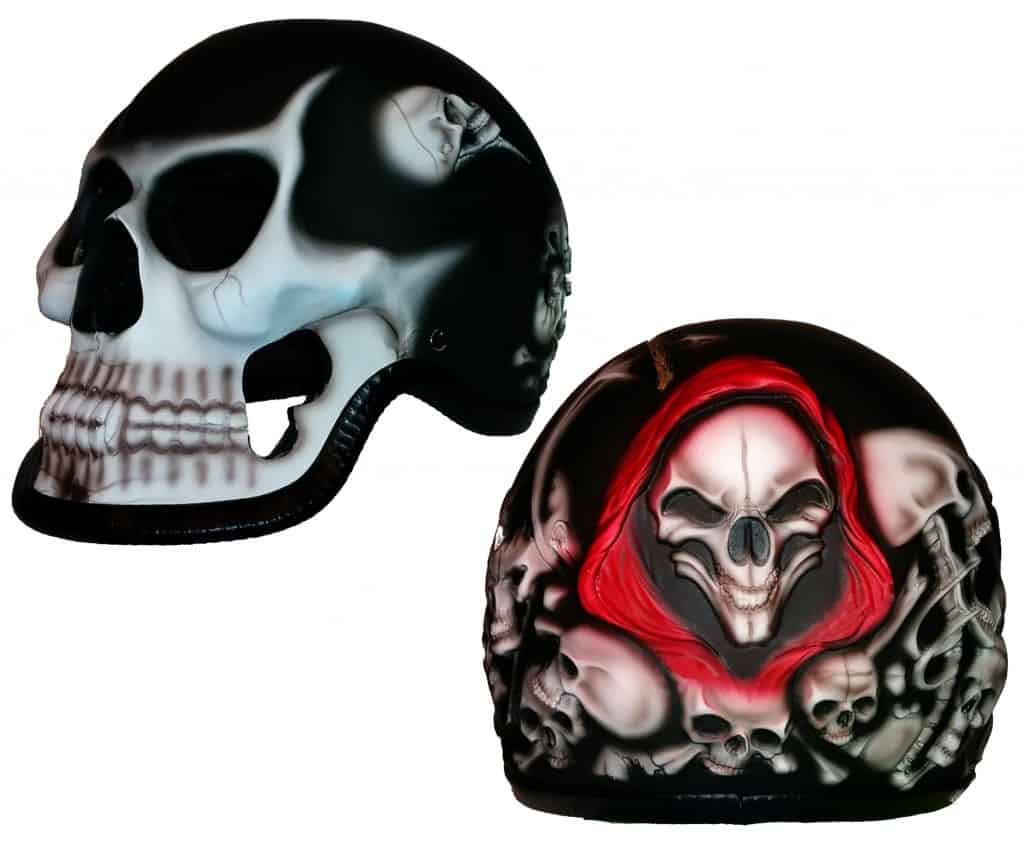 **Currently not available on Amazon
This Black Reaper helmet lives up to its name with a slick skull face painted on it. The Skeleton shaped graphic has been custom airbrushed on the full black helmet giving it a Gothic look to it.
It has been constructed with a lightweight durable shell. It isn't just a show piece—it features a cotton interior which provides maximum comfort.
The eye holes feature integrated clear lenses.
This helmet was inspired by the Ghost Rider and your wife is surely going to hate it. But there will be lots of admiration and compliments from your mates.
It's a custom-made head accessory and you will never see another rider wearing this piece. It's totally tough and looks scary and was not been built with safety in mind. It is only safe for an occasional ride around town.
Summary
All in all, the best buys among these novelty helmets are the TORC Rebel Star (with its attractive design and durability), followed by the 1STorm (a cooler skull than the IV2), and the (which ranks the best for coolness).
All of these let you experience novelty helmet use without forcing you to give up too much in terms of safety, and they also all happen to have reasonable costs. Their DOT certification is what brings them to the top.
The remaining two are straight-up novelty helmets, so you will be taking a chance with your own health if you use them. Of the two, though, the product is likely the least protective, if also the least encumbering.
Again, keep in mind the trade you make here: the "free-er" the helmet feels, the less protection it will give you in a pinch. Only you can decide if the novelty value of the item is sufficient to offset that risk.
More Novelty Helmet Reviews
Hip and Cool Motorcycle Helmets: Highly Rated Picks for Style
The Best Badass Motorcycle Helmets That Money Can Buy
Vintage Motorcycle Helmets – Retro Helmets That Are Top Rated and Most Popular
Best Motorcycle Half Helmets That Take Cruising to Another Level
Best German Style Motorcycle Helmets – Highest Rated And Most Popular
We hope you find this information helpful. If you would like to support this site, you can by purchasing through recommended links on the page. Should you decide to purchase, we may earn a small percentage of the sale at no cost to you.
Thank you for your support.