Helmet Hawk is supported by readers. Should you buy through links on our website, we may earn an affiliate commission at no additional cost to you.
A helmet is necessary if you ride a motorcycle, and not simply for the sake of looking cool. A good helmet can save your life in an accident and prevent major brain injuries. So, how do you choose what's best?
The best motorcycle helmet for you will depend on a variety of things, from your bike to your budget to your sense of style.
If you're in a hurry, this is the best of this bunch. The Matte-Black IV2 which is DOT approved and offers some solid protection.
The cheapest helmets will cost less than $20, for example, but they might not look as cool or protect as well. The most expensive can set you back several hundred dollars, which might be too hard to afford.
Choosing the right helmet is a matter of knowing what fits you best—literally, as the most expensive helmet will be worthless in a crash if it doesn't fit right. And while everyone loves cool graphics on a helmet, it's really how it saves your life that counts.
Below are some of the best helmets you can get for under $100. You might find a few might be cooler looking, while some might be more comfortable.
---
| Best Motorcycle Helmet Under One Hundred | Price Range | Our Score |
| --- | --- | --- |
| | | 3/5 rubber chickens |
| | Price not available | 4/5 rubber chickens |
| | $132.00 | 4/5 rubber chickens |
| | | |
---
But all of them should be capable of doing the job when it comes to the real test of keeping your noggin from going Humpty Dumpty's way in an accident.
Read on as we review each style.
---
VCAN V531 Cruiser Half Helmet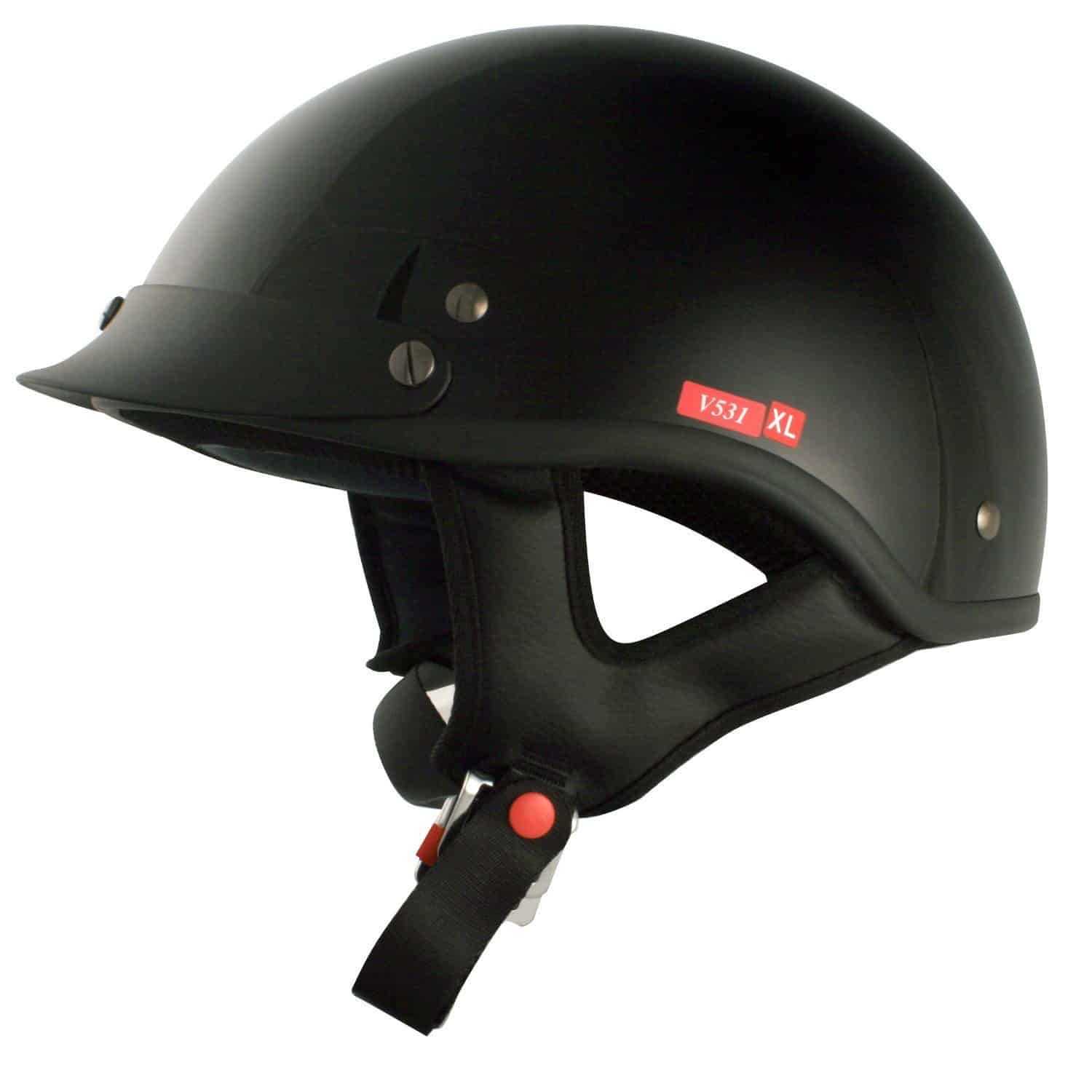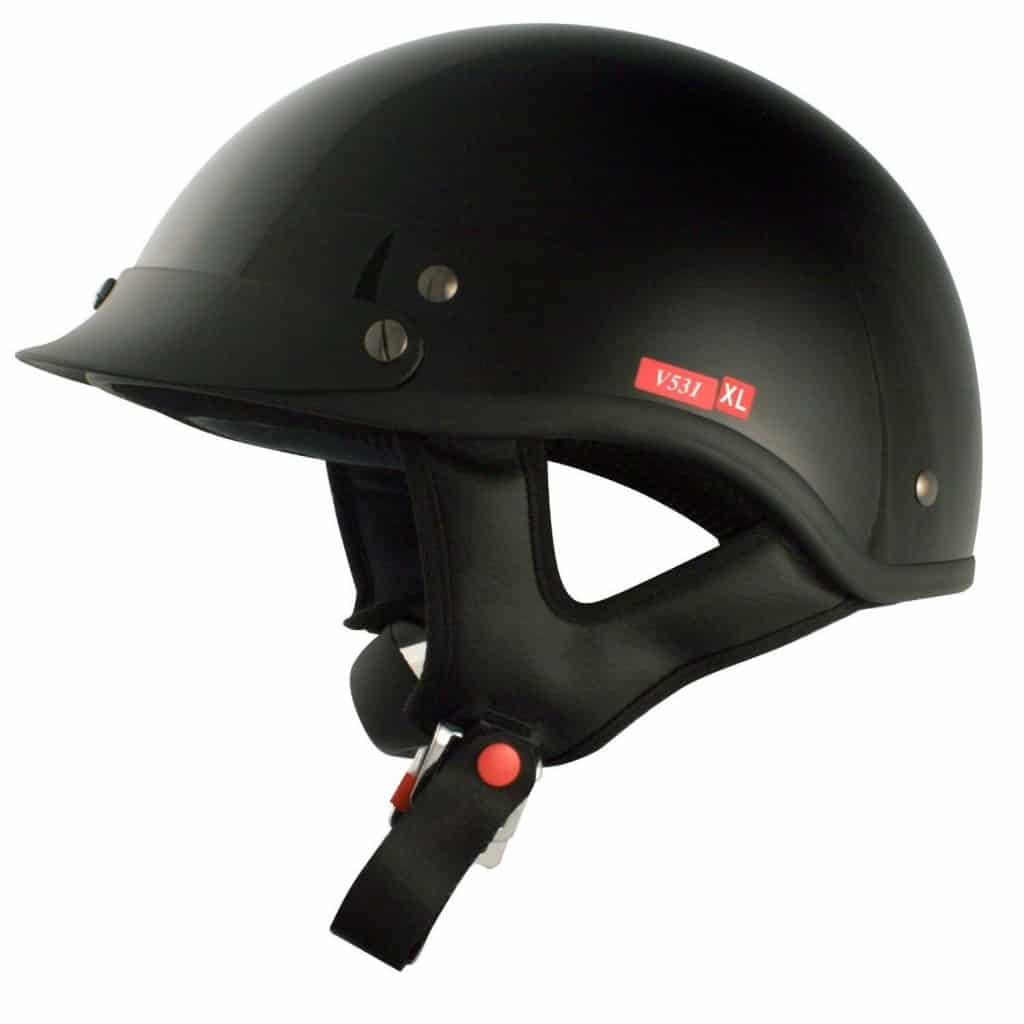 Best Half Helmet Under $100
The VCAN V531 Cruiser Half Helmet will obviously have less inherent protection than its full counterparts, but it still offers good security against most accidents.
This helmet is crafted out of a high-quality thermoplastic resin that surpasses the U.S. DOT standards. An adjustable chinstrap and removable visor add to its comfort, as does its size range from XS-XL.
Pros:
Good quality for a low price
Comfortable when sized right
Light
Cons:
May not fit some heads well due to the shape
Does not protect the ears from wind
Conclusion:
The VCAN V531 is a good half helmet for its price. It may not be the most stylish option (although this is a matter of personal preference) or the most comfortable if you're given to riding at full speed into the wind, but still, it does work well.
It offers reasonable riding comfort, (relative) ease-of-storage, and DOT-approved durability that many more expensive counterparts do not. It may not be the best choice if you tend to go on longer trips and want something more protective, though—a full helmet would be the best option then.
---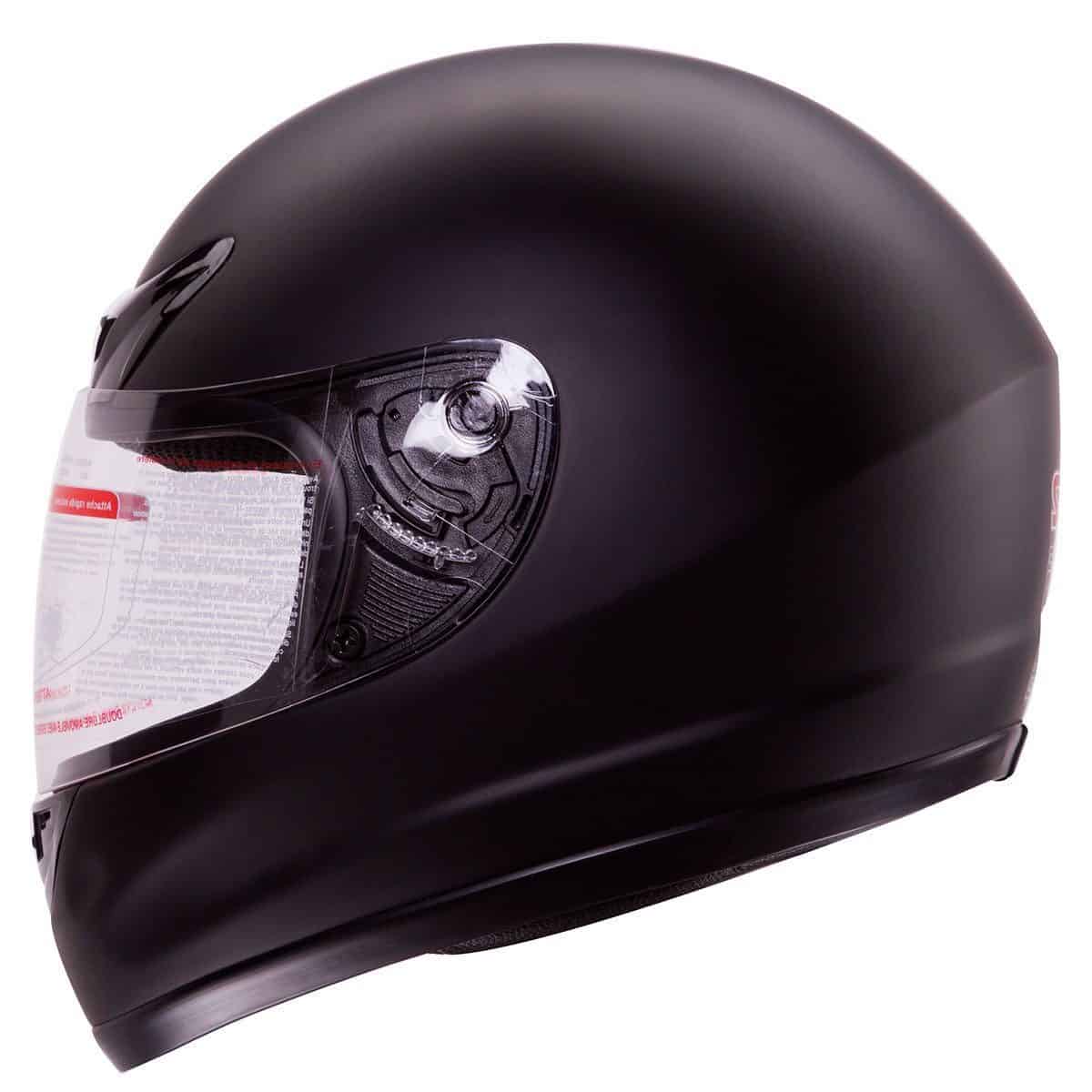 Best Full Face Helmet For The Money
This DOT-approved helmet from IV2 is a lightweight but full-coverage helmet with two visors (one clear, one smoked) that can be changed as befits the situation.
It's vented for user comfort, is made of lightweight ABS, has removable cheek pads, and has a reinforced shell along with an inner liner designed to help absorb impact.
It is DOT-standards-compliant as well and costs well under a hundred.
Pros:
Cheap for a DOT-standard-compliant full-face helmet
Light and comfortable
Sturdy; has been found to deliver when it comes to rider protection
Cons:
Some customers have found its paint job to be easily damaged
Non-removable liner is hard to clean
Conclusion:
The Matte Black Motorcycle Helmet from IV2 is a great entry-level or budget buy if you want full-faced protection on your bike. It's also understated but far from unappealing. Are there full helmets that outdo it in terms of comfort and durability?
Undoubtedly, but most of those will also outdo it by more than double in price. If you cannot afford those, this is a very comfortable way to go, with very few compromises made where it really matters—that is, in saving your life.
---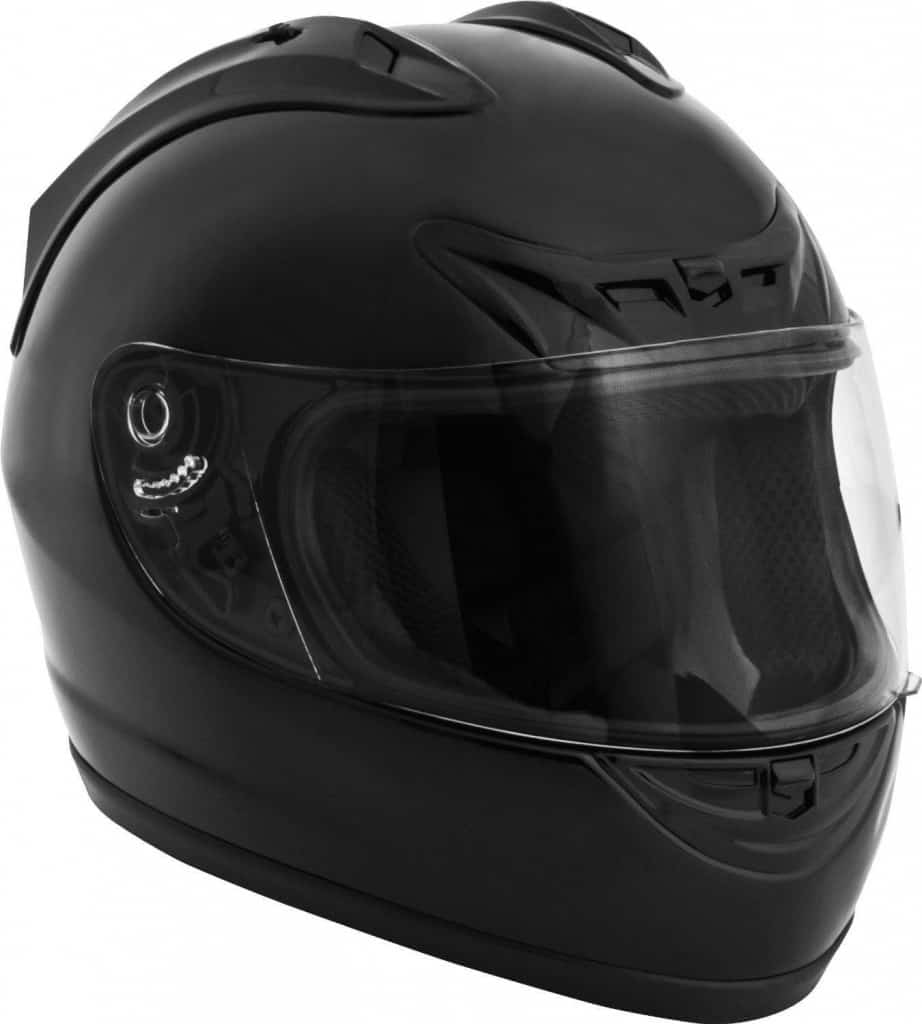 Coolest Full Face Helmet For Under $100
The SH-FF0016 is Fuel Helmets' solution for those seeking full-faced protection on a budget. Made of thermoplastic for durability married to lightness, it boasts dual vents that can be shut and opened as desired, removable cheek pads, and DOT approval. The quick-release shield can be changed with the press of a button.
This helmet costs just a little over half a Benjamin Franklin.
Pros:
Very well made for the price
Comfortable in use
Light and easy to wear
Cons:
No option for tinted visor
Visor tends to fog when you're not in motion
Conclusion:
The SH-FF0016 is another of the quality budget options for full-helmet seekers. It suffers from some minor quibbles—besides the visor fogging when stationary, several customers also report the chinstrap button coming off too easily—but it is up to you whether those are sufficiently deal-breaking to steer you clear of its low price.
---
Vega X888 Full Face Helmet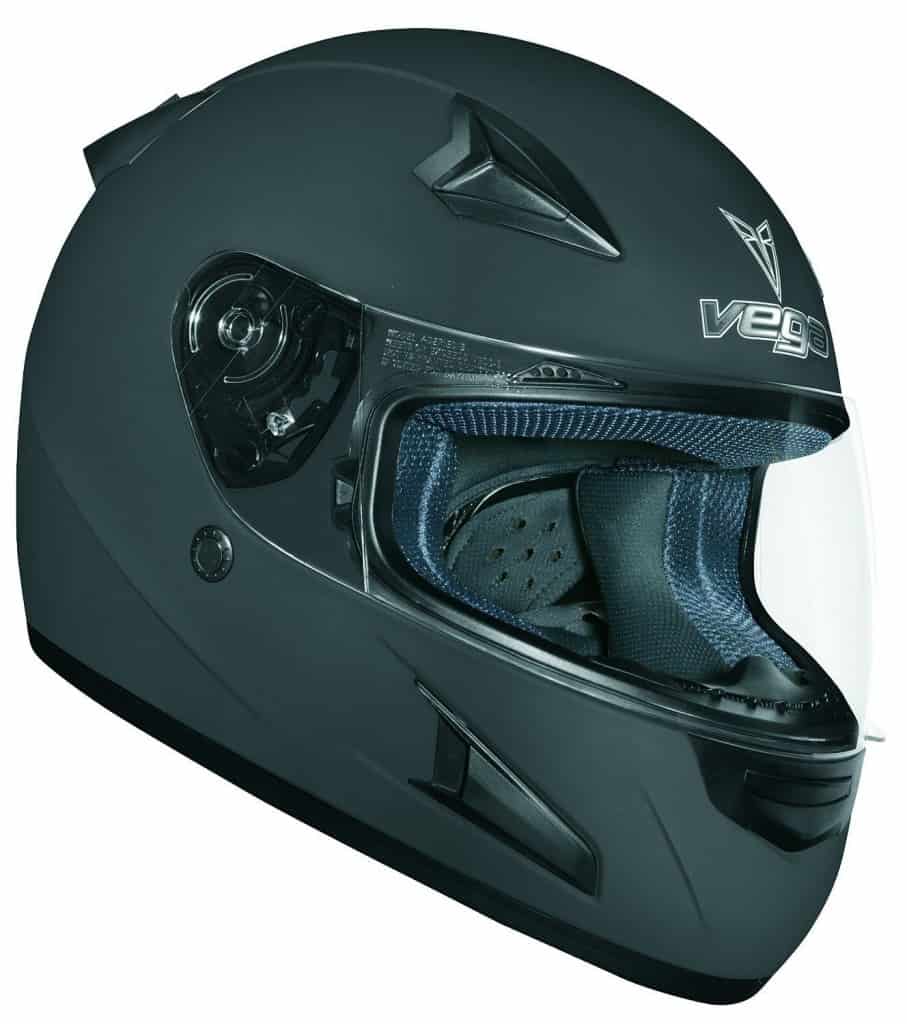 Best Beginner Helmet Under $100
Available in six sizes, the entry-level Vega X888 is a multi-vented full-face helmet with a slew of visor possibilities (although you get only the clear one with the initial purchase). DOT-certified, this helmet is also fitted with EPS foam to enhance its injury-minimizing abilities.
It comes in glossy and matte black color options.
Pros:
Very attractive
Has the stricter European ECE rating
Has a one-year defect warranty from the manufacturer
Cons:
Matte version tends to pick up scratches and fingerprints easily
Tendency to whistle slightly when you're traveling at higher speeds
Conclusion:
Coming as it does from Vega, some of the nicest points in the X888's favor are just what you would expect from an established brand in this industry: a defect warranty, good component replacement options (for the visors and vents), and an attractive—if not exactly flamboyant—design.
There are still things to nitpick, however. It could do with removable (and thus, washable) cheek pads, for instance, and a sturdier vent design.
---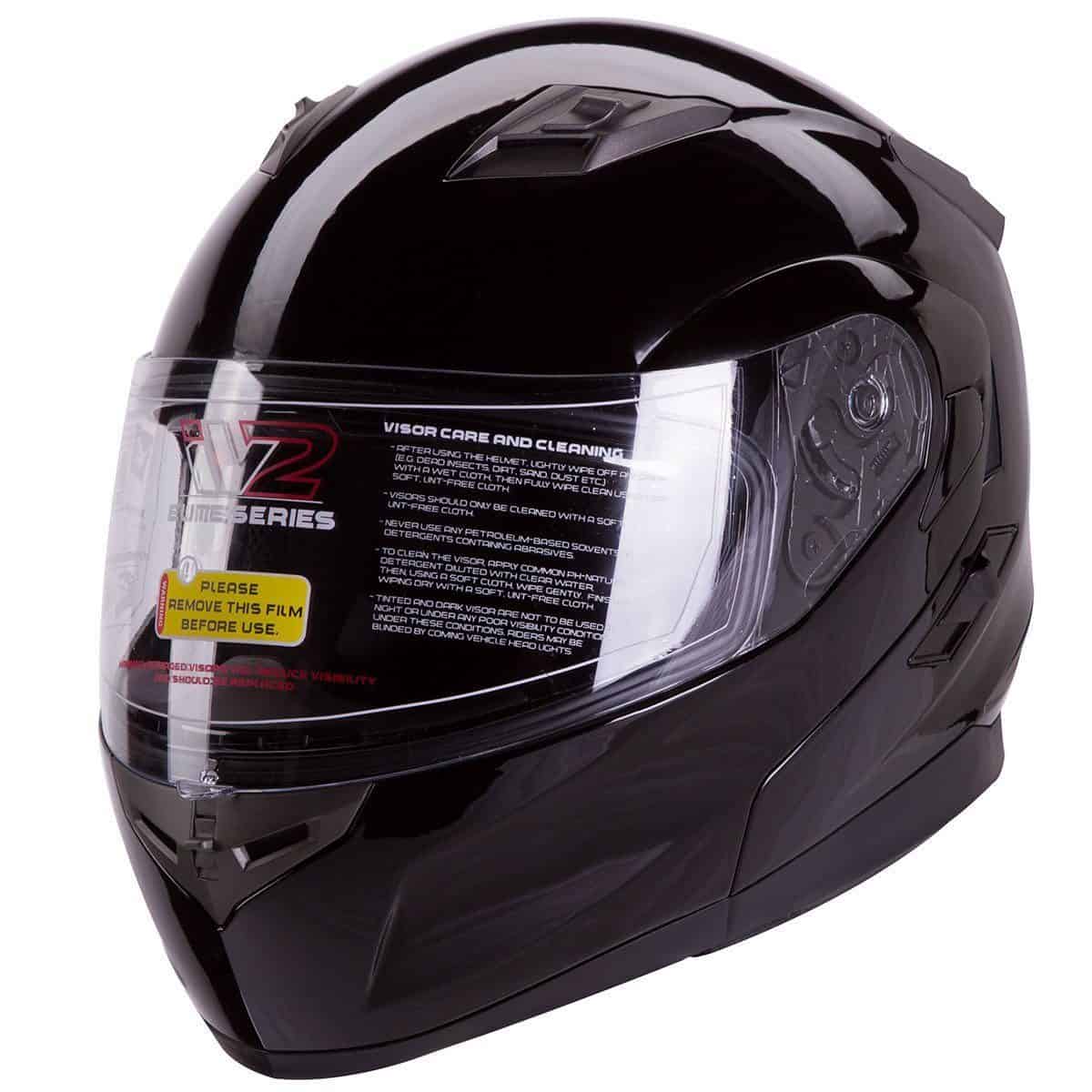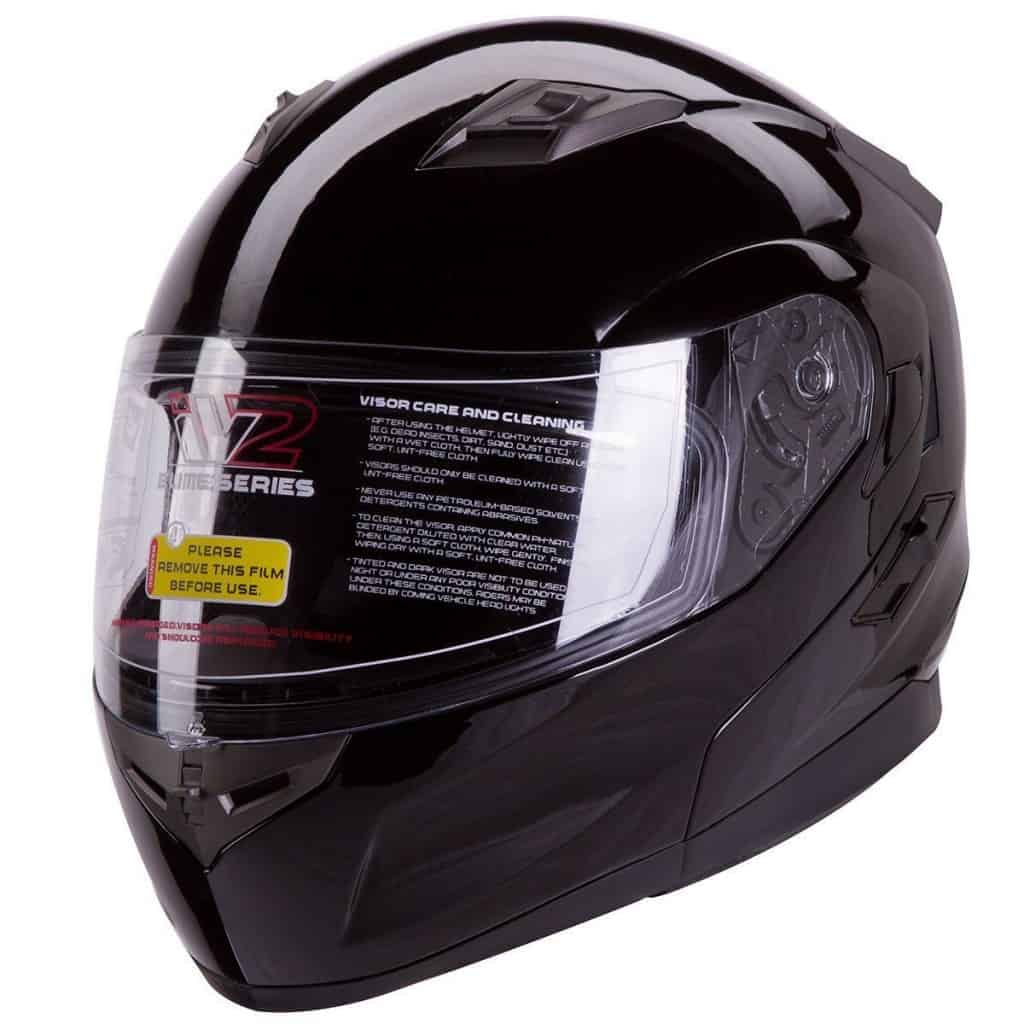 Best Modular Flip Face Helmet For The Price
The Dual Visor is the second entry from IV2 on this list. The modular design allows you to convert it from a full-face helmet to an open one, giving it versatility unmatched by the other entries. It has 10 vents, impact-absorbent and sweat-absorbent liners, a thermoplastic shell, removable interiors, and DOT certification. It comes in sizes S-XL.
Pros:
Single-button release makes conversion from full-face to open-face easy to manage
Very good (and durable) build
Versatile
Cons:
Sizes tend to run on the snug side
Slightly less prevention of noise compared to non-modular full-face helmets
Conclusion:
IV2's modular offering is a very good buy at less than $100, particularly given its build quality. There are little hitches if you want to be picky about it; it's definitely noisier than a standard full-face, the visor can be a little sticky when you're snapping it in place, and there's a bit of fogging sometimes when you have the chin piece in.
But considering other modular helmet prices and the quality you get for them, this one is far from a bad purchase.
---
Summary
Of the bargain helmets listed here, the answer to the question of which one is best for you depends on a variety of factors.
If cost were discounted for a moment—all of them are bargain-priced anyway—the IV2 Modular option is best. After all, you get great protection married to unbeatable versatility with it.
However, bringing the cost back into consideration might sway you to look for other options, as it has the highest price of all five products here.
As for the other options, the Matte-Black IV2 and offerings vie for the second-place spot among the standard full helmets. For the most part, Vega ranks higher given its nice service bonuses (a warranty and replacement parts).
With that said, the best helmet here for beginners—those just beginning to get into the biking scene—is the VCAN. It's the cheapest and least constricting but it's still sturdy, so it will appeal most to starting enthusiasts.
The full-face options will appeal most to those who already have an investment in the lifestyle.