Helmet Hawk is supported by readers. Should you buy through links on our website, we may earn an affiliate commission at no additional cost to you.
Motorcycle helmet lights lend a futuristic, sophisticated look and also act as an excellent safety feature.
They are especially useful during bad weather and in dark areas that are devoid of street lighting.
Motorcycle bodies usually feature some sort of reflective material but the same can't be said about all helmets. Nonetheless, helmet lighting systems are a great way to improve visibility.
Best Helmet Lights Here
LED helmet lights are more than a fashion accessory – they can act as a highly effective safety feature.
There are several types of bike helmet lights.
EL (electroluminescent) tape
LED lights and helmet Strip kits
EL Verses LED Motorcycle helmet Lights
Personally, I like the look of the LED strips. I think they make a more complete helmet lighting solution than a single bulb or EL wire. Read on to learn more about the different types of helmet lighting systems.
EL (electroluminescent) tape
The simplest way to light up your helmet is to line it with EL (electroluminescent) tape. You can form any design you like and as long as you secure all connections properly, you will not receive a shock from the electric current.
EL wire is fairly versatile and easy to install. However, unless you do a very polished job, it will just look like you have decorated your helmet with some kind of Christmas lighting!
LED (light-emitting diode) Strips
You can opt for specially designed LED helmet kits – these are available at lightmode.com or lumenflex.com
These kits enable you to form cool, super-hero like designs on your helmets.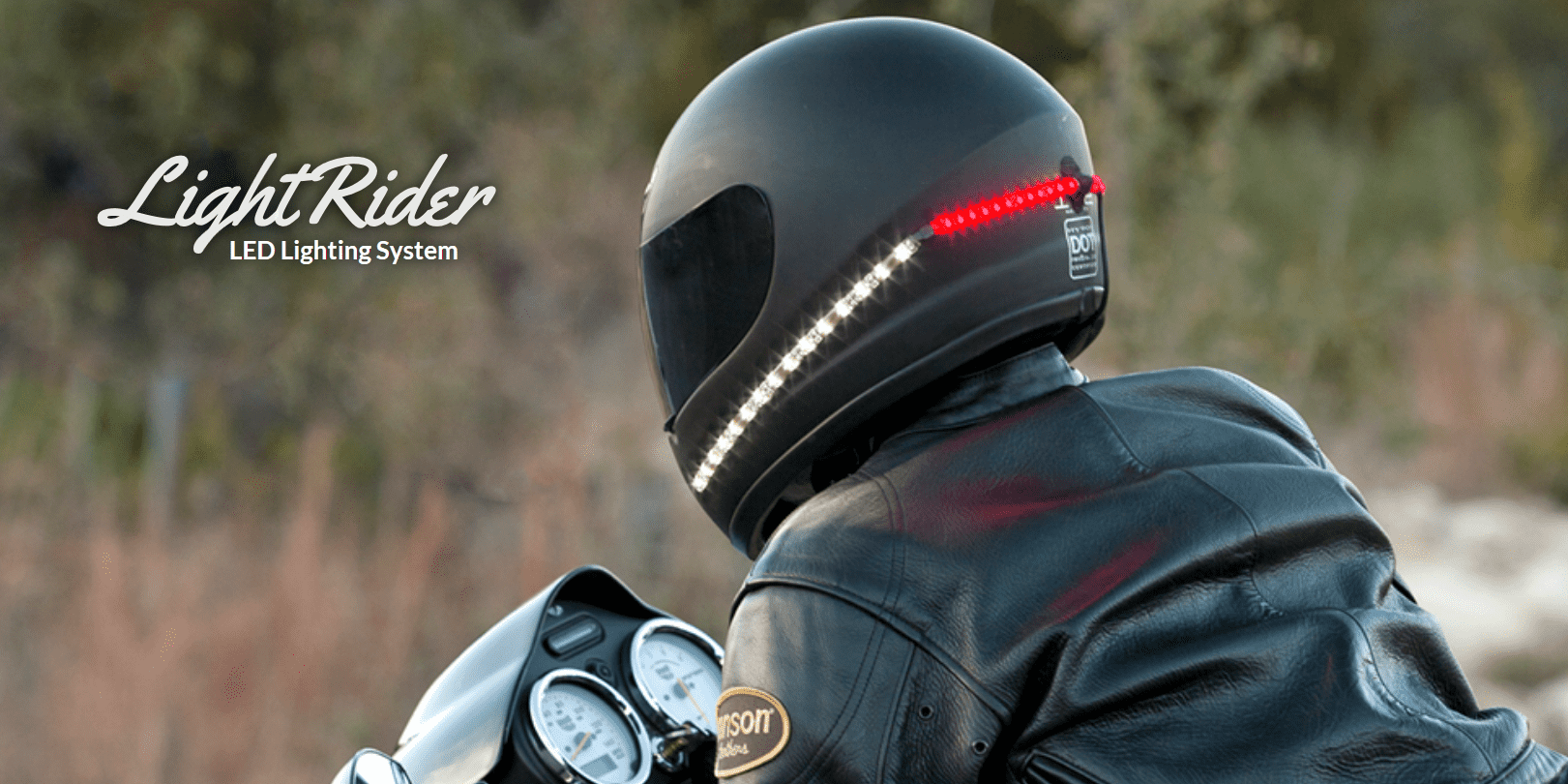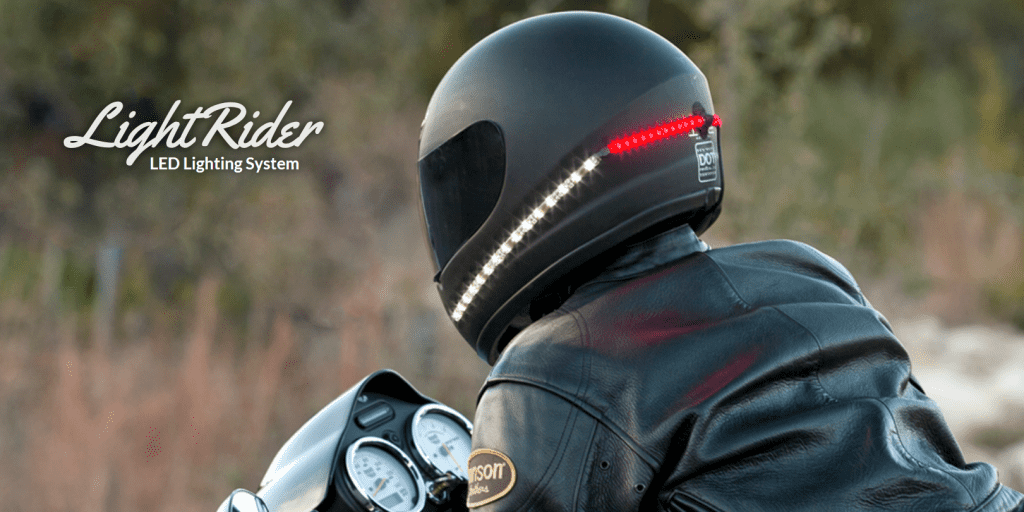 Light Rider – LED Lighting System
If you can't be bothered trifling with EL wire, you can simply attach a single LED light on the back of your helmet. Lights like this won't increase your style a lot, but it will keep you safe in areas with poor visibility.
The LED bulb is usually red in color and even though it shines brightly, it doesn't consume much energy. These single LED kits are dirt cheap and versatile – they work for all types of helmets – even bicycle helmets.
Types of LED Lights
A single bulb is just too primitive and bland for some riders. They crave more features in their helmet lights.
A strip of LED lights is a great option, as it's stylish and basically looks awesome. Besides the awemoneness, there are several added features such as a stop brake light, a safety flasher and turn signals.
These lights are synchronized with the rider's movements through a transmitter.
LED strips look good… and they also offer a much more complete helmet lighting solution than a single bulb or EL wire.
---
Motorcycle Helmets Lights – Are they Illegal?
They are legal in California and many other places in the USA. However, they are technically illegal in some parts of Canada. Look up your local laws before lighting up your helmet with EL or buying any sort of kit.
Some high-end helmets have inbuilt lighting systems. Such factory fitted lights are highly durable and water and weather resistant. However, unless you are looking to buy a new helmet with inbuilt lights, you'll have to install auxiliary lights to the one/s you own right now.
The type of helmet lighting system you opt for depends upon your needs, riding style, personality and budget. Any kind of lighting is better than none at all – as long as you are not breaking and local regulations.
We have reviewed three specific models of motorcycle helmet lights.
---
Amator Helmet Lighting System
This is a wireless 8 LED strip that attaches onto the back of a motorcycle helmet. It is waterproof and can be mounted on almost any type of helmet.
The two yellow LEDs on the left act as left turn indicators, the four red LEDs in the center act as brake lights while the two yellow lights on the right are right turn indicators.
The device uses 2.4G technology to transmit and receive signals.
The package comes with a user manual, a screwdriver, two screws, an emitter and the 8 LED strip.
The device is powered by two AAA batteries but these aren't included in the package.You'll need to purchase them separately.
Installation and code-matching is explained in the user manual – the LED strip has a self-adhesive pad that glues on to the helmet
Pros:
1) This product has several functions such as turn indicators, brake lights etc.
2) It is waterproof and hence useful in rain and snow. Many lights are not water-proof – they need to be turned off in the rain and allowed to dry completely before switching them on again. What is the use of a helmet light that does not work when you need it the most?
Cons:
1) The lights, although bright, look kind of cheap and old school.
2) The low cost raises doubts over the overall build quality of the product.
The Amator helmet lighting system offers many features at a low price. It is definitely worth a try if you are on a tight budget but do not want to compromise on safety.
---
This helmet lighting system contains 10 LEDs and is pairable with two helmets.
It comes with a self-contained battery (which is rechargeable) and weighs just under 9 ounces
The whole thing is really easy to install.
The LEDs are fairly bright – they are very noticeable at night and somewhat visible during the day in bright sunshine.
The device has several functions such as running lights, turn indicators and flashing stop brake lights.
Pros:
Comprehensive helmet lighting system with several functions, modes and features
Sturdy build quality – riders have used it without trouble for cross country rides
Looks pretty good. Perfect combination of form and function
Cons:
Is a tad expensive
LEDs could have been more visible during the daytime. They work fine at night though.
The Whistler Group Motoglo helmet light is a great choice for people who do a lot of night riding. It is a tried and tested product with several satisfied customers.
---
The Street FX 1044081
Street FX 1044081 Red Motorcycle Helmet Light
Energy friendly ElectroPods require low power consumption
Weather and shock resistant
It has an affordable lighting
Wires are connected directly into battery or Street FX power distribution module
This is a single, red colored LED bulb.
It can be installed on practically any kind of motorbike helmet.
It does not have any indicator or brake function – it is simply a light that attaches on to the back of your helmet.
Pros:
1) The product is very easy on the pocket.
2) Power consumption is low
3) No visible wiring.
4) Easy to install. Just peel and stick.
5) Shock proof and weather proof.
Cons:
1) Product is made up of cheap plastic
2) Available only within the USA
3) Questionable build quality
The Street FX 1044081 is a no-frills, no-nonsense product.
Its primary job is to improve rider visibility. Build quality is a little iffy so not suitable for serious riders. Probably works best for newbies who are on a shoestring budget.
Conclusion
Motorcycle helmet lights are a blessing in poor weather. They help in enhancing safety and aesthetic appeal of helmets.
Consider lighting up your helmet – especially if you live in areas where visibility is often poor and/or do a considerable amount of riding at night time.
---
Best Sellers
Bestseller No. 1
Bestseller No. 2
Bestseller No. 3
We hope you find this information helpful. If you would like to support this site, you can by purchasing through recommended links on the page. Should you decide to purchase, we may earn a small percentage of the sale at no cost to you.
Thank you for your support.