Helmet Hawk is supported by readers. Should you buy through links on our website, we may earn an affiliate commission at no additional cost to you.
If you're looking for a new motorcycle helmet, there are several exciting options on the market. But how do you know which is the best motorcycle helmet for you?
Some riders prefer an open design that allows you to feel the breeze on your skin, while other riders prioritize safety.
What if we said you didn't have to choose between safety and enjoyment? Enter the modular motorcycle helmet, which offers the best of both worlds. Modular motorcycle helmets are full-face helmets constructed with a hinged, flip up design, so they convert into open face helmets.
With so many helmets to choose from, finding the best modular motorcycle helmet for your needs can be challenging. We've reviewed some of the best modular helmets on the market and provided the pros and cons to make the decision making process as simple as possible.
If you're pressed for time, you can check out our top pick, the Shark EVO One 2.
But if you'd prefer to make up your own mind, keep reading.
Top Modular Motorcycle Helmets 2021
Here are our top five modular motorcycle helmet picks: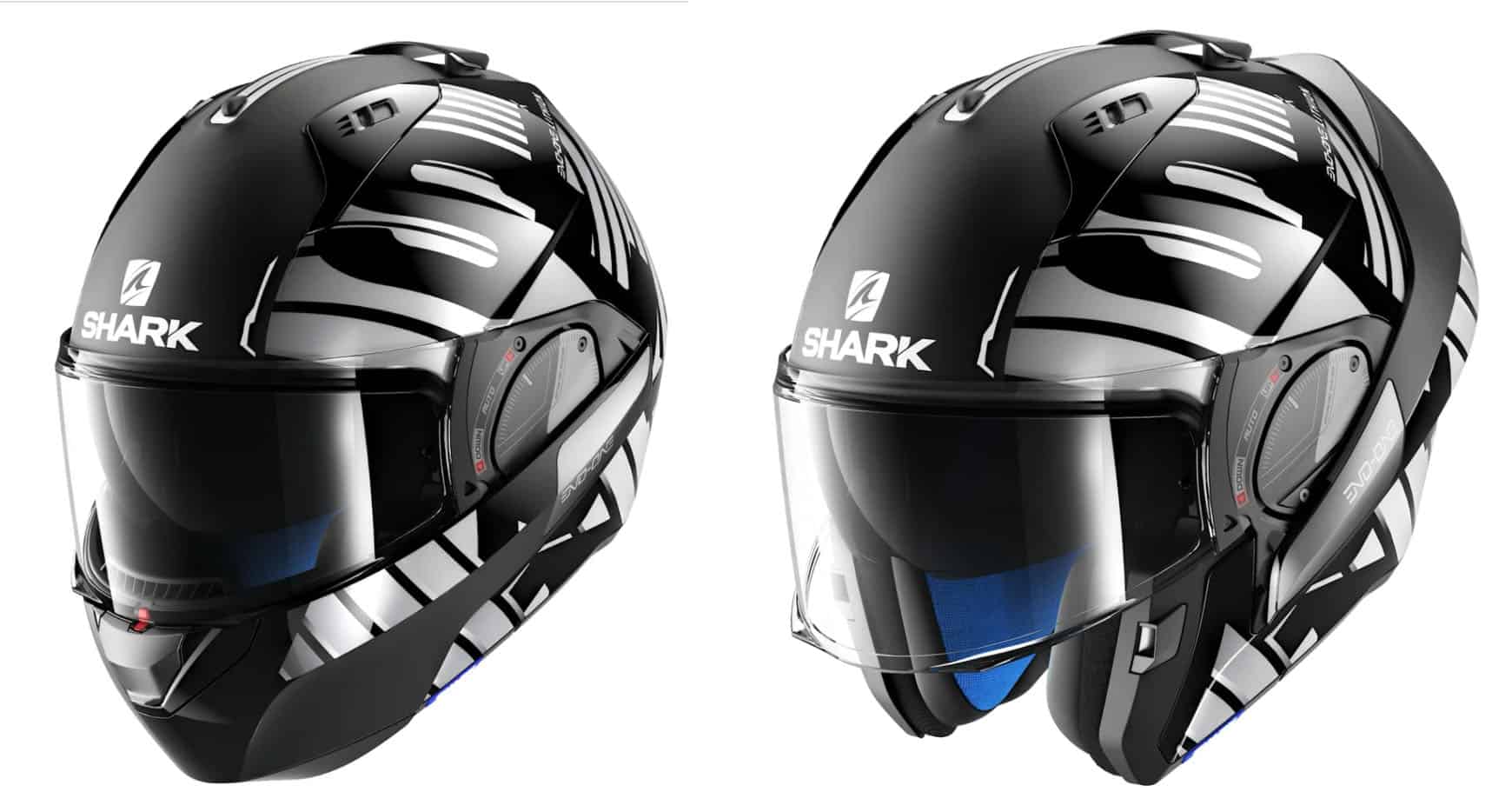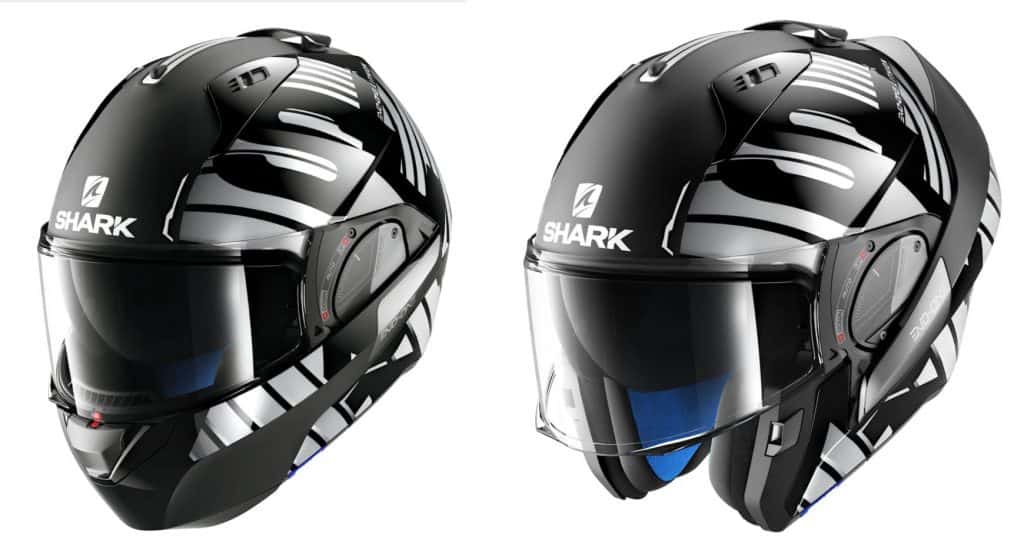 The best all-around modular helmet.
SHARK Unisex-Adult Flip-Up Helmet (Black/Chrome, XL - 61-62 cm - 24-24.4'') (HE9704DKUAXL)
DOT Approved Modular Helmet
The ultimate evolution of SHARK modular helmet with full-face DOT certification.
Patented "Auto-up / Auto-down" system allows to automatically lift the visor while raising or...
Aerodynamic, performance maintained whether in open face or full-face position.
Integrated inner sun visor. Removable and washable CoolMax liner and integrated inner sun visor..Fit...
Overview:
Shark EVO One 2 Helmet offers a unique take on modular motorcycle helmets. Unlike most modular helmets, which provide chin bars with a flip front design that can increase wind drag,
Shark's helmet has a chin bar that flips all the way to the back. Thanks to Shark's innovative design feature, you can transition from a full-face helmet to an open-face helmet with ease.
The shell, made from injected thermoplastic resin, is lightweight yet durable. The face shield is constructed with anti-fog plastic, meaning you'll never have to worry about the temperature before you go for a ride.
Pro's
Quick-release, anti-fog sun shield
DOT and ECE-approved
Face shield automatically raises and lowers when you lift or lower the chin guard
Chin curtain is magnetically reinforced
Accommodates glasses wearers
Con's
More expensive than many other helmets
Can be difficult to obtain parts for Shark helmets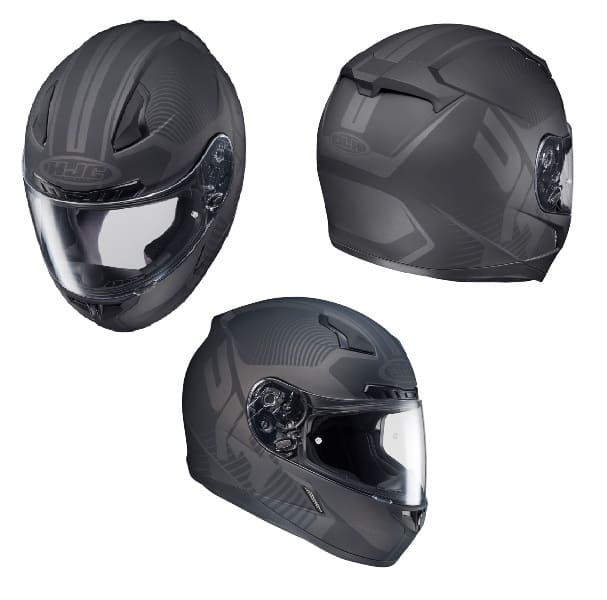 Great features for a great price.
Overview:
Available in numerous different colors and sizes, the HJC MAX has an option for everyone. If you're looking for a modular motorcycle helmet that's as breathable as it is durable, this is a fantastic helmet.
Its shell and chin bar are both made from an advanced polycarbonate composite to keep you protected in most riding scenarios.
The ACS advanced channeling ventilation system works by flushing heat and humidity out of the helmet, so you'll stay cool and comfortable as you ride.
The HJC MAX has a smoke-tinted SunShield that provides 95% UV protection and shields your eyes from glare.
Pro's
Lightweight design
Loads of colors
Good ventilation and sun protection
Advanced polycarbonate composite
Conclusion:
The HJC IS-MAX II is one of our favorites because of its lightweight design, safety features, and the vast array of sizes and colors available.
It provides excellent ventilation and sun protection, and changing the SunShield doesn't require any tools.
The downside is that you'll have to purchase a pinlock insert separately, but the pros definitely outweigh the cons.
Shoei Neotec II Helmet (X-Large) (Black)
SHOEI NEOTEC II - Experience the Versatility.
When SHOEI first introduced the NEOTEC in 2011, riders worldwide realized not all modular helmets...
With its lightweight, highly-aerodynamic shell, advanced noise reduction, and optimal vision...
But that was just the beginning.
Now, with the NEOTEC II, SHOEI has not only improved on already outstanding features, but also...
One of the most popular modular motorcycle helmets on the market.
Overview:
Frequently called the gold standard of modular motorcycle helmets, the Shoei Neotec II uses AIM+ (short for advanced integrated matrix plus technology) made of hardy, lightweight materials.
The Shoei Neotec II has a built-in sun shield that blocks 99% of UV rays and a stainless steel, 360 Pivot Locking System that secures the chin bar in place for added security and durability.
Shoei's helmet provides wind tunnels to provide maximum airflow while reducing noise, and the exhaust outlets improve air quality by expelling hot air buildup.
One of the Shoei Neotec II's most exciting features is the Noise Isolator cheek pads, which help to deflect wind.
Pro's
Sleek, aerodynamic design
Stainless steel chin bar
DOT-approved
Advanced technology in all design aspects
Numerous sizes available
Con's
Much more expensive than some other models
Conclusion:
If you want one of the most advanced helmets on the market, the Shoei Neotec II is a great option. It provides adequate ventilation, offers noise reduction features many helmets don't have, and the sun shield protects you from 99% of UV rays.
On the other hand, it's a very expensive helmet that may not be affordable for riders on a budget.
The budget-friendly, DOT-approved design.
Overview:
When safety is your top priority, looking for a DOT-approved helmet is an excellent way to ensure you'll be adequately protected. Despite its low price point, the AHR Run-M meets DOT standards and provides maximum comfort for riders thanks to its heavily padded interior.
The built-in visor protects your eyes from glare as you ride, and the aerodynamic design reduces noise by decreasing wind drag.
The AHR Run-M features a flip up design, so you don't have to remove your helmet if you stop for a quick bite to eat during your ride, and the quick-release buckle allows you to remove your helmet easily. It offers a fully vented EPS liner for improved air intake and exhaust.
Conclusion:
This affordable modular helmet is a great option for riders on a budget. The design reduces wind drag and noise, and the internal visor provides added protection against glare.
However, the visor can fog on extremely hot days, so that may be a deterrent depending on your climate. It also doesn't offer as many sizes as other models.
Bell SRT Modular Street Helmet(Matte Black, Small)
Modular, Flip-Up style helmet
Lightweight fiberglass Composite shell Construction
Removable/washable anti-bacterial interior
Panavision shield with class 1 optics
Drop-down sunshield Offers "on the Fly" protection from the sun
The sleek, stylish option that's good for glasses wearers.
Overview:
The Bell SRT is perfect for riders who love that stylish, space-age vibe. Bell's modular helmet is DOT-approved, and the flip face design makes it a great option if you wear glasses.
The sun visor offers sun protection and excellent front-facing and peripheral visibility. Intake and exhaust vents provide air flow as you ride.
The composite shell is made from fiberglass, which provides strength and durability without weighing you down. It offers a flip up chin bar and includes speaker pockets, making it a solid choice for those who want to listen to music — or even take phone calls — while you ride.
Pro's
Helmet lining is anti-bacterial, removable, and washable
Accommodates those who wear glasses
DOT-approved
Built-in speaker pockets
Lightweight yet durable construction
Available in two shell sizes and three EPS sizes
Con's
Wider construction may not be ideal for those with narrow heads
Fairly expensive
Conclusion:
The Bell SRT Modular Helmet is an excellent choice if you wear glasses, as its wider shell was built to accommodate them. The internal speaker pockets are a great feature if you like to listen to music while you ride.
Bell offers a variety of sizing options, so almost everyone can find a helmet that suits them, but they may not be the best choice if you have a very narrow head. Bell's helmet is also more expensive than some of the others we reviewed.
Other Modular Helmet Reviews
Other Flip Face helmets we have covered in the past.
Buyers Guide
Whether you're an experienced rider or just getting into motorcycles, the most important item on your agenda should be purchasing a safe, reliable helmet that fits you well.
A good helmet does more than protect your head in the event of a crash; it also protects you from flying debris, noise pollution, and the elements. A high-quality helmet will support your neck, protect your ears, and ideally provide some form of sun protection.
Some things to look out for when you're buying a new helmet:
Price: While there's no price on personal safety, a good helmet doesn't have to break the bank. We covered several reasonably-priced helmets in our review, but we ultimately think price should be the least of your concerns when shopping for a new helmet.
Safety: Make sure your helmet meets DOT regulations. Just because it looks cool and feels good when you wear it doesn't necessarily mean it's safe to wear on the open road. Ensure your new helmet meets or exceeds safety regulations will give you something money can't buy: peace of mind.
Visibility: You should be able to see out of your motorcycle helmet in all temperatures and weather conditions. Make sure you can see properly in rain, dust, and snow. Another important factor to consider is the modular aspect of the face screen. It should lock securely into place whether it's raised or lowered.
Fit: A few different criteria go into finding a helmet that fits you well.
Head shape: Not all helmets work on all head shapes, so make sure your helmet works with the shape of your head. It's a common sense tip that's frequently overlooked.
Features: Many helmets offer built-in cheek guards and inserts that can affect the way a helmet fits. Always try them on in store if you can, or make sure you've purchased from a store with a good return policy if you shop online.
Weight: The lighter a helmet is, the less its weight will impact you in the event of a crash. Pay attention to your helmet's weight. In addition to lighter helmets transferring less impact, they're also more comfortable to wear.
Finding a helmet that meets your standards can be a time-consuming process, but it's ultimately worth it for your comfort and safety. Look for helmets that meet or exceed government regulations (the DOT in the United States, the ECE in the European Union).
Try on several different helmets until you find one that fits correctly. Stick within your budget: a helmet shouldn't be so cheap you doubt its durability, but it also shouldn't be so expensive you can't afford the other gear you need.
Most Asked Questions From Readers
There are a few frequently asked questions when it comes to shopping for a new helmet. We made a note of the three most commonly asked questions and answered them for you.
Which is better? Full face helmet or modular?
While they appear similar at first glance, there are a few notable differences between full face helmets and modular helmets. Let's take a look at them:
Full face helmets:
Maximum protection for your face and head
No weak spots like hinges
Often more streamlined than modular helmets
Modular helmets:
Offer a flip up chin bar, visor, or both
Hinges can be a weak spot on helmet
Provide more fresh air
Related: Safety Feature: Modular Verses Full Face Helmets – Are Modular Helmets Safe As Full Face Helmets?
Ultimately, a full face helmet is safer than a modular helmet because there are no potential weak points from the hinges. However, modular helmets have come a long way in terms of safety features, and most have reinforced chin bars.
It comes down to personal preference. If you want to be able to get fresh air, have a quick bite to eat, or have a conversation without removing your helmet, then a modular helmet is the way to go. If getting the maximum amount of protection is your main concern, then you might want a full face helmet instead.
What is the quietest modular motorcycle helmet?
The main factor in keeping noise pollution low is aerodynamics. When the wind is able to curve over the helmet without meeting any resistance, it keeps the noise level as low as possible. Wind tunnels and helmet shape will help reduce noise, but there is no such thing as a completely quiet motorcycle ride.
The two helmets we reviewed with the best noise reduction aerodynamics are the Bell SRT and the Shoei Neotec II, as both have a streamlined, sleek design and adequate wind tunnels for canceling out noise pollution.
Are modular helmets noisy?
Because of the hinges that allow for the visor and/or chin bar to flip up, more sound gets in with modular helmets than with full face helmets. While many modular helmets are constructed with wind tunnels to help alleviate noise pollution, riding a motorcycle isn't a quiet activity no matter which helmet you choose.
Prolonged exposure to noise at a level over 95 decibels can lead to hearing loss, so the best way to avoid hearing damage is to wear earplugs.
Conclusion
Shopping for a new helmet is an exciting part of owning a motorcycle. Not only are they essential when it comes to protecting your face and head, but they also make you look cool.
If you're looking for the all-around best modular motorcycle helmet, look no further than the Shark EVO One 2. You should always keep your safety in mind when you're shopping around. The main feature that sets modular helmets apart is the flip up face shield, so it's important that your face shield has a locking mechanism so it doesn't flip down and potentially obscure your vision while you're riding.
Measure your head properly before you purchase a motorcycle helmet. If you live in an area where someone can take the measurements for you, that's even better. Having a properly-fitting helmet is paramount to your safety as well as being a comfort issue.
You don't have to sacrifice convenience for safety. With a modular motorcycle helmet, you'll get to experience the best of both worlds — durability that protects you during your ride with the ability to get some fresh air while you're on the open road. There are a lot of fantastic helmets available today, but we think the ones on our list are the best of the best.
We hope you find this information helpful. If you would like to support this site, you can by purchasing through recommended links on the page. Should you decide to purchase, we may earn a small percentage of the sale at no cost to you.
Thank you for your support.