Despite being designed to protect the most important body part, not all motorcycle riders enjoy wearing helmets.
Perhaps they make riding less fun and comfortable, while others claim they don't really work anyway.
In reality, helmets can and do lower the risks of severe head injuries in case of an accident.
Still, believe that their benefits are trivial at best?
We'll get into the nitty-gritty so that you can learn why you should wear a helmet while riding a motorcycle.
Different Types of Motorcycle Helmets
To better grasp the importance of helmets, let's enumerate their most common types.
Full-Face
A full-face helmet is most likely what you picture when thinking of a motorcycle helmet. As the name suggests, the head is fully covered except for the eye-port.
Besides the coverage, the chin bar is the most notable aspect of a full-face helmet. It is an outer shell component that shields the jaw area against injuries.
According to various accounts, the chin receives about half of the severe impacts after a collision.
Hence, to deliver maximum protection, most full-face helmets feature a high-density chin bar.
While the full-face is the most recommended helmet type, and rightfully so, the issue with it is the lack of airflow.
Once you lower the visor completely, the helmet is essentially sealed, which can be uncomfortable if worn for extended hours.
So, to keep your hair and face in good condition, pick a model that is adequately ventilated.
In addition, consider helmet padding that has moisture-wicking properties, is detachable, and machine-washable for better comfort and hassle-free maintenance.
Modular
You might find a couple of sporty modular helmet models, but chances are, you'll encounter the ones made only for casual riding.
This type is ideal for anybody who occasionally needs to eat, drink, and talk without removing the helmet.
You can perform all of these activities with ease by flipping up the chin bar. As such, a modular helmet is mostly ideal for riding in an upright position.
While it looks preferable to a full-face, the primary issue is the chin bar's lack of structural integrity.
The back hinges that allow it to swivel and flip are flexible, but this design sacrifices durability.
As a result, most modular helmets could not provide a similar level of safety that full-face helmets do.
You may ride with the fully flipped chin bar, but we don't recommend doing so because it's not safe and aerodynamic.
Half-Face
Half-face helmets are designed only to cover the top of the head.
Some models may have additional coverage on the back of the ears and neck while leaving the rest of your face uncovered.
While this helmet delivers excellent ventilation, it clearly provides substantially less protection.
What's more, most half helmets lack a visor, so you'll need to wear eye protection, such as goggles or shades.
Dual-Sport
Dual-sport helmets combine the various features of motocross and a full-face helmet.
In a nutshell, these are motocross helmets revamped for casual use and when riding at faster speeds.
The sun peaks on dual-sport helmets are identical to those on motocross helmets.
However, one difference is that dual-sport sun peaks are more aerodynamic to accommodate higher speeds.
You can spot this helmet easily because of its lower chin bar and outsized visor.
Inside, it boasts exceptional cushioning similar to what a full-face helmet can provide.
Since dual-sport helmets have a large visor, you can flip them in an extended upward position to accommodate goggles.
You won't have to be wary of the wind because the visor is usually made to be aerodynamic.
Off-Road
Off-road helmets are often lightweight and constructed of lighter components.
Because off-road rides are usually challenging, this design provides optimal ventilation, allowing the rider to breathe comfortably.
These helmets are not designed for speed since motocross or off-road riding is more about torque.
Moreover, an off-road helmet doesn't come with a visor, so riders must wear separate eye protection gear.
Ground elements such as mud and stones are common on a dirt road, affecting vision if you're wearing a standard visor.
What's more, off-road helmets often have less insulation compared to others.
They frequently come with huge adjustable sun peaks that shield the sun's glare, especially during high- and low-angle rides.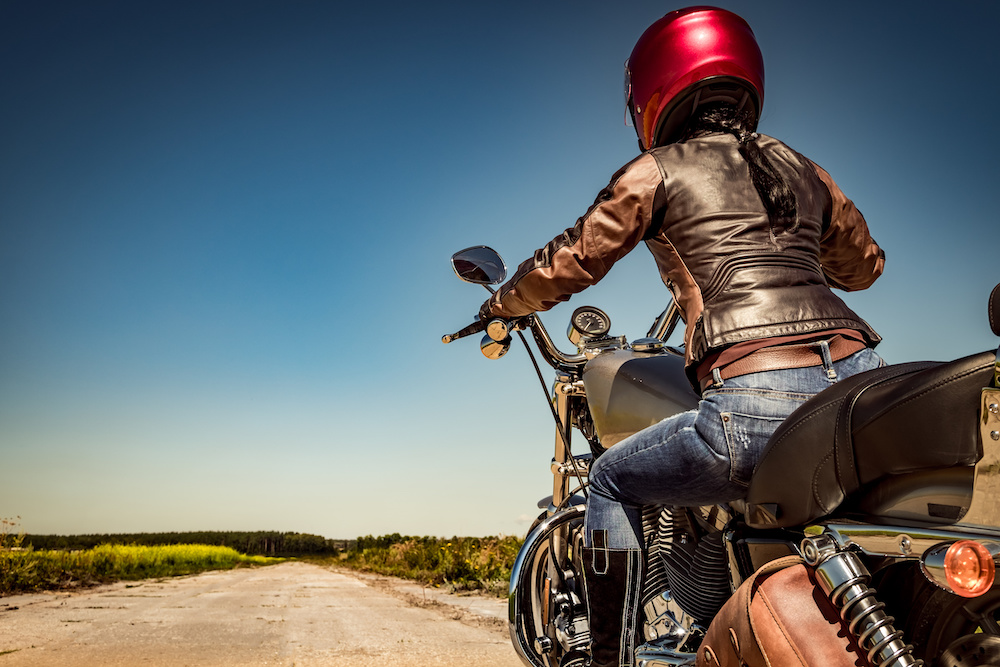 Why You Should Wear a Helmet While Riding a Motorcycle
Now that you know the types of motorcycle helmets and their properties, you're more than aware of their features and limitations.
With that in mind, let's discuss the reasons why you should wear a helmet when riding a motorcycle.
Head Protection
The primary benefit of wearing a helmet is that it protects your head from injuries during riding accidents.
Keep in mind that if a collision between a motorcycle and a car happens, the rider suffers more injuries.
Depending on the severity of impact, injuries can be fatal.
That said, head injuries are the worst in collisions because they can lead to life-changing disabilities and death.
According to one report, wearing a motorbike helmet has saved almost 25,000 lives in the US since 2002. In 2017, this amounted to 1,872 lives saved.
If discussing percentages, motorcycle helmets are predicted to be about 37% effective in reducing fatal injuries for riders.
For motorcycle passengers, a helmet is approximately 40% effective.
Visibility
Motorcycles must share the road with generally larger, heavier vehicles.
The problem with this scenario is those motorcycle riders are more difficult to spot than four-wheelers.
Some accidents are attributed to drivers' failure to notice the motorcycle or its rider.
To minimize this issue, wearing a glow-in-the-dark, reflective helmet during the night could help catch the attention of those driving larger vehicles.
When the sun is up, wearing a matte helmet with bright colors will help other drivers to see and be aware of your position.
Visibility is more compromised for the rider if he's not wearing a helmet.
For example, hair could get in the eyes, severely impacting your vision. As such, the potential of accidents happening becomes more apparent.
With a helmet, the hair is neatly tucked in a spot where it's almost impossible to obstruct your view.
Regulations
Currently, around half of the states in the US mandate all motorcycle riders to wear helmets.
Most other states mandate helmets for some riders, and just a handful do not implement wearing them at all.
If you're driving on the highway with a helmet on, you will be more certain that a traffic enforcer will not order you to pull over.
This is significantly convenient for situations when you're traveling in a state you're not familiar with and its regulations about traffic safety.
You don't want to get a ticket for the simple reason of not wearing a motorcycle helmet.
Weather Protection
When riding on a freeway, elements such as dust and wind can reduce your eyes' ability to see clearly.
With a motorbike helmet, this issue becomes an afterthought.
The helmet's visor may deflect almost all elements from affecting your eyesight and keep your vision untainted.
To explain in detail, the helmet keeps your eyes and face safe from rainwater contact and reduces glare on sunny days.
Also, chilly and distracting winds in cold areas aren't ideal for riders.
Jackets are designed to cover the body, but a motorcycle helmet can provide complete protection for the head, ears, and eyes.
Anonymity
A motorcycle helmet not only protects and improves vision but also provides you with anonymity when riding.
When you lower your helmet's visor on the road, you become everyone and no one at the same time.
Many celebrities and famous people wear this headwear to cover their faces while enjoying their rides.
While not everyone needs to remain anonymous when riding, it's still a nice perk to have.
Style
In today's culture of vanity, where appearances are becoming a priority, putting on a motorcycle helmet during rides might improve a rider's style.
Depending on the design, it can make a person eye-catching instantly.
Coordinating the style of the helmet and the bike will catch the attention of not only your fellow riders but casual commuters as well.
Smart Features
Smart helmets feature tech advancements that could assist riders to drive with more safety and convenience.
Some have Bluetooth connectivity for music, a built-in camera recording the ride, and other valuable features.
Furthermore, with its built-in gadgetry, a smart helmet can assist you in navigating, staying aware of weather and traffic, and communicating with others.
Some old-fashioned riders may not appreciate these features, but using these new-age helmets will only improve the quality of the ride.
Going for a Full-Face Is Best
Considering these benefits, you should have more than enough reasons why you should wear a helmet while riding a motorcycle.
Opt for a full-face helmet if you're new to riding bikes because it is the most versatile and will fit most conditions.
Regardless of which helmet you end up using, always practice safety when riding your motorcycle.
We hope you find this information helpful. If you would like to support this site, you can by purchasing through recommended links on the page. Should you decide to purchase, we may earn a small percentage of the sale at no cost to you.
Thank you for your support.