Helmet Hawk is supported by readers. Should you buy through links on our website, we may earn an affiliate commission at no additional cost to you.
The full-face motorcycle helmet is still the gold standard when it comes to motorcycle safety gear. Despite the style some of the open-face and three-quarter options have, they simply can't offer the same protection a full helmet can.
Which might explain why so many serious riders have at least one of these in their closets.
If you're looking for your best full-face motorcycle helmet, you should be aware of the sacrifices a rider usually makes with these helmets: they are obviously stuffier, for example, and also often suffer from fogging issues.
If you're interested, here is our quick selection. Contrary to what most might think, more than a few of the best options actually stay well under $200, offering serious value for your dollar.
| Best Full-Face Motorcycle Helmet | Price | Rating |
| --- | --- | --- |
| | Price not available | 5/5 rubber chickens |
| | Price not available | 4.8/5 rubber chickens |
| | | |
Some aren't spacious enough to accommodate glasses being worn inside them, and others will have non-customizable cheek pads (which means less comfort).
Of course, the best full-face helmets will minimize, if not do away with, these problems.
---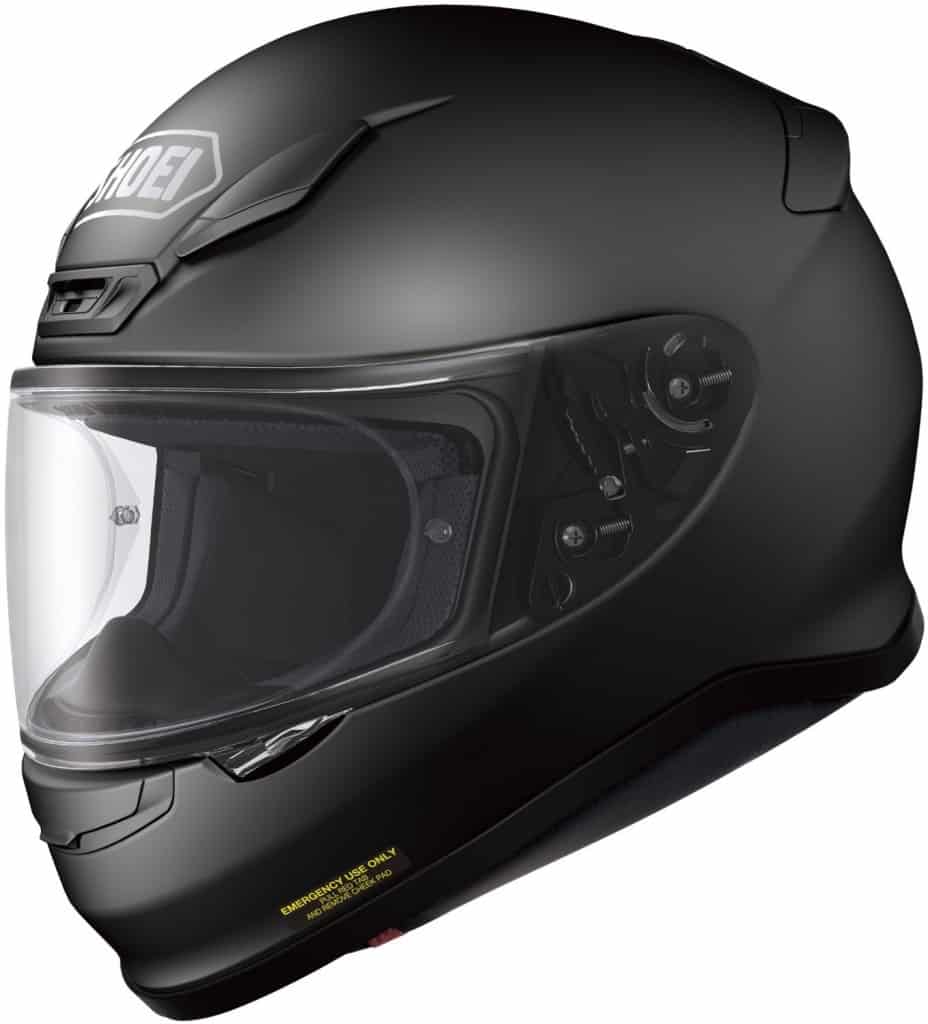 Best Full Face Helmet Overall
A Snell- and DOT-certified helmet, the RF-1200 comes in several finishes and sizes. Lightweight construction combines with 3D-shaped padding and cheek pads for comfort.
It comes with a breath guard, a chin curtain, and Shoei Max-Dry System II pads that wick away sweat.
You can find this helmet in sizes XS-2XL
Pros:
Extremely light despite its durability
Included anti-fogging visor shield
Superb aerodynamics
Cons:
Venting may be insufficient in very warm climates
High price
Conclusion:
Despite the issue a few customers have found with its vents, this is an excellent full-face helmet. It may not be cheap—it's the most expensive one here—but it more than justifies its price with its build quality and comfort on the road. It's not exactly quiet, but most users wouldn't call it loud either.
Arguably its best features are the extreme lightness (a result of both the shell's materials and the shape) and the impeccable aerodynamics, making it even more comfortable to wear while riding than while merely standing still.
---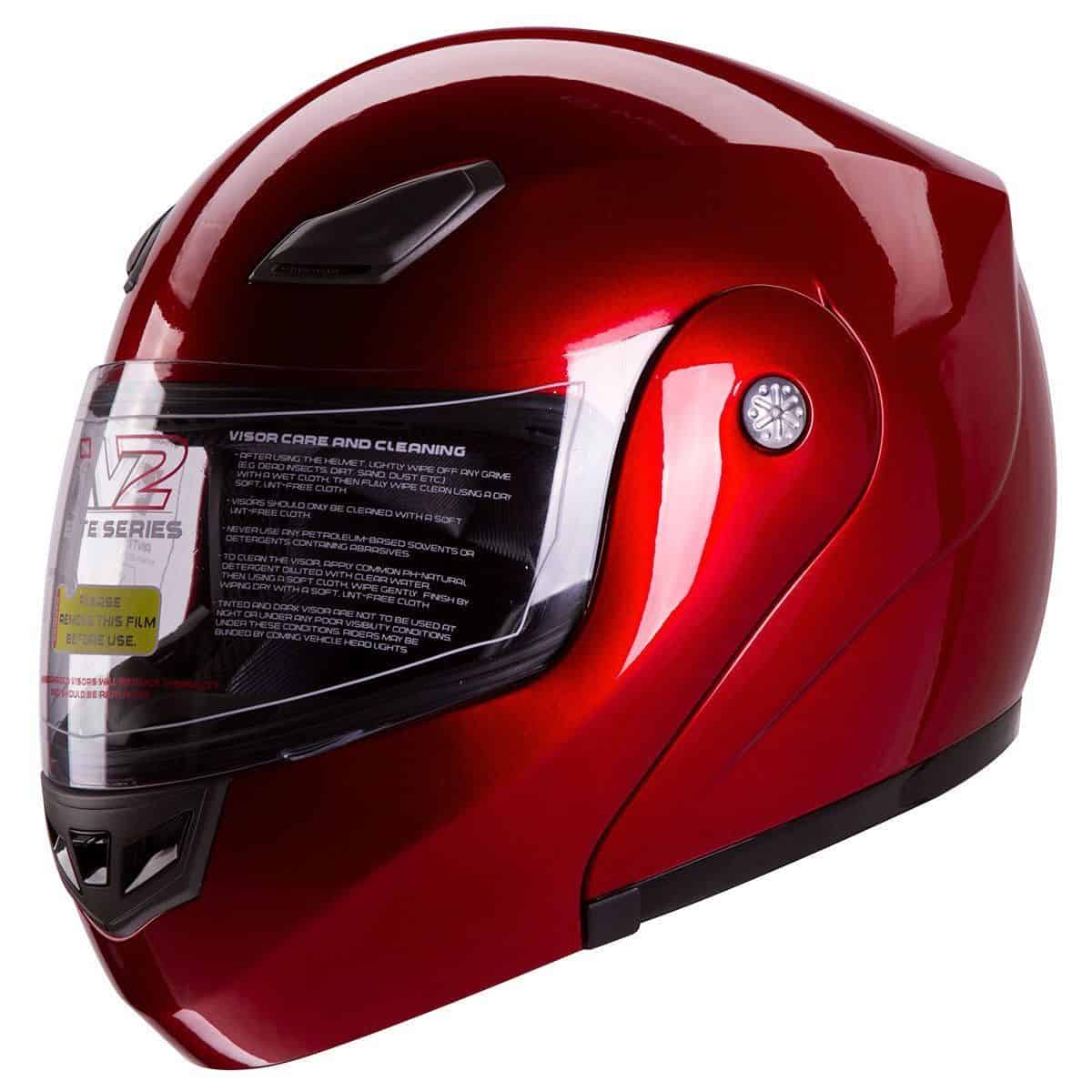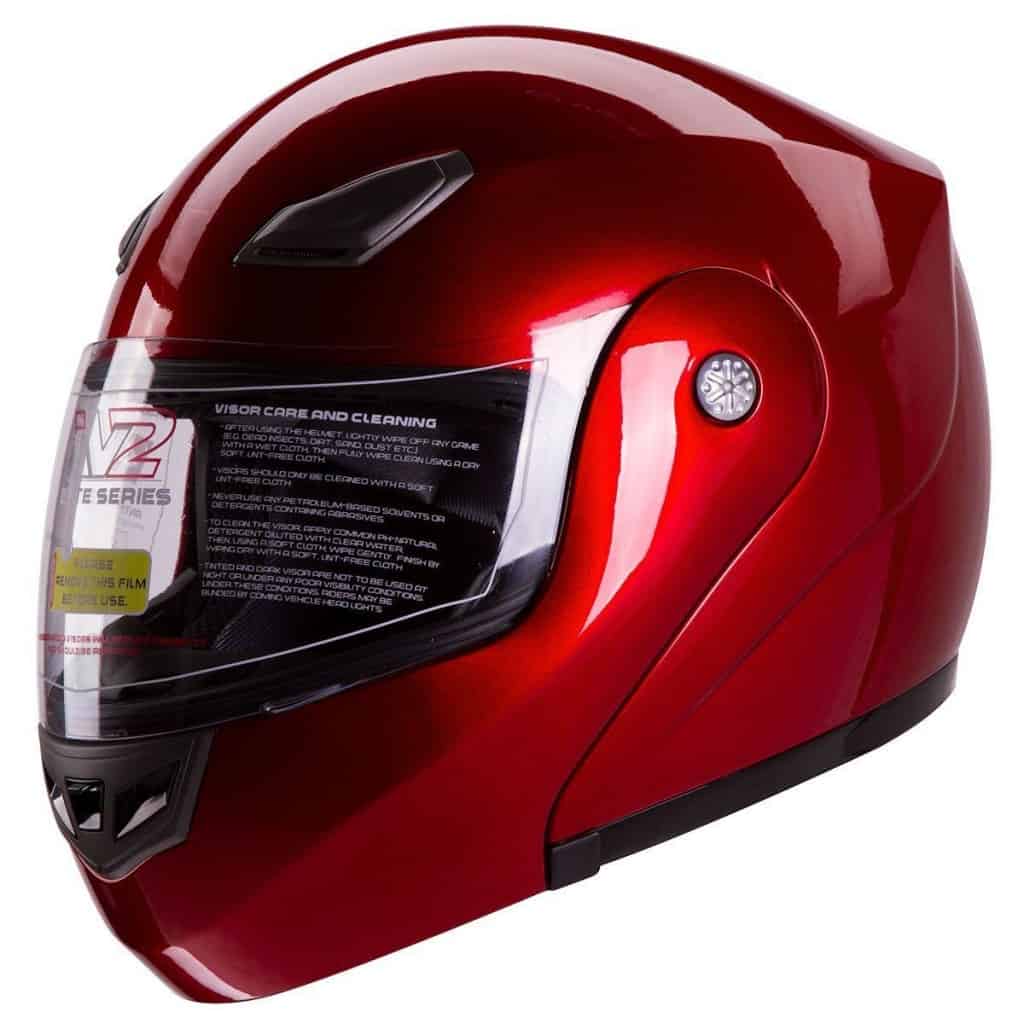 Best Full Face Modular
This wine red IV2 helmet is DOT-approved and Bluetooth-ready. It sports a removable and sweat-absorbent liner and stainless steel D-rings on the strap.
Its modular designs means that it can be converted from full- to open-faced.
Available in sizes S-L, this model costs under a hundred.
Pros:
Multi-functional modular design
Handsome finish and shine
Good construction at a very low price
Cons:
Padding is on the thin side
The part that flips up does not come up very far
Conclusion:
This might be a list of full-face helmets, but it would surely be an oversight to miss out on modular ones by classing them as a different category entirely.
This IV2 modular helmet is a particularly good-looking and affordable option that lets you enjoy full-face protection while switching to open-faced riding whenever you feel like it.
It's true that the flipping up could go a little farther for comfort, but for around $60 for this one, that may just be nitpicking.
---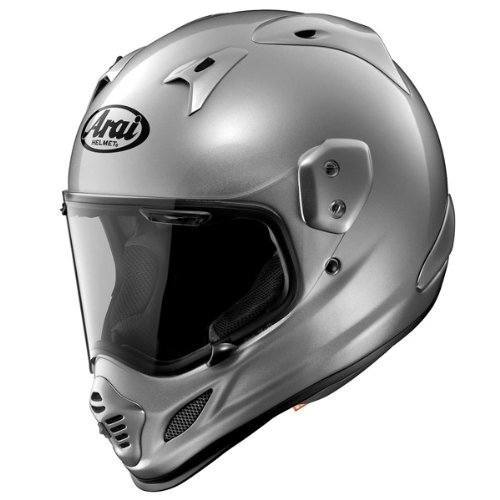 Best Full fave Duel Sports
Arai's XD4 has become the successor to the XD3. When it was re-designed they improved the overall aerodynamic performance of the helmet.
The shell is made of complex laminate construction with a removable and replaceable interior liner. It comes in a large range of sizes ranging from XS-2XL.
Currently available in silver, yellow, black, and white finishes. This helmet costs more than most and puts it at the upper end of the price spectrum.
Pros:
Superb build quality
Very comfortable to wear
Good noise reduction
Cons:
Conclusion:
The XD4's only listed drawback is it's quite expense. Arai is a top manufacture and meticulousness in production.
The helmet really is top notch. Everything, including the padding inside the helmet speaks to its quality.
There is value of its protective abilities however given the price, it may well be out of reach if you're on a tight budget..
---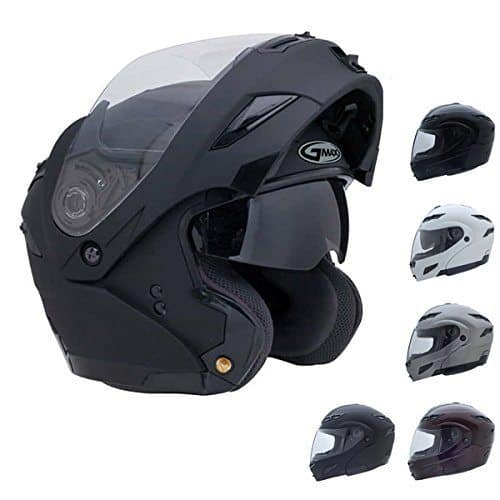 Best Full Face For The Price
GMAX's modular entry in this list offers all the usual features—thermoplastic alloy make, removable and multi-sized cheek pads, adjustable vents—along with some cool extras.
There is an integrated multifunctional LED rear light that can be connected to the bike's brake light via a separately sold kit. A lever can be used to raise and lower the inner lens, too.
This helmet comes in a range of sizes from XS-3XL and will set you back more than a hundred.
Pros:
Very good build
Cool extra features
Effective venting system
Cons:
Some vents have a tendency to pop off after a hard knock
A little susceptible to wind noise at high speeds
Conclusion:
Another modular helmet, this GMAX is actually more expensive than the IV2 product on this list, but it also offers an even better build and extra trimmings to go with it.
The integrated rear light is a great safety feature for those who are always riding at night, and the lever-operated sun visor renders multiple shields unnecessary because it can it be brought into play in a pinch.
A lightweight design and a comfortable fit add to the value of this helmet. You might need to invest in a breath box if you want to keep fogging to a minimum on cold days, but considering that should still run your total cost to just around $150, that's hardly unreasonable.
---
GMAX GM11D Adult Dual Sport Motorcycle Helmet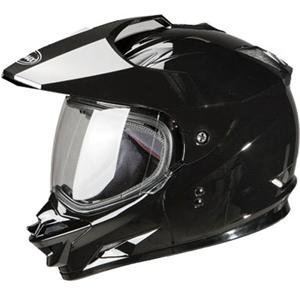 Best Full Face Duel Sports For Glasses
GMAX's GM11D is DOT-approved and is goggles-and-glasses-friendly.
The vent controls can be operated with one (gloved) hand, the interior liner is washable and can be detached completely.
Subsequently the helmet has several different sizes for the cheek pads to ensure a snug fit.
This model comes in at around a hundred and fits heads in sizes ranging from XS-2XL.
Pros:
Dual-sport utility
Fairly low wind noise
Washable liner keeps the inside smelling fresh
Cons:
Conclusion:
This is another good-looking helmet from GMAX and it's so highly rated by buyers because it does a lot for the price.
The visor can be pulled completely away when necessary, and it can be converted into a superb off-roader with the right goggles.
Despite the plastic screws for the visor, it is pretty sturdily built, so there should be few worries about it not doing the job if you get thrown off your ride.
Its greatest value, though, is in its versatility.
It's hard to get value out of this if you don't need a hybrid in the first place, but for those who do, this is an undeniable bargain.
---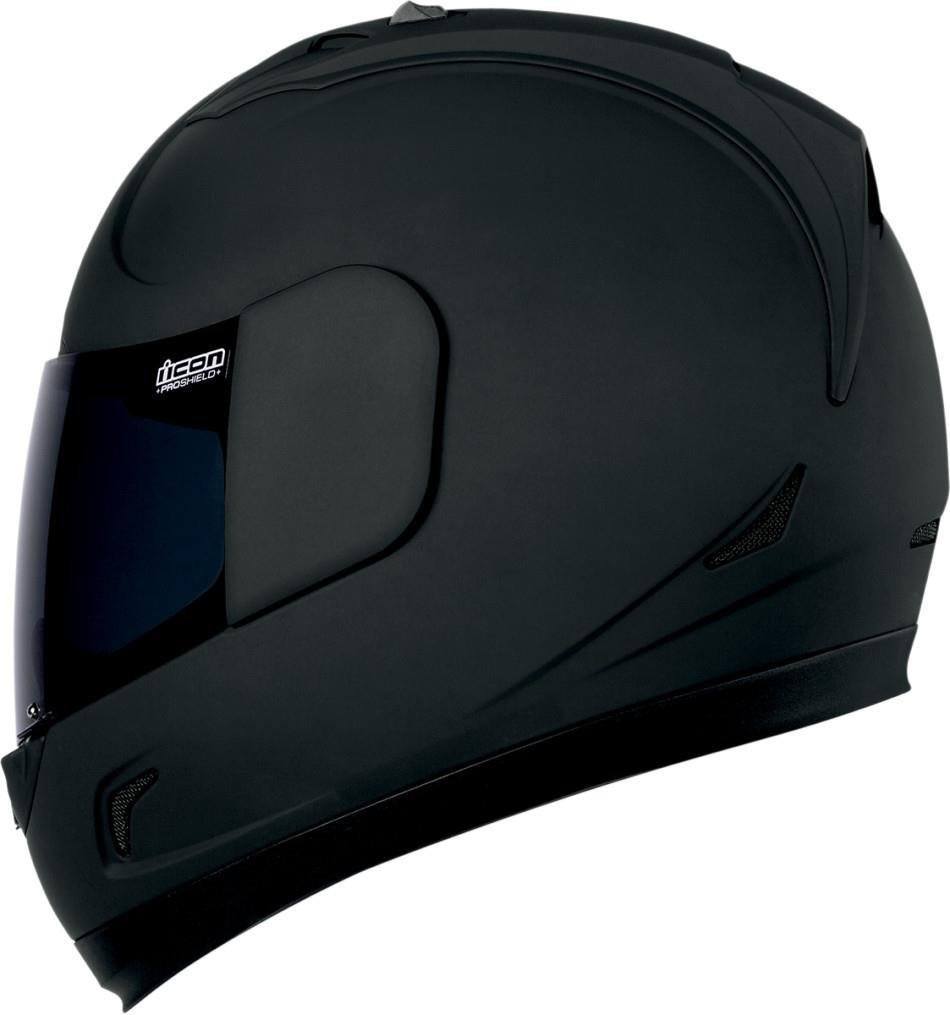 Best Full Face For The Looks
The Icon Alliance Dark Helmet is a sleek black helmet with two shields. Clear and smoked.
Comes fully DOT-certified. It has a removable inner liner, a lightweight but durable polycarbonate shell. Features, Icon's Proshield and Prolock technologies, and a removable breath box.
At about one and a half bills, it also comes in sizes XS-3XL to fit every rider out there.
Pros:
Very stylish matte-black finish
Well-vented
Comes with two visors
Sleek, futuristic design
Cons:
The visor is hard to switch out
The visor is also hard to open
Conclusion:
It may not be the best option if you're the type who likes to flip your visor up and down regularly, but otherwise, this full-face helmet is one of the best you can get under $200.
Coming from Icon, you know it won't have shoddy construction.
The rubber-like matte finish makes it look more expensive than it really is, and comfort isn't bad either. Noise protection is decent too.
On the whole, it should be one of your first options on a budget if the visor issue isn't a deal-breaker.
Summary
The first-place helmet on this list is a toss-up between the Shoei and GMAX's feature-filled G54S. Both are clearly great helmets, but the difference in price may see some thinking twice over which one to pick.
If you can afford it, the Shoei might be the best buy simply because it's the lightest, best for riding, and most comfortable of all the options on this list.
But otherwise, the far-cheaper GMAX's G54S would be a smarter option considering all you get for that low price.
The third-best choice depends on what you need and what you can sacrifice. Willing to live with a sticky visor as long as everything else is good, including the exceptional styling? Get the Icon.