Helmet Hawk is supported by readers. Should you buy through links on our website, we may earn an affiliate commission at no additional cost to you.
Technology has accelerated extensively over the years. With the introduction of GPS, digital instrument cluster and much more, it's only right that your helmets should be just as technologically equipped.
There are lots of Bluetooth motorcycle helmets on the market which allow you to talk on the phone without being pulled over by the cops, listen to music while you are riding and much more.
Helmets are for safety, it goes without saying, but you might as well have some additional features to it. There are Bluetooth motorcycle helmets with high-quality build material, classy design and latest Bluetooth features that go hand-in-hand with safety and comfort. You can have everything you need in a single product.
Here is a list of the best Bluetooth motorcycle helmets in terms of features, rating and price.
Best Full Face Bluetooth Motorcycle Helmet
The T10B Prodigy from TORC is remarkably lightweight with it's advanced ABS shell. The forehead and chin vents are adjustable allowing proper air-flow. The helmet is glove friendly and also features waterproof controls and scratch-resistant capabilities. There should be no any problems of fogging.
Most important of all, it features the Bluetooth 2.0 technology which allows smooth calling, streaming music and listening to GPS directions. Also, combining blinc enabled helmets allows communications from rider to passenger and vice versa or you could even connect it with other bikers and communicate within 100 feet.
Additionally, there are 2 speakers, a noise canceling mic and self-adjusting volume.
The Positives
You can simultaneously keep listening to your favorite music or connect and receive calls without any problem.
You do not need to worry about rain with its fully-closed interface.
The company claims the Bluetooth charge will last 8 hours of non-stop usage and 150 hours while on stand-by. You would be wise to turn it off in between uses though.
The Negatives

If you are going too fast, say over 80mph, the wind noise will overpower the Bluetooth sound.
There have been frequent complaints about the inability to connect bike-to-bike (Intercom) but the defect might have been with those few particular helmets.
Still, it's a risk if that's your priority.
Summary
The helmet has a classy look and has been built with strong material. It is lightweight and features one of the best built-in Bluetooth technologies. Weighing in all its pros and cons, if you are planning to listen to music while riding and need to make calls on-the-go, it'll be a great buy for you.
Comparison
There are just so many things to consider while choosing the right product; the price, design, functions and so much more.
While the TORC prodigy is superb, you should definitely consider BILT Techno Bluetooth Adventure Motorcycle Helmet and O'Neal Commander Bluetooth Helmet for alternative functionality. Both of them feature built-in Bluetooth technology.
Best Duel Sports Bluetooth Motorcycle Helmet
The Bluetooth helmet from BILT is the adventure type that features hi-tech injection molded ABS full-face shell. The built-in Bluetooth technology will allow you to make smooth phone calls while riding, intercom connection between rider to rider or rider to passengers and you can stream non-stop music.
It features a flip-down sun shield and a removable injection molded visor. The chin-bar airflow vent has metal mesh. It has been certified as per the DOT standards.
It is available in six different sizes and in two different colors.
The Positives
The adventure like helmet is fit for both streets and off-road biking.
The air-flow is maximized with its well maintained adjustable ventilation.
The Bluetooth quality is excellent for both speakers and mic and the glove-friendly interface makes it a great buy.
The Negatives
Complaints have been reported about its inability to make Intercom connection with other blinc enabled helmets.
Not fit for rainy or other harsh weather conditions.
Summary
It's an amazing helmet that does not disappoint in terms of both looks and features. The padded lining makes sure the rider is comfortable and you can take it for a spin without worrying about sunburn and wind which is the case with most dirt-style helmets.
It's a great buy and you can choose either black or white depending upon your preference.
The Integrated Bluetooth helmet from O'Neal is easy to use and looks great with its classy design and easy to use interface. It has been certified with DOT and ECE standards. The helmet features anti-scratch and anti-fog shield.
Best Classic Bluetooth Motorcycle Helmet
The drop-down sun visor will protect your face and the inner liner is removable and washable. The Bluetooth is capable of 10 hours of talk time and about 130 hours of standby time. Two speakers installed are of high quality and the Bluetooth has a range of 1500 ft which means you can communicate with other riders via Intercom within that range.
It is available in six different sizes which ranges from X-Small to XX-Large. You also have four color options, black, flat black, hi-viz and white.
The Pros
The Bluetooth technology used in the device works superbly and has a powerful range.
The visor is well put and easy to use with no problem of automatic shifting.
The full helmet has been well constructed and will get you through windy conditions and winter with no difficulty.
The Cons
The helmet might seem too lightweight for someone who wants a steady cover on their head.
The padding is cheap and the comfort while wearing it regularly is doubtful.
Summary
Overall, it's worth a buy with the only possible issue being the comfort. The design looks good and features the call receive button and any music, intercom or gps is automatically disabled when you answer the call. If you want a full helmet for any weather and a good Bluetooth connection to go with it, this is a great product for you.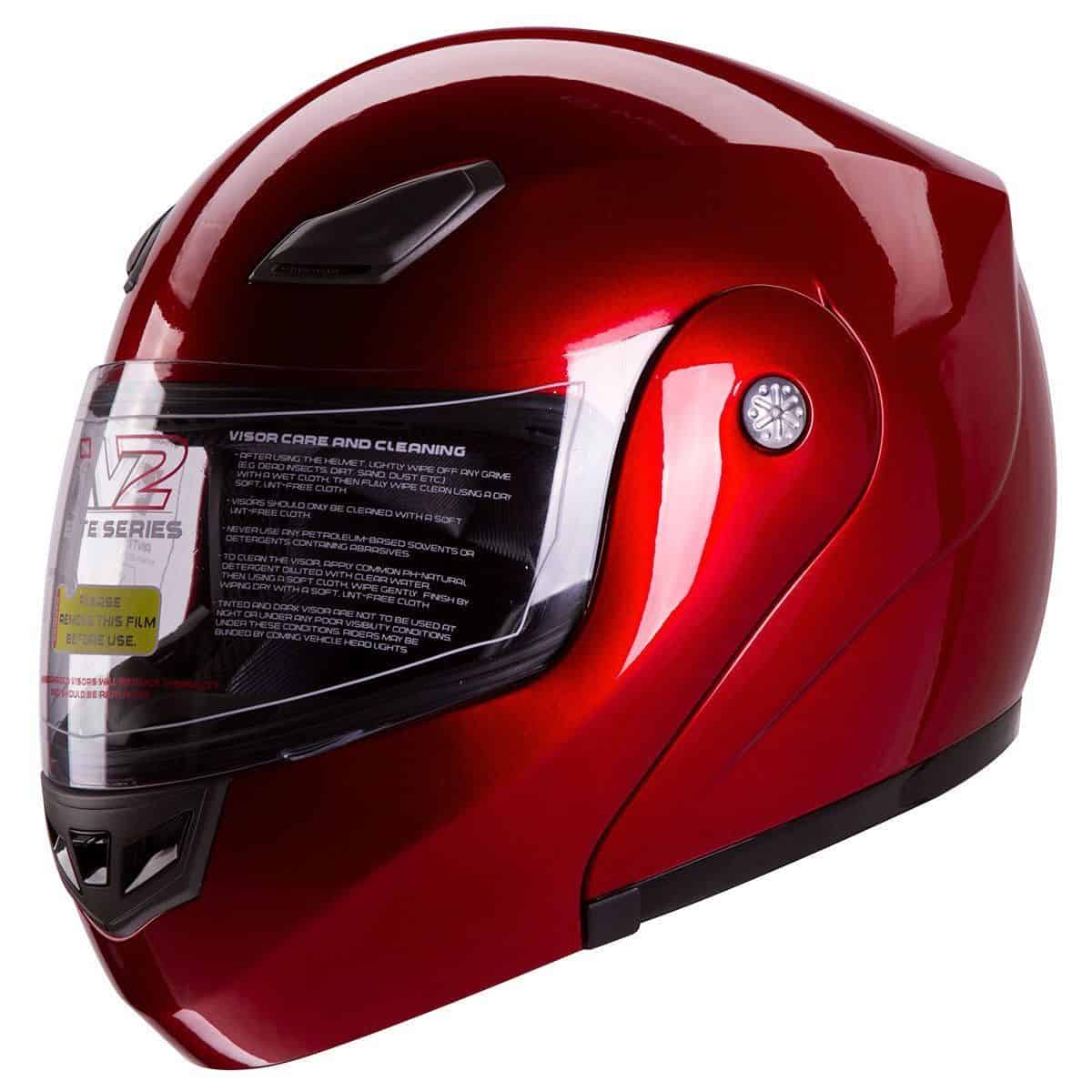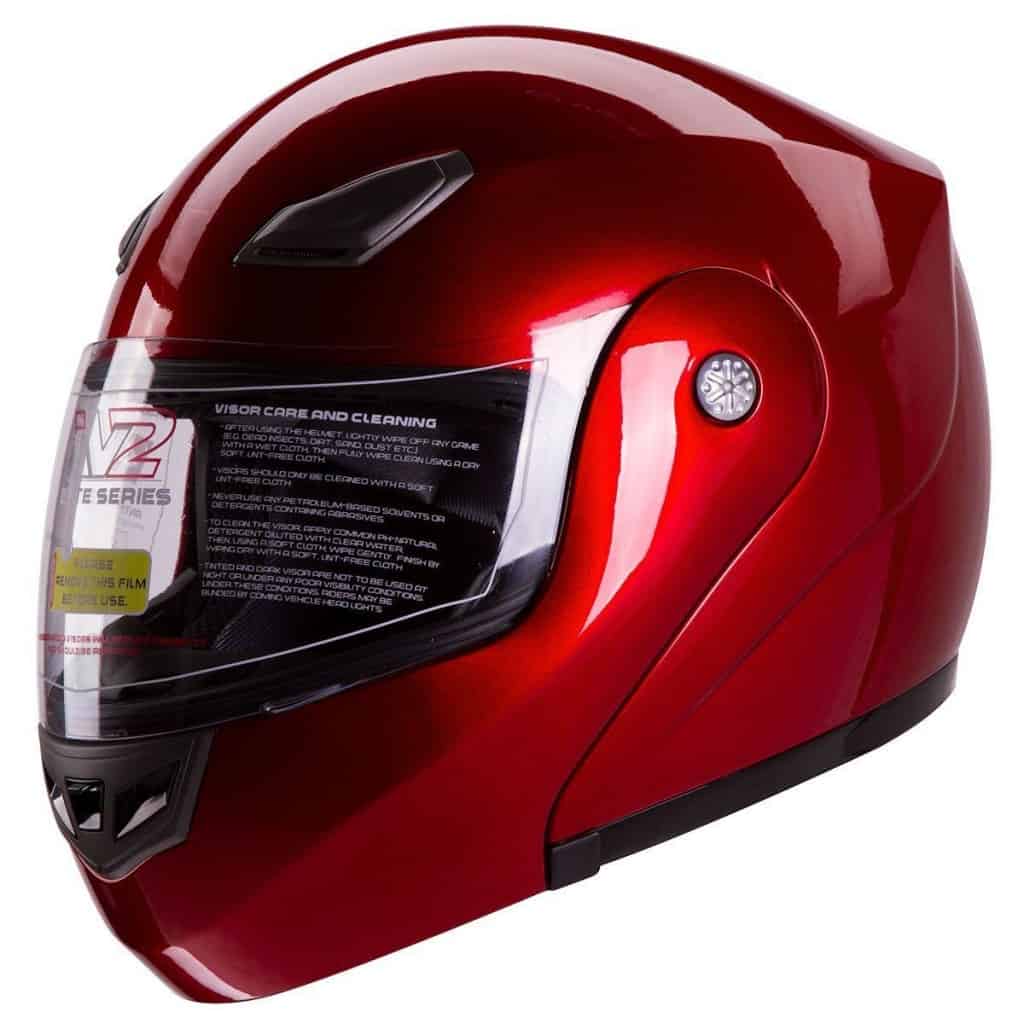 Best Flip Face Modular with Bluetooth
The modular design IV2 helmet is DOT-approved and Bluetooth-ready. It easy to keep clean with removable and sweat-absorbent inner liner and has a stainless steel D-rings on the strap that makes it easy to get on and off.
Additionally the modular designs means that it can be easily converted from full – to open-faced when required.
Pros:
Multi-functional modular design
Handsome finish and shine
Good construction at a very low price
Cons:
Padding is on the thin side
The part that flips up does not come up very far
Conclusion:
This might be a list of full-face helmets, but it would surely be an oversight to miss out on modular ones by classing them as a different category entirely.
This IV2 modular helmet is a particularly good-looking and affordable option that lets you enjoy full-face protection while switching to open-faced riding whenever you feel like it.
Add Bluetooth Technology To Any Helmet
Sena SMH10-10 Motorcycle Bluetooth Headset / Intercom (Single) , Black
Long-range music sharing and intercom for motorcyclists--up to 900 meters (980 yards)
Bluetooth 3.0 connectivity to listen to and share music, make phone calls with speed dialing, and...
Advanced Noise Control technology cuts down on background noise for both incoming and outgoing...
Universal Intercom protocol for cross-brand intercom compatibility. Up to 12 hours of talk time and...
Note : SMH10-10 is not for the Bell Mag 9 and is meant to be secured via a clamp kit, which is not...
Final Verdict: Best Bluetooth Ready Motorcycle Helmets
All three helmets are superb in their own right. Each one of them comes with Bluetooth technology with the only difference between the three being in terms of design, quality and price. Among the three, the one that stands out most is the TORC T10B Prodigy Full Faced Helmet.
The TORC helmet is lightweight and strong. It's got a cool design and features high-quality Bluetooth 2.0 technology. The stereo speakers are great for streaming music while riding and it provides a good cell-connectivity. Overall, the price is more than justifiable and it's perfect for any weather.
With its waterproof, scratch-resistant and anti-fogging features that come with amazing Bluetooth technology it's the perfect riding gear.
Ensure that you can imagine yourself riding with the helmet you are going to buy.
Weigh up all your pros and cons along with size, colors and so on. Helmets are not just about safety anymore. It's about making an impression and you should make a good one.
We hope you find this information helpful. If you would like to support this site, you can by purchasing through recommended links on the page. Should you decide to purchase, we may earn a small percentage of the sale at no cost to you.
Thank you for your support.