Helmet Hawk is supported by readers. Should you buy through links on our website, we may earn an affiliate commission at no additional cost to you.
Being a rider makes you more badass than half the population.
However, if that's not enough, (if you've have been searching for ways to lift your image) you're going to need a tough looking helmet.
Dressing as a badass might mean different things from one person to the next but generally its skulls, grim reaper, awesome super heroes, we all know what we want to dress like.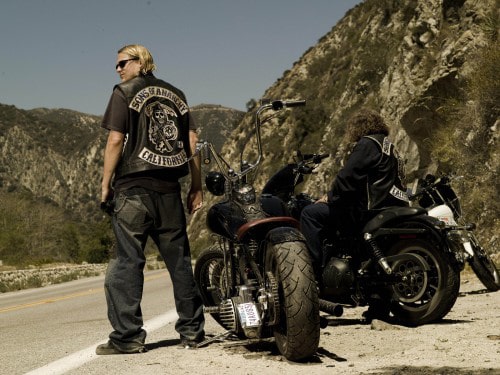 Surprisingly though, even choosing a awesome looking helmet is tough with lots of choice on the market. Keep in mind that badass motorcycle helmets are not really designed for safety.
The materials of these items cannot be considered safe in comparison to the normal helmets available at the same price. Still, the look you get from fellow riders and almost everyone on the road is definitely worth it.
Check out these helmets if you are considering turning on your bad side.
| Top Choices for Badass Motorcycle Helmets | Price Range | Rating |
| --- | --- | --- |
| | Price not available | 4/5 rubber chickens |
| | | 3/5 rubber chickens |
| | | 4/5 rubber chickens |
| | | |
IV2 "3D Skull" Chopper, Cruiser, Beanie, Half-Helmet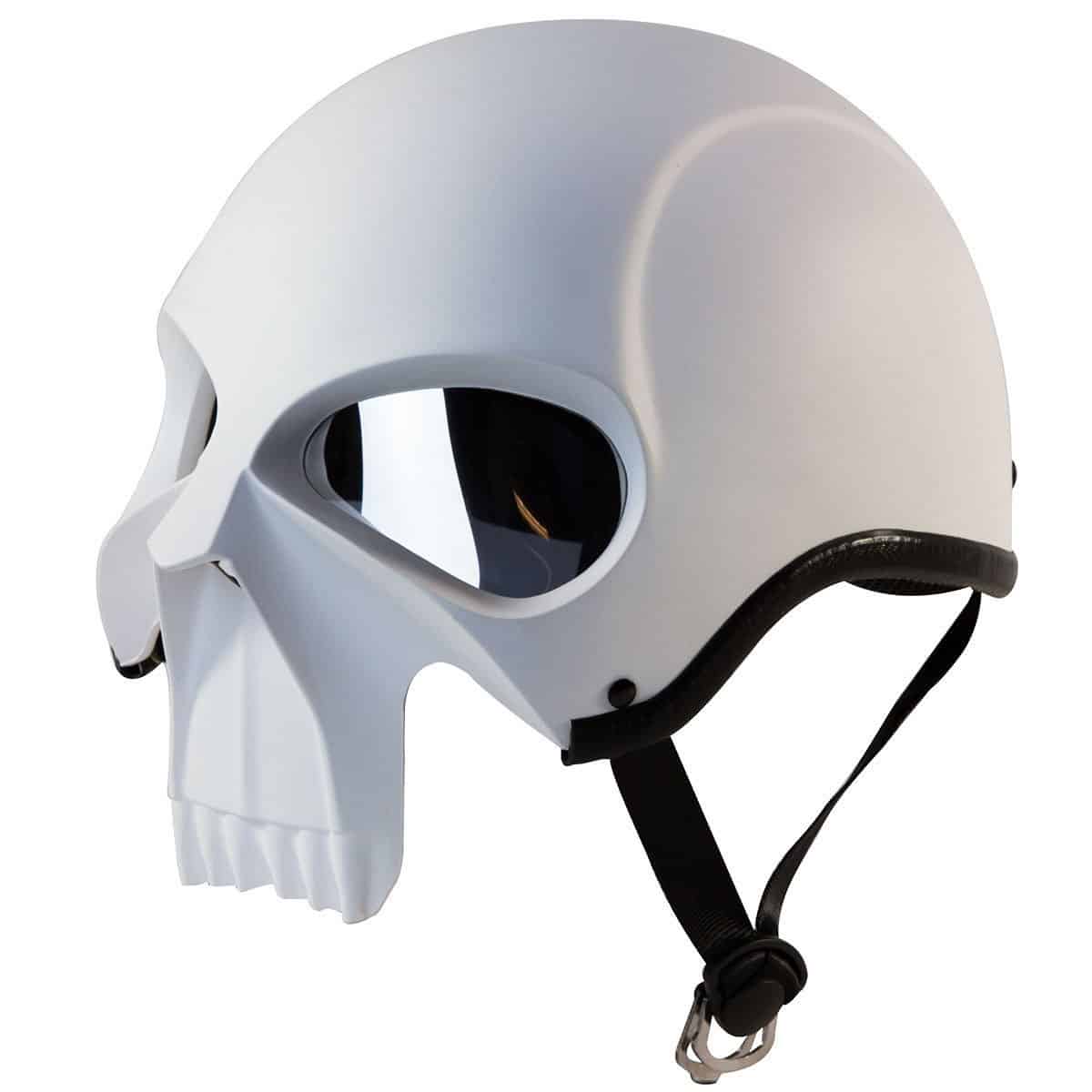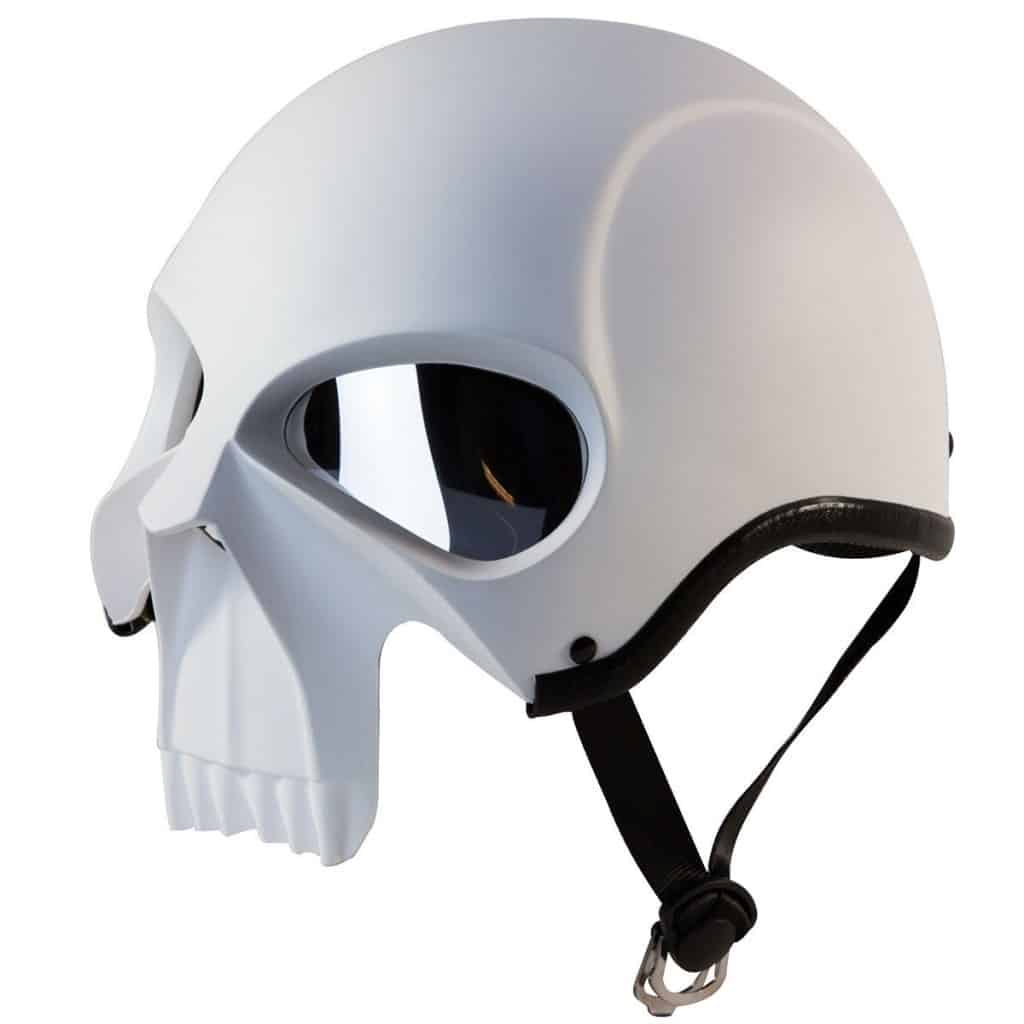 The 3D skull helmet from IV2 is insanely bad-ass. The skull faced beanie has been made with lightweight durable shell. The interior liner has been equipped with EPS Impact Absorption capabilities.
It fits low on the rider and the stainless steel Dual D-rings strap makes sure that the helmet stays on. The chin strap is adjustable and it comes with a clear lens. It is remarkably comfortable and isn't just for show.
It is available in white in four industrial sizes for the price of $62.95 from Amazon.
The Pros
It looks totally bad and is guaranteed to turn everyone's head when you are riding with this on.
It has been certified with DOT.
The adjustable chin strap and the dual D-rings strap makes sure that helmet stays on.
The Cons
Although it meets the DOT standards, it is not recommended for new riders.
It's not a full helmet and its primary purpose is making you look good, not for safety.
The field of vision is small from the skull mask.
Summary
Being a hard-ass has a price and one of them is surely the lack of safety. If you are only planning to wear this occasionally around town then it's a perfect buy for you.
Do not use it as a go-to helmet for long distance and high-speed riding though. The white skull face is amazingly constructed and you will unquestionably accomplish your goal of looking tough.
Comparison
If the white skull is not your thing or perhaps you are just contemplating your options, there is plenty of choice on the market for you. There is wide range of options for you to go badass, whether it's with a cool graffiti painted or the design itself.
Robot Motorcycle Helmet,Revealable Lens Motorcycle Full Face Helmet,DOT Safety Standards,Adult Unisex, Suitable for All Seasons,Matt Black,XL
★ Very cool and personalized predator design.
★Material: ABS outside shell, EPS inner shell
★ Adjustable chin strap (quick release strap). Removable earplugs, easy to clean.
★ DOT approved safety standard
★ Suitable for: M57 ~ 58cm, L59 ~ 60cm, XL61 ~ 62cm.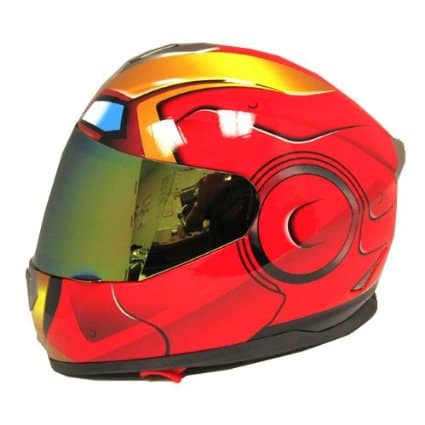 Sale
The words Iron-Man and Badass go hand-in-hand and now your fantasy of being an Iron-man does not have to be confided in your dreams. With this cool Iron-man helmet from 1Storm, you too can become an Iron-man, well sort of.
It has been made from light-weight durable aerodynamic thermoplastic alloy shell. It features an advanced dual lens and ratcheting buckle design. It meets the required DOT standards and has been certified.
The glossy face shield will protect your face from UV rays. Also, the inner padding is removable and washable.
It is available in five different sizes and the color of the helmet is red and gold.
The Pros
It is not just for show and will fit perfectly if you manage to get the right size.
It features UV protective face shield.
Being a full-helmet, it will work well in all weathers.
The Cons
The quality is better than can be expected from such helmets. However, the inner padding is too thin and not really comfortable.
There is no proper air-flow ventilation system which makes it unsuitable for long rides.
It's a pretty basic helmet and could do with more features.
Summary
Your dream of becoming an Ironman is just a few clicks away. The helmet is surprisingly of decent quality, unlike most novelty items. It's an amazing head-turner and looks incredible. Your need of appearing superhero awesome is definitely met by this classy Ironman helmet.
Iron Man DOT Motorcycle Bike Dual Visor Full Face Helmet and Black Reaper 3D Skull Motorcycle Helmet – Novelty are two helmets you must consider.
The full face custom made predator helmet from Chopper Helmets is definitely one to take notice of.
The rugged design made to look like it has many battle wounds is pretty badass. It has been air-brush painted and is waterproof.
It's easy to clean and is much more comfortable than it looks.
The Pros
It's an undoubted attention grabber and its rugged design stands out even among the predator category.
The Cons
The price tag might be a little scary at first sight
The manufacturing wait time
It's only has limited sizes available
Summary
It's an amazing looking helmet that will go well with your bad ass credentials.
The fact that it looks like the actual head of a predator that's come back from a war is enough description.
Also, you will easily succeed in scaring people off, if that's what you are going for.
Black Reaper 3D Skull Motorcycle Helmet – Novelty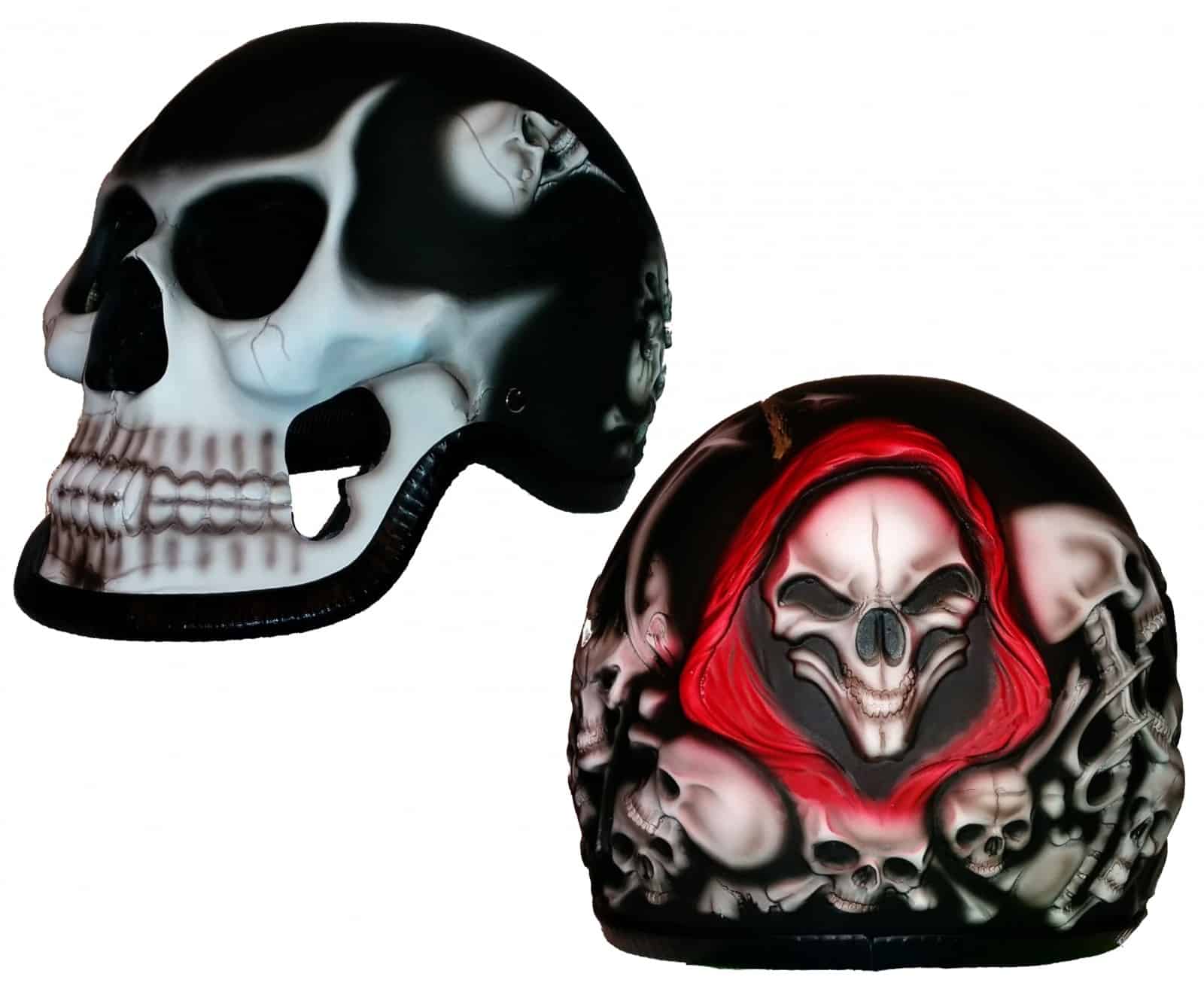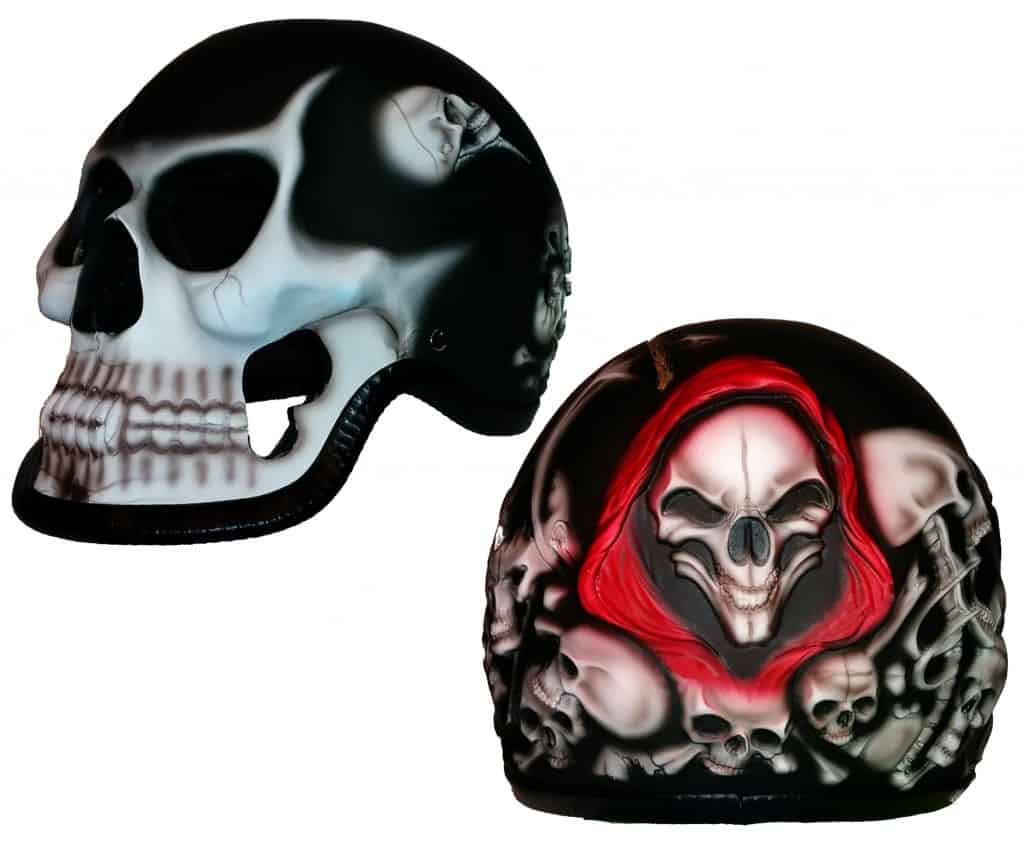 The light weight outer shell is durable and the white skull has been designed over the matte black with high-quality air-brush painting. The interior features comfortable cotton liner. The eye holes have been equipped with integrated clear lenses.
It looks amazing with its skull painting and is easy to put on and off. Keep in mind that this helmet is not DOT approved and is not meant for protection. It's just a novelty item but it is without a doubt badass.
The Pros
The major focus for this helmet is its looks and it looks mind-blowing. The color is fantastic and the skull has been superbly finished.
It is not just a collection piece and can be comfortably worn. Also, the interior liner puts no strain on the head and fits fine.
The Cons
It is not DOT certified and is not built for protection. It is not for new riders.
Actually, it is not even legal since it's not DOT certified. So, that's a risk you are going to have to take for appearing as a badass.
Summary
Being a badass has a price and it is certainly worth it with the Black Reaper 3D skull motorcycle helmet. Everything from the design to its comfort level is remarkable. The only problem is it's not certified and cannot be regarded as safe as normal helmets despite its sturdy build.
Verdict
Each of these helmets is badass and you are guaranteed to leave an impression with either one of them. The choices here are pretty clear. You can go with the Ironman if you are a superhero fanatic and want a full helmet or you could opt for either of the two skull helmets.
The IV2 "3D Skull" Chopper, Cruiser, Beanie, Half-Helmet is fantastic. The front skull-face alone is worth the buy. Also, it's got superior comfort and is available at a reasonable price.
While you will definitely look badass with these helmets, remember that the safety with these helmets is questionable. Although it is great for occasional around the town riding, you should look for normal built-for-protection helmets.
There are helmets which allow both safety and feature badass designs but they will also leave a massive hole in your pockets. That list is for some other day.
We hope you find this information helpful. If you would like to support this site, you can by purchasing through recommended links on the page. Should you decide to purchase, we may earn a small percentage of the sale at no cost to you.
Thank you for your support.