Helmet Hawk is supported by readers. Should you buy through links on our website, we may earn an affiliate commission at no additional cost to you.
Carbon fiber is remarkably strong material, stronger than steal and weighs a fraction of that weight, which is precisely why it has grown so popular for the construction of almost all protective objects. Carbon fiber is used for the construction of spacecraft and aircraft equipment and now, the automotive industry.
Every single rider knows, the very balance of life hangs on the strength and durability of the helmet. You have to have the strongest helmet in town if you want to ride hard and yet safe.
Carbon Fiber material is used by hundreds of companies to produce all kinds of helmets. The exact list would be almost uncountable by humans.
Choosing the best among them is really hard. However, measuring their quality and designs without having to break the bank to afford it, we have made a list of three best carbon fiber helmets on the market.
---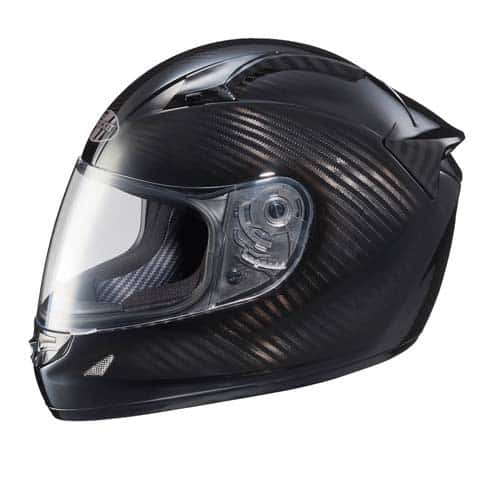 Best Carbon Fiber Full Face Helmet
Joe Rocket Speedmaster Motorcycle Helmet (Carbon Fiber Weave/Black Titanium, Large)
Ultra Lightweight Full Application 4 x 4 Carbon Fiber Weave Shell; Hat Size: 7-3/8 - 7-1/2
Optically-superior 3D Face shield: Hard coated anti-fog coated shield, tool-free closure
Quadport 2.0 ventilation system: 2 massive front intakes channeled through to an aero-dynamic rear...
Fully removable, washable and sublimated QWICKDRY Interior; Dual Density, Lightweight EPS impact...
Meets or exceeds both Snell and D.O.T standard
Joe Rocket Speedmaster is an ultra-lightweight helmet made from carbon fiber. It features an optically-superior 3D Face shield and hard coated anti-fog shield. The quadport 2.0 provides fantastic ventilation system which will pull the heat and humidity up and out of the helmet.
The interior liner is an impact absorber and it has been designed for comfort with advanced CAD technology. The interior is removable and washable. It has been certified with SNELL and DOT standards.
The Pros
The interior liner is designed to absorb impact and has been built for superior comfort. So, no matter how long the ride is, you will not feel any strains on your head.
The ventilation system has been designed for maximum air-flow.
You will barely hear any noise while riding.
It has a superb coated finish that makes it stand out from the normal helmets.
The Cons
It's a street-type helmet so it won't fare well in case you need to ride off-road.
Summary
If you have been looking for a helmet that has been strongly built for military grade protection, this is just the one for you. Joe Rocket is a full face helmet providing maximum amount of protection and since it is ultra light weight there will be no strain on your neck. You can take it out on any weather and the protective shield will keep you dry and fresh.
Comparison
Joe Rocket definitely stands out among the normal crowd. This carbon-fiber helmet is ultra lightweight and equally safe. However, if you wish for a different design or cheaper version of carbon-fiber helmets, worry not, you can find anything you want in today's market.
Daytona Skull Cap Style True Carbon Fiber Motorcycle Helmet and GLX Carbon Full Face Motorcycle Helmet are definitely two of the best helmets in its class, something for you to consider.
---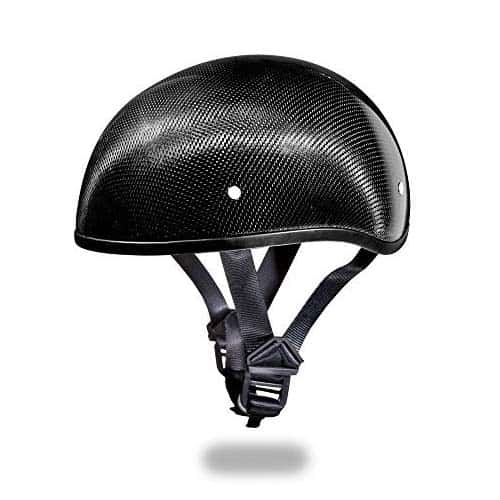 Best Carbon Fiber Half Helmet
Daytona Helmets Half Skull Cap Motorcycle Helmet – DOT Approved [Carbon Fiber] [XS]
Lightweight, DOT-approved half shell carbon fiber helmet meets & exceeds D.O.T. FMVSS 218 safety...
1/2 shell biker helmet hugs head for a secure, snug fit that provides superior comfort
Y-strap lock retention system provides quick-release with sliding adjuster for precise positioning
Proper biker headgear & riding gear for safety & comfort on motorcycles, cruisers, scooters & mopeds
Moisture-wicking inner liner fabric help keep your head cool and comfortable for warm weather riding
Daytona Skull cap is a half-helmet which has been designed to fit your scalp perfectly. You will rarely find another half-helmet that will fit so well. The 100% grey carbon fiber shell makes it extremely lightweight but remarkably strong.
The moisture wicking custom formed interior keeps your head cool and comfortable. The nylon Y-Strap D-Ring retention system with sliding adjuster makes sure that the helmet stays on.
The Pros
The contoured shell fits well and you will avoid looking like a mushroom, as is so often the case with half helmets.
The moisture wicking interior will keep you cool and comfy even after long hours of riding.
It is ultra-light and strong. You won't even feel like you have a helmet on.
The Cons
Most parts of your face will be open so it won't be as safe as the full helmets.
It is not suitable for rainy seasons or any other harsh weather conditions.
Summary
It's a great half-helmet. It's comfortable, lightweight and you will look cool while wearing it. However, keep in mind that if you want good protection, you should opt for full helmets. Other than that, if half helmets are what you have been looking for, this will fit perfectly on your scalp and will age well.
---
Best Selling Carbon Fiber Helmets
Bestseller No. 1
Bestseller No. 2
Bestseller No. 3
---
GLX Carbon Full Face Motorcycle Helmet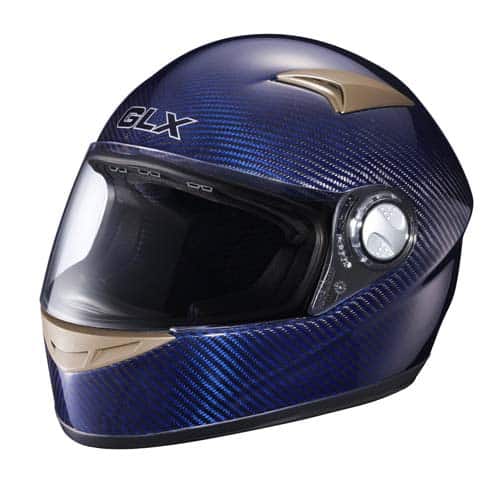 Best Carbon Fiber Helmet for the Money
The full face carbon-fiber made helmet from GLX is the best in its price range. It is ultra lightweight because of the high quality carbon fiber. The face shield is anti-scratch and anti-fog. The ventilation channeling system has been properly managed so that the rider gets a maximum air-flow.
The padded interior liner makes it comfortable on your head and it is fully removable and washable. It is available in two different sizes; medium and X-small.
The Pros
It is a great helmet made with real carbon fiber and is available for a reasonable price.
The vents look rather small but still provide enough air-flow to keep the rider cool.
The padded liner is comfortable and the face shield is well made.
The Cons
There is a bit of noise with this helmet. However, you can add the mirrored GLX full-face shield for reduced noise and it looks great.
The limited size options will be a problem for many riders.
Summary
It's an amazing helmet and the price is more than justifiable. It provides much needed comfort, proper ventilation and safety of a full-faced helmet. The carbon fiber shell makes it lightweight and does not add any strain on your neck.
Final Verdict
The GLX Carbon and Joe Rocket SpeedMaster are quite similar in terms of looks and both of them use carbon-fiber shell. However, the difference lies in the hefty price variation. With the higher price comes better quality. You could go for either of them but if you can afford it, go for the Joe Rocket SpeedMaster.
The half helmet from Daytona is an amazing helmet if you want a half helmet. However, if you want safety, design and durability all comprised into one, Joe Rocket's is the ultimate winner here. Granted, it is bit pricy than the other two but it is better, stronger and has a sharper look.
You should make up your own mind keeping in mind your budget and your requirements. Weigh in the pros and cons and make a choice. For instance, Daytona's half-helmet would fit perfectly fine for the occasional summer riding.
However, you would need a full helmet if you are a regular high-speed rider and need to ride in harsh weather conditions.
---
We hope you find this information helpful. If you would like to support this site, you can by purchasing through recommended links on the page. Should you decide to purchase, we may earn a small percentage of the sale at no cost to you.
Thank you for your support.