Helmet Hawk is supported by readers. Should you buy through links on our website, we may earn an affiliate commission at no additional cost to you.
When you're out and about and you have to park your motorcycle. What do you do with your helmet?
For example: if you're at the shops, running errands or you're at the local cafe for a bite to eat. You often don't want to carry your helmet with you. What do you do?
How do you keep your helmet safe when you're not near by?
If you're looking for a quick answer, we recommend the Helmetlok rubberized carabiner style lock. It connects to many parts of the bike, is relatively secure and won't scratch the paint work.
Where To Place Your Helmet?
Today, we're going to take a look at the different options for where to stash your helmet when you're not around.
A lot of the time "the where" will depend on the type of bike you ride. However, one of these methods should be perfect for you.
---
Motorcycle Top Box Or Tail Box
When it comes down to where to hang a motorcycle helmet, the best way to secure it is to not hang it at all.
A motorcycle pannier or a tail box is an ideal solution. Here's why!
These lockable containers cover all the bases when it comes to storing your helmet.
You won't have to worry about the elements or bugs, and your helmet will be locked away out of sight from potential thieves.
The only downside is that you often won't have as much room inside to store other things, but that's a small price to pay to keep your helmet safe and secure.
---
Hang Helmet On Handlebars
A lot of riders I know just leave their helmet hanging from the handlebars. Sure, storing the helmet this way does keep it safely off the ground, but unfortunately, it doesn't keep it safe from much else.
Pro's
Quick and Convenient
Better than on the ground
Con's
Not very secure
Can damage the helmet
Exposed to the elements
The first issue is if anyone bumps into your bike or helmet, it can easily fall to the ground where it can scratch, the visor could crack, or any number of other unfortunate things.
Hanging by the chin strap over the mirror might be a solution here, however, over prolonged periods, the padding in the helmet can be compressed which will affect how well the helmet fits and protects you.
Depending on the helmet type, another suggestion is resting it on the chin bar, but for me, it's still not secure from thieves.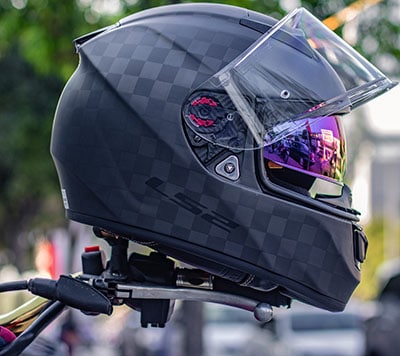 We don't recommend you hang it from the mirror
---
Helmet Locking Straps
Many bikes include an integrated helmet lock that allows you to secure your helmet to the outside of your bike.
While these locking straps have their benefits, there are several issues with them that may make you reconsider using them to secure your helmet.
Pro's
Built into some bikes
Quick and easy to attach
Con's
Can get wet inside when raining
Easily knocked by passes-by
Damage to helmet is some cases
The first issue is that if there's any play for your helmet to move around on the locking strap, it can scratch against your bike, which can damage the finish of both your bike and the helmet.
Most locking straps keep the helmet sideways or upside down, so there's a chance the inside of the helmet can get wet if you happen to get caught in a rainstorm.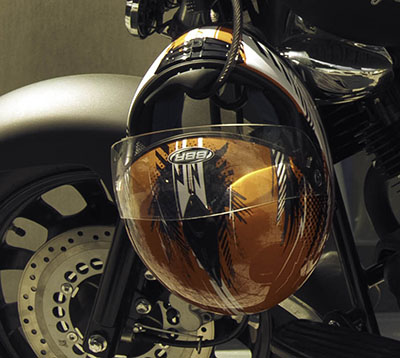 If your have one, a locking strap can work well in most cases..
---
Helmet On The Tank Or Seat
Leaving your helmet sitting on the gas tank or seat is probably the most accessible place to store your helmet, but there are some major security issues with keeping your helmet this way.
Pro's
Most accessible place
Good if you are close by
Con's
Can easily be knocked off
Fuel vapor damages helmets
It's obvious how easy it is for someone to walk up and swipe your helmet, and it's just as easy for someone to accidentally knock into it and send the helmet flying off the seat where it can be scratched, damaged, or lost forever.
If you're just running into a store for a quick errand, storing your helmet on the seat or tank isn't the worst thing you could do.
Be sure to keep it with the visor facing the side of the bike with the kickstand, as this tends to provide your helmet with the most secure footing.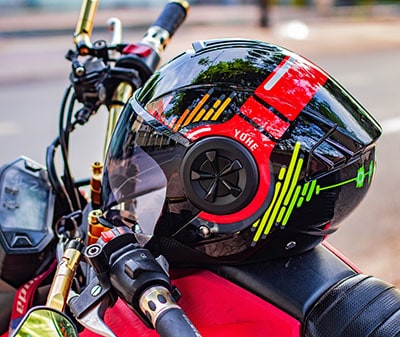 Fuel vapors can damage the helmet lining
---
Motorcycle Helmet Hooks
For riders looking for a more secure way to store their helmet on the handlebars, a helmet hook is a cheap and useful accessory you can add to your bike.
Pro's
Quick and reasonably secure
Con's
Can fill with water in rain
A helmet hook attaches to the end of your grip, and it allows you to secure your helmet to the hook while you're taking care of business.
Helmet hooks provide enough security that you won't have to worry about the helmet falling off the hook and taking damage, but they don't address issues like theft or the elements.
Since these hooks typically hang your helmet upside down, it's easy for dust, debris, and rain to enter the helmet.
---
Helmet Placed At Footpegs
Similar to hanging from your handlebars, you can also hang your helmet from one of the footpegs on the bike.
Pro's
Quick and reasonably secure
Not easily spotted by thieves
Con's
Can get wet in the rain
Passer-by could knock it
Securing your helmet in this way is a theft deterrent since the helmet won't be easily seen by passersby.
But, that also means it's easy for someone to accidentally kick your helmet off the peg and send it tumbling down the street.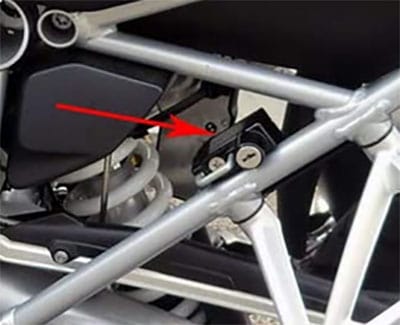 Your helmet is out of sight of thieves
---
Motorcycle Helmet Locks
If security is your greatest concern, investing in a helmet lock is one of the smartest things you can do.
Helmet locks are available in many different configurations, and some even have alarms that will go off if someone attempts to move the helmet or tamper with the lock.
Most helmet locks allow you to store your helmet on your seat or gas tank, and then a locking chain or cable is placed over the helmet to secure it in place.
It may take an extra minute or so to secure your helmet to the seat, but you'll also have peace of mind knowing that your helmet is protected and secure from thieves.
Related: What Are The Best Motorcycle Helmet Locks To Buy?
Need a helmet lock? Here is a suggestion
---
Straps and Cargo Netting
If your ride doesn't have a secure place for storage, you can always carry some cargo netting or straps to hold your helmet in place. They're not thief proof but will work to secure it while you are gone.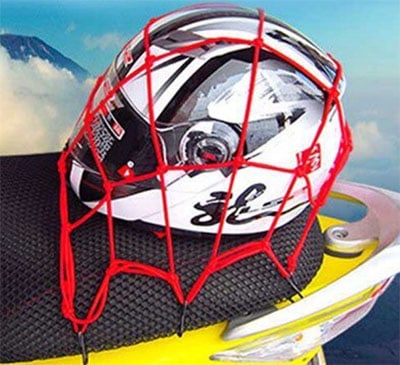 Strap your helmet down with cargo net or straps
---
Where NOT To Put Your Helmet
Keeping your helmet off the ground at all time. This is the best way to avoid unnecessary scratches and dings.
It will also prevent bugs and other creepy crawlers from getting into your helmet and causing havoc when you're on the road.
Should you leave a helmet unlocked on your bike?
Sure, it's usually fine when you're close by or just going to leave it alone for a few minutes. Personally do this all the time, and have never had any issue doing so.
However, it's up to you. This is my own personal opinion. Please don't take the chance if you're concerned.
Have a look around and scope out the people near by. Use your spidy sense. Don't risk it if you are unsure.
Can a helmet still get stolen when it's locked?
Yes! The saying goes something like this: "Lock usually keep honest people out."
If a thief really wants your helmet. There is nothing you can do. They can take it – easily. Nothing is really safe from a thief with the right tools.
Lock your helmet and don't worry, if it happens it happens, don't let it stop you from riding your bike.
Final Word
Where to hang a motorcycle helmet is an afterthought for many riders, it's an essential consideration if you want to keep your helmet protected from damage, thieves, and the elements.
While there are plenty of ways to store your helmet, many of them have some serious drawbacks you'll want to consider.
Riders looking for the safest and most secure way to store their helmets should consider investing in a helmet lock.